Assumption University
Worcester, Massachusetts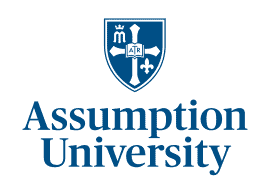 SHOW MORE
Light the way

Assumption offers undergraduate students 35 majors and 47 minors in the liberal arts, sciences, business, and professional studies. The University also offers master's and continuing education degrees as well as professional certificate programs. The curriculum, grounded in the rich Catholic intellectual tradition, enables students to gain a depth and breadth of knowledge that leads to professional success and personal fulfillment.

Students—whether on the Worcester, Massachusetts, campus or at the University's campus in Rome, Italy—are engaged participants in Assumption's classic liberal arts education, exploring new ideas and making connections across disciplines. To prepare for the workforce, students learn cutting-edge theory and best practices, conduct innovative research, and develop excellent communication and critical-analysis skills. Assumption graduates are known for their thoughtful citizenship and compassionate service to their community.

By ensuring a formative educational experience that meets the demands of the modern world, Assumption continues in the footsteps of the founder of the Augustinians of the Assumption, the venerable Fr. Emmanuel d'Alzon: committed to sparking in young men and women of promise and character an illumination that uplifts all those around them.
Get to know Assumption University
2,027
Degree-Seeking Undergraduates
Full-time to Part-time Ratio
-
0%
1%
2%
3%
4%
5%
6%
7%
8%
9%
10%
11%
12%
13%
14%
15%
16%
17%
18%
19%
20%
21%
22%
23%
24%
25%
26%
27%
28%
29%
30%
31%
32%
33%
34%
35%
36%
37%
38%
39%
40%
41%
42%
43%
44%
45%
46%
47%
48%
49%
50%
51%
52%
53%
54%
55%
56%
57%
58%
59%
60%
61%
62%
63%
64%
65%
66%
67%
68%
69%
70%
71%
72%
73%
74%
75%
76%
77%
78%
79%
80%
81%
82%
83%
84%
85%
86%
87%
88%
89%
90%
91%
92%
93%
94%
95%
96%
97%
98%
99%
100%
Retention rate
13:1
Student/teacher ratio
$43,178
Full-time tuition cost
-
0%
1%
2%
3%
4%
5%
6%
7%
8%
9%
10%
11%
12%
13%
14%
15%
16%
17%
18%
19%
20%
21%
22%
23%
24%
25%
26%
27%
28%
29%
30%
31%
32%
33%
34%
35%
36%
37%
38%
39%
40%
41%
42%
43%
44%
45%
46%
47%
48%
49%
50%
51%
52%
53%
54%
55%
56%
57%
58%
59%
60%
61%
62%
63%
64%
65%
66%
67%
68%
69%
70%
71%
72%
73%
74%
75%
76%
77%
78%
79%
80%
81%
82%
83%
84%
85%
86%
87%
88%
89%
90%
91%
92%
93%
94%
95%
96%
97%
98%
99%
100%
6-year graduation rate
-
0%
1%
2%
3%
4%
5%
6%
7%
8%
9%
10%
11%
12%
13%
14%
15%
16%
17%
18%
19%
20%
21%
22%
23%
24%
25%
26%
27%
28%
29%
30%
31%
32%
33%
34%
35%
36%
37%
38%
39%
40%
41%
42%
43%
44%
45%
46%
47%
48%
49%
50%
51%
52%
53%
54%
55%
56%
57%
58%
59%
60%
61%
62%
63%
64%
65%
66%
67%
68%
69%
70%
71%
72%
73%
74%
75%
76%
77%
78%
79%
80%
81%
82%
83%
84%
85%
86%
87%
88%
89%
90%
91%
92%
93%
94%
95%
96%
97%
98%
99%
100%
Acceptance rate
-
0%
1%
2%
3%
4%
5%
6%
7%
8%
9%
10%
11%
12%
13%
14%
15%
16%
17%
18%
19%
20%
21%
22%
23%
24%
25%
26%
27%
28%
29%
30%
31%
32%
33%
34%
35%
36%
37%
38%
39%
40%
41%
42%
43%
44%
45%
46%
47%
48%
49%
50%
51%
52%
53%
54%
55%
56%
57%
58%
59%
60%
61%
62%
63%
64%
65%
66%
67%
68%
69%
70%
71%
72%
73%
74%
75%
76%
77%
78%
79%
80%
81%
82%
83%
84%
85%
86%
87%
88%
89%
90%
91%
92%
93%
94%
95%
96%
97%
98%
99%
100%
Out-of-state students
College Highlights
Engaged Students
Great Teaching
Vibrant Communities
Successful Outcomes
Admission & Aid
Engaged Students
REACH OUT AND BE INVOLVED
Assumption students strive to make a difference through local and international service projects, greatly valuing the social aspects of college life that lie beyond the bricks and mortar of the campus.

SERVICE LEARNING
The University's Reach Out Center and Community Service Learning classes provide students with positive and rewarding experiences through volunteering. Students spent more than 121,000 hours last year engaged in community service efforts that allowed them to apply their skills and talents to better the surrounding community. Service learning is a great way for students to meet new people with similar interests, explore career opportunities, make a difference in the community, impact an important cause, and help others.

SEND PROGRAM
The Assumption SEND Service Immersion Program takes students to communities across the country and around the globe to help those in need during the winter, spring, and summer breaks for one or two weeks. At the end of each day, students reflect on their experiences to renew their spiritual commitment as well as to connect their experiences to the concept of social justice. When they return to campus, students are both humbled and inspired. They are gifted with new insight, compassion, and integrity.

STUDY ABROAD
Assumption students may choose to spend either a semester or year abroad. There also are shorter international experiences available. In recent years, Assumption University students have studied throughout the world in locations like Australia, Brazil, England, France, Italy, Japan, and the Netherlands.

The University opened its own campus in Rome, Italy, in 2013. Students studying in Rome are immersed in the very best of the classic liberal arts tradition, which is woven into the fabric of the campus's home city. From art to history to politics, students gain a deeper understanding of the world in which they live and its ancient and modern origins. The campus was recently named a top 10 Study Abroad program.

SOPHIA
The SOPHIA (SOPHomore Initiative at Assumption University) program is specially designed to help students discover a deeper connection between their spiritual, personal, and professional lives. By combining residential, academic, and travel opportunities under the guidance of four dedicated faculty mentors, SOPHIA strives to foster a culture of vocational exploration at Assumption University that will help students pursue productive lives of meaning.

FIRST YEAR PROGRAM
Assumption's Common Pursuit of Academic and Social Success (COMPASS) program offers first-year students the opportunity to join a learning community animated by a shared experience of living and learning with a small group of peers. COMPASS members choose from a variety of topics and themes, work with a team of faculty who serve as their academic advisors, and share a living environment and co-curricular activities related to the subject.

HECCMA
Assumption University is a member of Higher Education Consortium of Central Massachusetts, an association of 11 higher learning institutions in the Worcester area. Through the Consortium, Assumption students can register for courses at the other 10 colleges as well as participate in social and cultural events.
ENROLLMENT BY ETHNICITY
Non-U.S. Citizen: 1%
Hispanic/Latinx: 9%
Black or African American, non-Hispanic: 5%
White, non-Hispanic: 74%
Native/Indigenous American or Alaska Native, non-Hispanic: 0%
Asian, non-Hispanic: 3%
Native Hawaiian or other Pacific Islander, non-Hispanic: 0%
Two or more races, non-Hispanic: 3%
Race and/or ethnicity unknown: 4%
Great Teaching
LIVELY INTELLECTUAL AND SPIRITUAL INVOLVEMENT
Assumption University is founded on the premise that discovering the truth about oneself and the nature of the world not only means learning how to find answers, but also how to ask the right questions. The University's curriculum is grounded in challenging students to make their own discoveries and to grow and change as people, not just as scholars. Assumption graduates are known for their critical thinking, engaged citizenship, and compassionate service.
The Venerable

Father Emmanuel d'Alzon

, founder of the Augustinians of the Assumption, envisioned a Catholic university that would embrace the "pursuit of truth." Today, Assumption furthers that mission through its 35 majors and 47 minors in the liberal arts, sciences, business, and professional studies programs.

With a student to faculty ratio of just 11:1, Assumption is a close-knit, friendly community. Students are matched with a faculty advisor who helps them choose courses from Orientation onward. This match is the beginning of an informed, personal conversation about academic goals.

All Assumption students take a

general education curriculum that focuses on the liberal arts and sciences

. These courses encourage students to contemplate the ideas and events that have shaped civilization, thereby preparing them to make their own contributions.

Among the 35 majors and 47 minors, the most popular undergraduate programs are

English

, the

natural sciences

(biology, biotechnology and molecular biology, chemistry, and environmental science),

psychology

,

business studies

(accounting, international business, management, marketing, organizational communication), and

education

.

In the classroom, faculty take a hands-on approach to learning through group projects, writing assignments, research, and tasks that encourage students to think, not just memorize. Classes generally take the form of discussions, not lectures.
FACULTY/STUDENT COLLABORATION
Mentoring is an important part of an Assumption University education, evidenced by an emphasis on faculty/student partnerships. Valuable research is performed at Assumption in a myriad of disciplines, yielding great advancements every day—but the value of student and faculty research extends beyond the data collected. These opportunities train the next generation of leading scholars, scientists, and researchers and provide them with the grounding for future exploration. By investing in the research—and researchers—of today, Assumption is funding the discoveries of tomorrow.

EXPLORING FURTHER
Students are invited to enroll in honors classes or collaborate with faculty on individual research projects. In honors courses, students pursue the issues that fascinate them the most at the deepest levels, asking questions, collecting evidence, testing answers, and arriving at new conclusions. The University Honors Program is a selective program designed to foster academic engagement inside and outside of the classroom.

SUMMER STUDIES
Assumption offers a high-quality, personalized Summer Semester for college students. Assumption summer courses—offered both online and face-to-face—are the same as their fall or spring semester counterparts, with the same small class size and the same level of intellectual rigor, but at a reduced cost. Whether students attend Assumption or another college during the school year, the summer program offers a great opportunity to accelerate a degree program, catch up, or simply focus on a particular course. The University also offers a summer program at the Rome Campus.
Vibrant Communities
A GREAT PLACE TO BE
Worcester, Massachusetts, New England's second-largest city, offers robust internship opportunities, great restaurants, and a myriad of entertainment and cultural options. Worcester is centrally located, with Boston, Providence, and Hartford all about an hour's drive away and accessible through public transportation.

A PLACE TO CALL HOME
Home to more than 90 percent of the school's undergraduates, Assumption's campus is nestled on 185 beautiful acres in a serene section of Worcester. Campus life is a rich mix of academics, athletics, service, and co-curricular activities—all designed to inspire students and help them learn to lead lives of integrity.

GUARANTEED HOUSING
Assumption guarantees on-campus housing for all four years of a student's college experience. The University offers a wide variety of living options, ranging from traditional residence halls to townhouses and apartments, many of which offer full kitchens.

EXCEPTIONAL FACILITIES
Prominent campus buildings include the Richard and Janet Testa Science Center, home to the department of natural sciences; the Information Technology Center, which features computer labs and technology-rich classrooms; and a multi-sport stadium with a synthetic turf field, lighting for night games, and grandstand seating for 1,200 spectators. The Plourde Recreation Center includes a swimming pool, racquetball courts, an aerobics-and-dance studio, a jogging/walking track, and a fully-equipped, state-of-the-art fitness center and weight room.

A NEW ACADEMIC CENTER
In 2017, the 60,000 square-foot building Tsotsis Family Academic Center opened to further benefit Assumption's community. This brand-new building houses 13 high-tech, flexible classrooms of varying sizes; seminar rooms; common study spaces; a 400-seat performance hall; rehearsal room; a multi-function space that has a capacity for 400 people; faculty offices for the Business Studies Department; the Honors Program; the Assumption Core Texts Program; the Center for Teaching Excellence; and a new Center for the Study of Ethics. As the signature building on campus, this building prominently reflects the University's mission of integrating the liberal arts with professional formation.

MIND, BODY, SOUL
Assumption is a college that encourages students to balance their intellectual, social, spiritual, and physical dimensions. When students are not studying, they can participate in more than 60 diverse clubs and organizations, including groups focused on shared academic interests, arts and entertainment, student government, service work, sports, and spiritual program initiatives.
SCHOOL LOCATION
Assumption College is located in Worcester, Massachusetts, New England's second largest city and an exciting, metropolitan location in which to live, learn, and discover. Approximately 45 miles from Boston, Worcester is a college town town that hosts about 30,000 students during the academic year. In addition, because Worcester is an important manufacturing, insurance, biotechnology research, and transportation center, there are numerous internship and employment opportunities. The University's Rome Campus enables the city and country to become a living classroom.
ATHLETICS
Assumption's student-athletes compete in the Northeast-10 Conference, one of the largest and most highly regarded Division II conferences in the country. The University offers 24 Division II NCAA sports. Assumption stresses excellence in the classroom and on the field. 23 graduates have received NCAA Postgraduate Scholarships. Assumption's mascot is Pierre the greyhound, and the official team colors are blue and white.
Successful Outcomes
SUCCESS ON MULTIPLE LEVELS
The Assumption University curriculum provides students with all the instruction they need for their future careers as well as a classic liberal arts education that aids them in honing their critical thinking and communications skills. Assumption students also have access to extensive opportunities throughout their college experience to build their professional skills, network with alumni, and intern with industry-leading companies and respected organizations. At Assumption, students are prepared to lead successful lives of meaning and bring their light to the world.

CAREER DEVELOPMENT
Assumption's Career Development & Internship Center works very closely with students to support their transition into the workforce, graduate school, or post graduate service programs. It aids the job search by posting numerous full-time and part-time job listings, internships, and volunteer opportunities. Advisors assist students beginning in their first year.

EXPERIENTIAL LEARNING
84 percent of Assumption's 2018 graduates augmented their education and honed their professional skills through one or more internships research opportunities, service learning or student teaching opportunities. Assumption students have had the opportunity to work with diverse organizations like Allmerica Financial, Blum Shapiro, Catholic Digest, Citigroup, Clinical Pharmacology, Dunkin' Brands, Fidelity, FOX News, Genzyme, the Hungarian Embassy, New England Sports Network (NESN), NBC, The Rachael Ray Show, Ralph Lauren, Smith Barney, Sony (Japan), the U.S. House of Representatives, UMass Medical Research, and public and private elementary, middle, and high schools throughout the area.

PROVEN SUCCESS
96% of Assumption's 2014 graduates were employed or in graduate school within six months of graduation.
Admission & Aid
Admission
TEST SCORES
Optional
APPLICATION DEADLINE
Early Decision (binding): November 15
Early Action I: November 15
Early Action II: December 15
Regular Decision – Priority Deadline: February 15 (after February 15, applications for admission are accepted on a rolling basis)

Tuition & Cost
Tuition: $43,178
Fees: $800
Room: $8,602
Board: $4,988
Aid
Assumption University's professional financial aid counselors have nearly 60 years of collective experience working with students and their families. Incoming students are assigned a personal financial aid counselor who assist them throughout their four years in school and offer a variety of tools and strategies.

Assumption University awards more than $29 million in scholarships and grants each year, benefiting more than 90 percent of the University's students. Scholarships and grants come from a number of different sources including Assumption University, the federal government, the state government, and outside organizations.

SCHOLARSHIPS
Merit scholarships are awarded to new students whose high school records demonstrate strong academic achievement, leadership, and potential for success at Assumption University. Students who are accepted for admission to Assumption are automatically considered for a merit scholarship during the admissions process, and no additional application is required. These institutional scholarships are renewable each year, provided the recipients maintain a specified grade-point average. Assumption merit scholarships range from $7,500 up to $22,000.

Assumption offers competitive vocal music merit scholarships to incoming students who demonstrate vocal excellence and commit to participation in the Assumption University Chorale and its a cappella chamber ensemble, VOCE. These scholarships—up to ten, $5,000 scholarships and two, $10,000 scholarships—are awarded to incoming first-year and are renewable each year, provided the student continues to actively participate in the Chorale and VOCE ensembles.

The University offers a $2,500 George Broussard scholarship, awarded annually for all four years at Assumption, for Catholic High School Students.
In line with the mission of the University, Assumption offers $24,000 Light the Way Scholarships, awarded to students who utilize their abilities to Light the Way for others. Whether it's community service to help people in need, innovation to improve society, or volunteering to heal our planet, this scholarship recognizes and supports students who positively impact the world in their own meaningful way.
Contact Assumption University