Angelo State University
San Angelo, Texas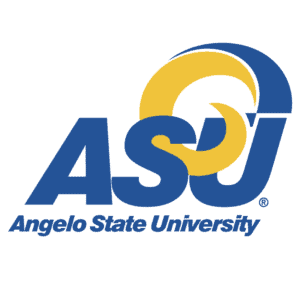 Angelo State University, a member of the Texas Tech University System, is a vibrant campus community of 10,000 students, known as the Ram Fam. The Ram Fam includes students from nearly every county in Texas, over 40 states, and close to 30 countries, and Angelo State has been designated a Hispanic Serving Institution by the U.S. Department of Education. 
SHOW MORE
Angelo State offers over 100 majors and concentrations through six colleges, providing educational opportunities that prepare students for successful careers or entry into graduate and professional schools. ASU also boasts an unparalleled Honors Program and Center for International Studies, giving students further opportunities to expand their education through research and study abroad. With a 21:1 student-to-faculty ratio, ASU students also have ultimate access to award-winning faculty.
"I love working for ASU because it truly is student-oriented. The first question I hear in every decision is, 'What's going to be best for the students?'" – Jordon Perry, ASU Student Affairs Office
Overall accreditation for Angelo State is through the Southern Association of Colleges and Schools. Several academic programs also carry individual accreditations, including athletic training (CAATE), all business degrees (ACBSP & AACSB), civil engineering (ABET), teacher education (CAEP), nursing (CCNE), social work (CSWE), physical therapy (CAPTE), and music (NASM).
"Angelo State is such a special and unique place. You don't find many schools with the prestigious education provided and generous scholarship opportunities." – Sierra Brooks, ASU physical therapy student
In addition to excellent academics, Angelo State offers students a multitude of opportunities for individual growth and social engagement. Student organizations, fraternities and sororities, intramural/club sports, state-of-the-art recreational facilities, and numerous campus events and activities all ensure that students can pursue their personal interests and enjoy their time as part of the larger Ram Family—faculty, staff, alumni, students, and friends of Angelo State.
"I chose Angelo State because it felt like home! I walked on campus and felt so welcomed." – Michelle Underwood, ASU marketing student
Founded as San Angelo College in 1928, ASU has a long and storied history. Continuing in that tradition, Angelo State offers students the complete college experience in a campus community that practices a distinct set of Core Values and takes a personal interest in students' success throughout their journey from admission to graduation.
Get to know Angelo State University
5,549
Degree-Seeking Undergraduates
Full-time to Part-time Ratio
-
0%
1%
2%
3%
4%
5%
6%
7%
8%
9%
10%
11%
12%
13%
14%
15%
16%
17%
18%
19%
20%
21%
22%
23%
24%
25%
26%
27%
28%
29%
30%
31%
32%
33%
34%
35%
36%
37%
38%
39%
40%
41%
42%
43%
44%
45%
46%
47%
48%
49%
50%
51%
52%
53%
54%
55%
56%
57%
58%
59%
60%
61%
62%
63%
64%
65%
66%
67%
68%
69%
70%
71%
72%
73%
74%
75%
76%
77%
78%
79%
80%
81%
82%
83%
84%
85%
86%
87%
88%
89%
90%
91%
92%
93%
94%
95%
96%
97%
98%
99%
100%
Retention rate
19:1
Student/teacher ratio
$5,619
In-state tuition cost
$17,859
Out-of-state tuition cost
-
0%
1%
2%
3%
4%
5%
6%
7%
8%
9%
10%
11%
12%
13%
14%
15%
16%
17%
18%
19%
20%
21%
22%
23%
24%
25%
26%
27%
28%
29%
30%
31%
32%
33%
34%
35%
36%
37%
38%
39%
40%
41%
42%
43%
44%
45%
46%
47%
48%
49%
50%
51%
52%
53%
54%
55%
56%
57%
58%
59%
60%
61%
62%
63%
64%
65%
66%
67%
68%
69%
70%
71%
72%
73%
74%
75%
76%
77%
78%
79%
80%
81%
82%
83%
84%
85%
86%
87%
88%
89%
90%
91%
92%
93%
94%
95%
96%
97%
98%
99%
100%
6-year graduation rate
Rolling
Application deadline
-
0%
1%
2%
3%
4%
5%
6%
7%
8%
9%
10%
11%
12%
13%
14%
15%
16%
17%
18%
19%
20%
21%
22%
23%
24%
25%
26%
27%
28%
29%
30%
31%
32%
33%
34%
35%
36%
37%
38%
39%
40%
41%
42%
43%
44%
45%
46%
47%
48%
49%
50%
51%
52%
53%
54%
55%
56%
57%
58%
59%
60%
61%
62%
63%
64%
65%
66%
67%
68%
69%
70%
71%
72%
73%
74%
75%
76%
77%
78%
79%
80%
81%
82%
83%
84%
85%
86%
87%
88%
89%
90%
91%
92%
93%
94%
95%
96%
97%
98%
99%
100%
Acceptance rate
-
0%
1%
2%
3%
4%
5%
6%
7%
8%
9%
10%
11%
12%
13%
14%
15%
16%
17%
18%
19%
20%
21%
22%
23%
24%
25%
26%
27%
28%
29%
30%
31%
32%
33%
34%
35%
36%
37%
38%
39%
40%
41%
42%
43%
44%
45%
46%
47%
48%
49%
50%
51%
52%
53%
54%
55%
56%
57%
58%
59%
60%
61%
62%
63%
64%
65%
66%
67%
68%
69%
70%
71%
72%
73%
74%
75%
76%
77%
78%
79%
80%
81%
82%
83%
84%
85%
86%
87%
88%
89%
90%
91%
92%
93%
94%
95%
96%
97%
98%
99%
100%
Out-of-state students
-
0%
1%
2%
3%
4%
5%
6%
7%
8%
9%
10%
11%
12%
13%
14%
15%
16%
17%
18%
19%
20%
21%
22%
23%
24%
25%
26%
27%
28%
29%
30%
31%
32%
33%
34%
35%
36%
37%
38%
39%
40%
41%
42%
43%
44%
45%
46%
47%
48%
49%
50%
51%
52%
53%
54%
55%
56%
57%
58%
59%
60%
61%
62%
63%
64%
65%
66%
67%
68%
69%
70%
71%
72%
73%
74%
75%
76%
77%
78%
79%
80%
81%
82%
83%
84%
85%
86%
87%
88%
89%
90%
91%
92%
93%
94%
95%
96%
97%
98%
99%
100%
Full-time faculty w/ terminal degree
College Highlights
Engaged Students
Great Teaching
Vibrant Communities
Successful Outcomes
Admission & Aid
Engaged Students
AREAS OF STUDY
Angelo State offers over 100 majors and concentrations with 48 undergraduate degrees, 28 master's degrees, and two doctoral degrees.
COMMUNITY ENGAGEMENT
Angelo State University enjoys a robust relationship with the San Angelo community. Many Angelo State student organizations are involved in community service activities with local non-profit agencies, and the public is regularly invited to campus for concerts by student music ensembles and choirs, student art exhibits and theatre productions, distinguished guest speaker presentations, athletic events, and many other activities. Ram TV is ASU's student-run TV station, which airs a variety of taped programs and live ASU athletic contests on the local Suddenlink Cable service. What's more, students also run the Ram Radio internet radio station.
"Ram TV gives us all the experience people are looking for. We do all the hands-on work at ASU sporting events. We do the play-by-play. We do the color commentary. It's all student run. If you start working with Ram TV as a freshman, you can have 400-500 games under your belt before you graduate. That's more experience than what most people come out with." – J.D. Raggio, Class of 2020 (mass media)
Access to everything San Angelo has to offer is easy for ASU students, who can ride the free Ram Tram shuttle bus from campus to take in the thriving local arts community, various shopping centers, multiplex movie theaters, and the many downtown restaurants and live music venues.
Because of its strong ties to the San Angelo community, Angelo State has received the Community Engagement Classification from the Carnegie Foundation for the Advancement of Teaching.
STUDY ABROAD
Angelo State's Center for International Studies opens the gateway for students to see the world. Summer, semester, and year-long programs are available to students of all majors, offering travel to countries all over the globe. All programs are led by Angelo State faculty, and students are able to apply for International Studies Scholarships. Program options vary by year and can include:
Brazil

Costa Rica and Nicaragua

Austria, Romania and the Netherlands

South Korea

Greece
"The opportunity to further my education, enhance my leadership skills, and travel the world through study abroad is all located at Angelo State." – Cody Vasquez, Class of 2018 & 2020 (management)
UNDERGRADUATE RESEARCH
Angelo State undergraduate students have the opportunity to do grant-funded, faculty-mentored research or other creative endeavors regardless of their academic major. Students can apply for year-long, single-semester, or travel grant opportunities, and then work one-on-one with an award-winning faculty member in their field of study. At the end of each spring semester, students can display the results of their research at the Undergraduate Research Symposium.
"It's really hard for undergraduates to get research opportunities at other universities. If you do research, often you can't do other things. Whereas at ASU, they want you to do research; they want you to branch out; they want you to ask questions and push yourself." – Hope Jenson, ASU biology student
CLASS SIZE
The number of sections of each class size.
2-9: 59 | 10-19: 171 | 20-29: 249
30-39: 121 | 40-49: 30 | 50-99: 37 | 100+: 2
ENROLLMENT BY ETHNICITY
Non-U.S. Citizen: 3%
Hispanic/Latinx: 40%
Black or African American, non-Hispanic: 6%
White, non-Hispanic: 46%
Native/Indigenous American or Alaska Native, non-Hispanic: 0%
Asian, non-Hispanic: 1%
Native Hawaiian or other Pacific Islander, non-Hispanic: 0%
Two or more races, non-Hispanic: 3%
Race and/or ethnicity unknown: 0%
Great Teaching
"I feel like the faculty here are invested in me and my success. All the music professors here are just amazing. They make an effort to work with all students to help you succeed. I have a lot of respect for the faculty here." – Lily Garcia, ASU music student
SIGNATURE COURSES
All incoming freshmen are required to register for a Signature Course their first semester, kicking off their college career with a seminar that sets them up for success as an ASU student. With over 50 options to choose from, students are able to jump right into a topic that interests them while interacting in small settings with their professors and classmates. Signature Courses are a great outlet through which students can investigate contemporary issues, delve into a topic they know interests them, or simply explore a new area of study.
"The connections you can make with your professors and fellow students are unmatched. To have the head of my department be excited for me, talk to me and help me was great, and it makes me really appreciate that I came to ASU." – Adrian Campos, ASU mechanical engineering student
DISTINCTIVE RESOURCES
Angelo State Natural History Collections: The ASNHC contains nearly 100,000 preserved specimens of all types of living organisms, including mammals, birds, amphibians, reptiles, and plants from the Galapagos Islands and all throughout the world. Students gain hands-on experience collecting and cataloging specimens, which can even be utilized for their research projects.
ASU Planetarium: The ASU Planetarium contains the distinctive combination of a Sci-Dome digital projector and large tilted dome theater. It is capable of projecting more than 500 million stars and celestial objects. The Planetarium is used as a multimedia immersive classroom for astronomy, physical science, and geology classes as well as those taught through ASU's Kay Bailey Hutchison Center for Security Studies.
Modular Theatre: The ASU Modular Theatre, one of only six of its kind on U.S. college campuses, allows production groups to completely transform the look and feel of the stage. ASU theatre students host several productions in the Modular Theatre every year, including three dinner theatre shows.
Additional distinctive resources include the Biology Department Greenhouse, ROTC Flight Simulator, Entertainment Computing Lab, dedicated psychology and sociology labs, and a high-tech Scanning Electron Microscope, among many others.
ACADEMIC FACILITIES
Hunter Strain Engineering Labs: Opened in 2017, the Hunter Strain Engineering Labs allow students to gain hands-on experience, with each lab themed around the practical use for students in that area of study. ASU offers bachelor's degrees in civil engineering and mechanical engineering.
Health and Human Services Building: ASU's Health and Human Services Building, which opened its doors in January 2018, houses the Archer College of Health and Human Services. The building features expanded labs for several departments, as well as six state-of-the-art simulation labs for practical use by nursing, physical therapy, and health science students.
"I'm a very kinesthetic learner, so doing hands-on stuff is so important for me to understand what I'm learning. Being able to use all the technology has really helped my learning accelerate. The material I've learned and the classes I have been able to take are going to help me succeed in PT school." – Krystyn Irby, Class of 2022 (health science professions)
Library Learning Commons: One of the most popular points of destination on campus, the Library Learning Commons is located on the first floor of the Porter Henderson Library. This space is designed with students in mind, completely moldable with movable furniture, a coffee bar, and current technology. And as a hub for information and interaction, it is the prime spot for engagement between students, faculty, and staff alike.
Management, Instruction, and Research Center: ASU's MIR Center, located just north of San Angelo, includes a 6,000-acre working ranch on which agriculture and animal science students get hands-on experience in all aspects of the agriculture industry. The MIR Center is home to ASU's award-winning herds of Angus cattle, Rambouillet sheep, and Spanish and Boer goats. Its building complex houses the USDA-inspected Food Safety and Product Development Lab, Mayer-Rousselot Agricultural Education and Training Center, Holland Arena, and ASU Meat Market, where student-produced meat products are sold to the public.
ASU Mayer Museum: Just opened on campus in May 2021, the $17 million, 32,000-square-foot Mayer Museum supports ASU student art programs with specialized labs for graphic design, sculpture, and ceramics, as well as student gallery space. The centerpiece is a full-size replica skeleton of a Tyrannosaurus rex dinosaur that is surrounded by 15 smaller dinosaur skeletons, as well as casts of dinosaur tracks and fossilized dinosaur eggs. Exhibit rooms off the main floor contain a variety of displays that periodically change, and various educational programs are available pertaining to each new exhibit. The museum is also the new home for ASU's award-winning West Texas Collection.
"Our small class sizes and research opportunities enable students to develop a relationship with the faculty. These relationships enable faculty to write personalized letters of recommendation, as well as to assist students discover their true 'calling.'" – Dr. Kyle Beran, chair of the ASU Department of Chemistry and Biochemistry
SPECIAL STUDY OPTIONS
Programs available at this institution.
Cross-registration
Distance learning
Double major
Dual enrollment
English as a Second Language (ESL)
Honors Program
Independent study
Internships
Study abroad
Teacher certification program
Vibrant Communities
"I love how helpful everyone is. Any issues I've ever had, I've always found someone who can help me. That's the difference between here and other universities that are bigger. Here, I was able to find the resources and people to help me answer my questions. If it hadn't been for the staff, I probably wouldn't have gotten to where I am right now." – Beatrice Perez, Class of 2019 (nursing)
CAMPUS LIFE
Angelo State's nationally ranked residence halls provide a home away from home for the Ram Family. Classes are within convenient walking distance of all the residence halls, several of which house specific Living-Learning Communities designed to foster a sense of kinship between students with similar interests and academic goals.
When it's time to eat, the only difficulty for ASU students may be when they have to decide among their many choices. The Food Service Center, nicknamed The Caf, recently underwent a complete renovation. Students also have numerous dining options in the Houston Harte University Center, including Chick-fil-a, Subway, and Starbucks—plus RamCart food trucks and an Einstein Bros. Bagels stand that cater to students on the go.
"If you're not part of the Ram Family, you're not living how you could live here, because if you want to be part of it, you can belong." – Maria Onofre-Madrid, ASU Department of English and Modern Languages
STUDENT ORGANIZATIONS
Ram Fam members have plenty of opportunities to get involved through the university's 100+ registered student organizations (RSOs). RSOs include everything from Student Government, Greek Life, and academic and professional clubs to multicultural and international groups, special interest groups, and spiritual life organizations, giving students plenty of opportunities to seek and expand their interests. For students who enjoy athletics, ASU has a thriving intramurals program and several competitive club sports programs. It is not uncommon to find ASU teams excelling at national competitions.
"ASU has the most diverse students and the most positive, as well. Becoming a part of student organizations has definitely helped me create the 'college life!'" – Catherine Guerra, ASU border and homeland security major
AWARD-WINNING FACILITIES
When students aren't in class, they can watch TV, play cutting-edge video games, enjoy a game of pool, or participate in various events at ASU's nationally ranked Houston Harte University Center. Students also have unlimited access to the Ben Kelly Center for Human Performance (CHP). In addition to a full weight room and multiple basketball courts, the CHP features a 50-foot rock-climbing wall, racquetball courts, group fitness classes, and a full-size pool.
The ASU Lake House Facility is also available to students. Located on San Angelo's Lake Nasworthy, this beautiful property is open for students looking to play, study, grill, kayak, or simply relax.
Additionally, all across campus are such facilities as the recently renovated Intramurals Complex, several sand volleyball courts, tennis courts, a covered pavilion with basketball courts, a disc golf course, and a hammock farm.
RAM JAM
Before Saturday home football games, there's no other place to be than Ram Jam, Angelo State's premier tailgating party. Students can enjoy a live band, classic tailgate games, and free food before following the Ram Band over to LeGrand Stadium at 1st Community Credit Union Field to cheer on the Rams.
"If you're not part of the Ram Family, you're not living how you could live here, because if you want to be part of it, you can belong." – Maria Onofre-Madrid, ASU Department of English and Modern Languages
DISTINGUISHED SPEAKER SERIES
Angelo State is proud to present the Distinguished Speaker Series, which provides premier lectures to both Angelo State and the San Angelo community. Prominent speakers in a variety of fields visit campus for six lectures held throughout the year, discussing topics in science, foreign affairs, technology, politics, and business. Past speakers include:
These speakers often interact with students in their classrooms, giving them opportunities to engage with esteemed professionals in their field of study.
SCHOOL LOCATION
Angelo State University's 268 park-like acres are located in San Angelo, a friendly community of approximately 100,000 people nestled in the heart of West Texas.
"I like that the residence halls are a 10-minute walk from the classrooms, dining hall, library and other resources. Everything you need to be successful is just a step outside." – Kinsey Barnett, ASU political science and history student
ATHLETICS
Angelo State University competes in NCAA Division II athletics and is a member of the Lone Star Conference. ASU supports 15 intercollegiate men's and women's athletic teams, including football, basketball, baseball, softball, volleyball, tennis, soccer, golf, cross country, and track and field. ASU athletic venues for basketball and volleyball, football and track & field, softball, and baseball, as well as the athletics weight training facility, are among the best in all of Division II.
Angelo State's official school mascot is Dominic the Rambouillet Ram, while costumed mascots Roscoe and Bella entertain at athletic events and many campus activities. The school colors are blue and gold, and all members of the Ram Family are encouraged to support the Rams and Rambelles. Students receive free admission to all home athletic events with their student ID.
RESIDENCE LIFE
Percent of students living on campus.
First-time, first-year (freshman) students: 71%
Undergraduates: 32%
Campus housing options.
Coed dorms
Apartments for single students
Special housing for disabled students
Theme housing
Successful Outcomes
"All my success can be attributed to the wonderful choice I made to come to ASU. I have accomplished more than I could ever have imagined, I have made the best friends that anyone could ever hope for, and I know that I am prepared to take on the next step in my journey, physical therapy school, because I came to Angelo State University." – Brenna Hudson, Class of 2018 top graduate (exercise science)
CAREER DEVELOPMENT/INTERNSHIPS
Angelo State's Office of Career Development is ready to help whether students need interviewing tips or information about current job positions both on and off campus. Career Development not only provides career counseling/testing, occupational information, and résumé and interviewing assistance, but it also hosts job fairs on campus every semester. It also provides part-time job and internship listings, both on campus and throughout the San Angelo community. What's more, individual academic departments coordinate specific internships for class credit to ensure that students can apply the knowledge they learn from their coursework.
"ASU helped prepare for my job with the opportunities it provides, such as working with Ram TV. That helped me build a résumé reel, gain experience writing, and obtain an internship, which further prepared me for the position I am in today as a multimedia journalist." – Dylan Jimenez, Class of 2019 (communication)
ALUMNI
Angelo State has an alumni body of over 48,000 Ram Fam members. ASU alumni have headed major national corporations, discovered new animal species, anchored national newscasts, conducted groundbreaking medical research, held top positions in the nation's military, and contributed to their communities and society. There are countless examples of how to Go as a Ram.
"I'm now applying for Ph.D. programs at schools such as Harvard and Yale, and I think that, more than any other academic experience in my life, the time at Angelo State will make the difference when it comes to those applications." – Duncan Knox, Class of 2015 (history)
CAPSTONE COURSES
Each degree area includes a senior capstone course that allows students to consolidate the knowledge they have garnered from their previous courses. Capstone courses help prepare students for entry into their professions, providing the tools for success in a working environment.
"With the help of our pre-law advisor, Dr. Tony Bartl, we have a 90% acceptance rate into law school after we graduate with our undergrad degree. I know I am fully prepared for the LSAT and my future classes." – Kristen Kilpatrick, Class of 2022 (political science)

"Working with the students at Angelo State has been a rich experience. It is very satisfying to see them succeed in their careers and continue to be included in their life stories." – Dr. Veronica Snow, ASU Department of Kinesiology
Admission & Aid
Admission
ADMISSIONS FACTORS
Very Important
Class rank | Standardized test scores
Important
Rigor of secondary school record
Considered
Academic GPA | Extracurricular activities | Talent/ability | Character/personal qualities
First generation | Geographical residence | State residency
Volunteer work | Work experience | Level of applicant's interest
FRESHMAN PROFILE
SAT Composite
25th Percentile: 950 | 75th Percentile: 1140
SAT Evidence-Based Reading and Writing
25th Percentile: 480 | 75th Percentile: 580
SAT Math
25th Percentile: 460 | 75th Percentile: 570
ACT Composite
25th Percentile: 18 | 75th Percentile: 24
ACT Math
25th Percentile: 15 | 75th Percentile: 23
ACT English
25th Percentile: 17 | 75th Percentile: 24
TOUR INFORMATION
The first step in a prospective student's journey is a visit to the Angelo State campus. If a personal visit to campus isn't possible, a virtual tour on the Admissions website is an excellent start. The website provides all the tools necessary to apply to Angelo State and work through the enrollment process once admitted.
Tuition & Cost
Tuition (in-state): $5,619
Tuition (out-of-state): $17,859
Fees: $3,691
Room & Board: $10,990
Aid
SCHOLARSHIPS
Nearly 90% of students receive a scholarship or financial aid while attending Angelo State. ASU students are automatically considered for ASU Distinguished Scholarships, funded by one of the largest endowments at any U.S. regional university. The endowment provides scholarships for nearly 50% of ASU students, and it has awarded more than $140 million since its inception in 1981.
In addition, ASU offers over 600 different scholarship programs. More than 350 of them are not tied to any particular degree program, while more than 250 scholarships are for students who major in specific degree programs or are involved in a student organization. One of the most recent scholarships added to ASU's portfolio is the Ram Family Scholarship, initiated by the Student Government Association with the philosophy of "The Ram Family takes care of its own."
WORK ON CAMPUS
For students who want to gain practical experience, need to work to help pay for college, or just want some extra walking-around money, ASU offers various Work Study and other student employment opportunities. More than 750 students have part-time jobs on campus.
What Others are Saying
"I would have to say the best thing about Angelo State is that you're not just a member of the crowd. I mean, you know each individual person on a personal level within your department. Angelo State has a hometown vibe – the Ram Fam. Everybody at Angelo State is like a family."
— Trevor Schwartz, Class of 2021 (agribusiness)
Contact Angelo State University