Albertus Magnus College
New Haven, Connecticut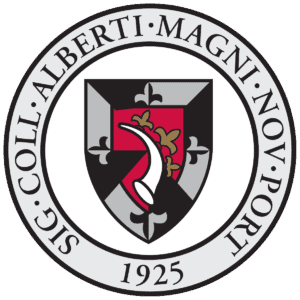 The Dominican tradition is the driving force of all that makes Albertus Magnus College an excellent academic community in which to grow. Not only is the pursuit of Veritas, or truth, shown in the well-rounded, exploratory liberal arts curriculum that supports every major, but it is also noticeable in the everyday interactions between students and their peers, faculty, and the surrounding New Haven community. Students at Albertus Magnus College are curious, and they are always seeking new ways to approach scholarly challenges and social issues alike in an attempt to grow as lifelong learners and successful members of their community. Thanks to its diverse student population, wide range of academic concentrations, and supportive, personally invested faculty members, the College is alive with a world of vibrancy and mutual respect.
SHOW MORE
Albertus Magnus College is a four-year, private, liberal arts, co-educational, degree-granting college offering undergraduate and graduate programs. It was founded in 1925 by the Dominican Sisters of St. Mary of the Springs, who are now known as the Dominican Sisters of Peace. Albertus was the first Catholic, liberal arts, residential college for women in New England. It has been co-educational since 1985.
Albertus offers more than 50 undergraduate majors, minors, and concentrations, with pre-professional preparation; 11 graduate programs in accounting, art therapy and counseling, business administration, criminal justice, education, fine arts in writing, human services, leadership, liberal studies, management and organizational leadership, and clinical counseling. The Master of Arts in Art Therapy and Counseling is the only one of its kind in the state of Connecticut. Candidates for the Master of Arts in Public Administration are being accepted in Fall 2018.
Albertus Magnus College welcomes veterans to its community and is a participant in the Post 9/11 G.I. Bill Yellow Ribbon Program. The Albertus Student Veterans Association is an approved chapter of Student Veterans of America. There is a Veterans Center on the New Haven campus.
Get to know Albertus Magnus College
1,088
Degree-Seeking Undergraduates
Full-time to Part-time Ratio
-
0%
1%
2%
3%
4%
5%
6%
7%
8%
9%
10%
11%
12%
13%
14%
15%
16%
17%
18%
19%
20%
21%
22%
23%
24%
25%
26%
27%
28%
29%
30%
31%
32%
33%
34%
35%
36%
37%
38%
39%
40%
41%
42%
43%
44%
45%
46%
47%
48%
49%
50%
51%
52%
53%
54%
55%
56%
57%
58%
59%
60%
61%
62%
63%
64%
65%
66%
67%
68%
69%
70%
71%
72%
73%
74%
75%
76%
77%
78%
79%
80%
81%
82%
83%
84%
85%
86%
87%
88%
89%
90%
91%
92%
93%
94%
95%
96%
97%
98%
99%
100%
Retention rate
14:1
Student/teacher ratio
$34,410
Full-time tuition cost
-
0%
1%
2%
3%
4%
5%
6%
7%
8%
9%
10%
11%
12%
13%
14%
15%
16%
17%
18%
19%
20%
21%
22%
23%
24%
25%
26%
27%
28%
29%
30%
31%
32%
33%
34%
35%
36%
37%
38%
39%
40%
41%
42%
43%
44%
45%
46%
47%
48%
49%
50%
51%
52%
53%
54%
55%
56%
57%
58%
59%
60%
61%
62%
63%
64%
65%
66%
67%
68%
69%
70%
71%
72%
73%
74%
75%
76%
77%
78%
79%
80%
81%
82%
83%
84%
85%
86%
87%
88%
89%
90%
91%
92%
93%
94%
95%
96%
97%
98%
99%
100%
6-year graduation rate
Rolling
Application deadline
-
0%
1%
2%
3%
4%
5%
6%
7%
8%
9%
10%
11%
12%
13%
14%
15%
16%
17%
18%
19%
20%
21%
22%
23%
24%
25%
26%
27%
28%
29%
30%
31%
32%
33%
34%
35%
36%
37%
38%
39%
40%
41%
42%
43%
44%
45%
46%
47%
48%
49%
50%
51%
52%
53%
54%
55%
56%
57%
58%
59%
60%
61%
62%
63%
64%
65%
66%
67%
68%
69%
70%
71%
72%
73%
74%
75%
76%
77%
78%
79%
80%
81%
82%
83%
84%
85%
86%
87%
88%
89%
90%
91%
92%
93%
94%
95%
96%
97%
98%
99%
100%
Acceptance rate
-
0%
1%
2%
3%
4%
5%
6%
7%
8%
9%
10%
11%
12%
13%
14%
15%
16%
17%
18%
19%
20%
21%
22%
23%
24%
25%
26%
27%
28%
29%
30%
31%
32%
33%
34%
35%
36%
37%
38%
39%
40%
41%
42%
43%
44%
45%
46%
47%
48%
49%
50%
51%
52%
53%
54%
55%
56%
57%
58%
59%
60%
61%
62%
63%
64%
65%
66%
67%
68%
69%
70%
71%
72%
73%
74%
75%
76%
77%
78%
79%
80%
81%
82%
83%
84%
85%
86%
87%
88%
89%
90%
91%
92%
93%
94%
95%
96%
97%
98%
99%
100%
Out-of-state students
Benefits
Student Activities
Student Activities
Campus Ministries
Choral groups
Drama/theatre
International Student Organization

Literary magazine
Student government
SHOW MORE
High-Impact Practices
High-Impact Practices
First-Year Seminars and Experiences
Common Intellectual Experiences
Learning Communities
Writing-Intensive Courses

Collaborative Assignments and Projects
Undergraduate Research
Diversity/Global Learning
Service-Learning, Community-Based Learning
Internships/Coops/Practica
Capstone Courses and Projects/Senior Experience
SHOW MORE
SHOW MORE
College Highlights
Engaged Students
Great Teaching
Vibrant Communities
Successful Outcomes
Admission & Aid
Engaged Students
INSIGHT
Every undergraduate at Albertus builds a firm foundation for their college career with the Insight Program, a comprehensive general education curriculum that teaches them the fundamentals of all disciplines. Through a liberal arts education, students are exposed to concepts and ways of thinking that allow them to engage with their major concentration in out-of-the-box ways. Throughout their four years, students expand their knowledge in the humanities and sciences, all while joining together to ask themselves questions about their place in the world. The Insight Program cultivates a campus-wide dialogue about how everything—and everyone—is connected, worthy of respect, and in need of care and attention.
There are ten student clubs and organizations as part of

Student Government Association (SGA)

and

Campus Activities Board

.

SGA represents the voice of students at Albertus Magnus College. SGA also serves as the student-run programming board on campus. Its purpose is to plan and execute a variety of successful events reflective of the diverse interests and needs of the student body.

The

Student Alumni Association (SAA)

is a student-run organization for undergraduates looking to build their professional network. With the support of the school's Alumni Office, this group of 25-30 students build meaningful connections with alumni who have gone on to succeed with their Albertus degree.

The

Honors Program

plunges driven students into academic challenges and cultural enrichment. Honors students are closely connected, building a sense of community as they push their intellectual limits. Bonds with their peers, professors, and advisors give them a "memorable, enjoyable, and rewarding" experience.

The

Aquinas Scholar

s

Program

gives highly motivated students the opportunity to explore what intrigues them most, giving them access to the resources and assistance they need to pursue projects that they design themselves. As they discover more about their independent topics, they revel in their unique opportunity to take on advanced challenges within their chosen fields.

Student Justice League:

This group's mission is to serve as an entity and resource to bring social justice awareness and action to Albertus Magnus College.

The

Breakwater Literary Magazine

publishes fiction, poetry, and artwork created by students and faculty members to showcase the tremendous talent at Albertus in its annual publication.
"A few years ago, the Student Alumni Association (SAA) wanted to help students who might not be able to stay at the College because of financial difficulties so the organization began collecting change. This change was to be given to fellow students and became known as the Change for Change Scholarships. I now have the honor of organizing this fundraising effort and over the past three years we have raised more than $3,000. I have taught religious education for many years and know the value and reward of service to others. I love finding ways to help my peers give back in their own ways." – Alicia Vitagliano '19, political science major
EXPERIENTIAL LEARNING
An Albertus education is about the pursuit of truth and the application of knowledge to the greater good. There is no doubt that students embrace and enact this mission every day! Albertus Magnus College s proud of its students' accomplishments, hosting an annual Experiential Learning Day (ELD) to highlight their out-of-the-classroom successes in both curricular and co-curricular projects. Internships and practica; service-learning projects; research in the sciences, arts, and humanities; and student-run group and athletic activities are just a few outlets through which Albertus students make a difference and make an impact.
The Faculty Mentor Program provides each athletic team with at least one mentor who acts as a helpful liaison between the team, department, and faculty.

The innovative

Albertus Leadership Immersion Program

, engages a small group of promising students in a three-day event right before the start of the fall semester. Aligned with the mission o

f providing "an education that  promotes the search for truth in all its dimensions," this Immersion Program trains students to take charge and guide others to success. A new course even allows these students to participate continually throughout the semester.

Every other year, while on a North American tour, the

Cambridge Union Society

debates an Albertus team in New Haven.
ALBERTUS ABROAD
Students have multiple opportunities to gain a global perspective, studying abroad through an Affiliate (Rome through Assumption College and Ireland through Sacred Heart University), Associate Program (Affiliate American Institute of Study), or by participating in a service-learning trip in Montreal, Canada.
ENROLLMENT BY ETHNICITY
Non-U.S. Citizen: 3%
Hispanic/Latinx: 21%
Black or African American, non-Hispanic: 29%
White, non-Hispanic: 32%
Native/Indigenous American or Alaska Native, non-Hispanic: 1%
Asian, non-Hispanic: 1%
Native Hawaiian or other Pacific Islander, non-Hispanic: 0%
Two or more races, non-Hispanic: 2%
Race and/or ethnicity unknown: 11%
Great Teaching
The College affirms its fidelity to the life of the human mind and spirit alike, thanks in large part to its well-rounded curriculum in the liberal arts. Students are prepared for whatever life throws them with a values-based liberal arts background that trains them to be competent, mindful, and masterful in their careers and daily lives.
The mission of Albertus Magnus College is to provide men and women with an education that promotes the search for truth in all its dimensions and is practical in its application. At Albertus, students and faculty ensure that the learning experience is a joint effort that is always committed to intellectual strength, high ideals, and respect for each individual's dignity and worth.
"In one busy day, I had a distinct honor to share my story to the Albertus Community in New Haven about representing our College at the Dominican 'Preaching in Action' Conference, and then travel to Hartford to speak at a press conference about the importance of State scholarships for students. Were it not for the experience of working with liberal arts professors who continually challenge me to present and question verbally in and out of the classroom, I never would have had the courage to speak in front of a large group and would have missed out on a once in a lifetime opportunity to make an impact on others." – Jason Howell '20, business management major with a concentration in marketing
INNOVATIVE
Albertus embraces technology's ability to enhance human creativity as well as human creativity's ability to enhance technology. aims to enhance the capacity for technological innovation and human creativity. The College is constantly developing a multi-use Digital Media and Creative Arts Education Center to provide academic programs that leverage advances in digital technologies.
DISTINCTIVE
Innovative teaching is at the forefront of every Albertus professor's mind. The College remains flexible to enable student access to current and distinctive academic programs.
HIGH-IMPACT
With a keen focus on in-demand and high-impact programs, the College dedicates multiple resources to personally and professionally enriching experiences that extend beyond the classroom.
Such high-impact practices take flight with the help of organizations like the National Science Foundation, which has awarded a five-year S-STEM (Scholarships in Science Technology Engineering and Mathematics) grant of $649,383 to Albertus Magnus College. The award will fund scholarships and capacity-building activities intended to increase the number of graduates who are prepared to enter the workforce or to pursue graduate studies in one of the STEM fields.
FACULTY
The Albertus faculty consists of 41 full-time faculty members, 90 percent holding a Ph.D. or the terminal degree in their field, plus part-time faculty who together add an additional 47 full-time equivalent positions. With a student-to-faculty ratio of 13:1, all professors are able to place their primary focus on teaching.
Work by members of the Albertus faculty frequently appears in national and international publications, including The New Yorker, The Hudson Review, and scholarly journals; at galleries in New York, Phoenix, and across the country; and books published by Brill, University of Arkansas Press, Routledge, and Syracuse University Press, among others.
SPECIAL STUDY OPTIONS
Programs available at this institution.
Accelerated program
Distance learning
Double major
Honors Program
Independent study
Internships
Study abroad
Vibrant Communities
INCLUSIVE
Albertus fosters an initiative to promote a diverse, inclusive learning environment by recruiting and retaining students, faculty, and staff who reflect the demographic changes in today's society.
"A liberal arts education introduces us to what we have to offer. When we have the power of analysis we won't conform to prevailing ideas and practices." – Meteka Joseph 18', mathematics major
LECTURES AND GUEST SPEAKERS
Every year, Albertus Magnus College hosts a series of lectures that challenge the College community to consider the Dominican search for truth amid current issues of the modern era. World leaders in spirituality and academics are invited to campus so that they may share their insight and inspire students, faculty, and local community members alike to take well-informed actions for the common good. Recent lectures have included discussions on relationships between faiths and insights on humankind's relationship with the world and universe at large.
The College also honors Constitution Day, which commemorates the signing of the U.S. Constitution on September 17, 1787. On this day, Albertus inspires students with an educational speaking program to celebrate.
ALBERTUS SERVES
As Albertus was founded by the Dominican Sisters of Peace, the College's community is impelled by a passionate drive to serve. Every day, students involved in Campus Ministries and other student-run clubs and organizations are tackling issues in the greater New Haven area, providing help wherever it is needed. Albertus has a thriving relationship with outside organizations that are dedicated to the common good. Habitat for Humanity, American Red Cross, the Connecticut Food Bank, and so many other philanthropic associations welcome the active service of Albertus Students, the Fearless Falcons. The College also provides opportunities for students to serve through internships, providing them practical work experience while helping others. Academics, professional experience, and the fight for the common good are all intertwined.
DAY OF SERVICE
In May of 2018, members of the Albertus Community and neighborhood groups, alumni, families, and friends participated in a Day of Service as part of the four days of festivities for the inauguration of the College's 14th President Marc M. Camille, Ed.D. More than 2,300 volunteers surpassed the goal of 1,925 (honoring the year the College was founded). Projects included cleaning up local parks and community gardens, walks in support of various charities, preparing food for soup kitchens, and moving books in the library, among more than 20 different projects around the world.
EVER FORWARD
The College's Hubert Campus Center is undergoing major renovations to be completed by 2020, and Albertus Magnus College is installing solar panel systems to reduce the College's carbon footprint and utility costs.
There are so many things to do throughout the College's many facilities, including the Hubert Campus Center with House of Bollstadt pub, the Common Ground Cyber Lounge; DeDominicis dining hall; the Writing Center; the Academic Development Center; campus ministry; and the library, which has nearly 88,000 volumes and access to thousands of media titles and print and electronic journals.
Students also take full advantage of the Athletic Center's swimming pool, racquetball court, weight and cardio room, gymnasium, outdoor tennis courts, running track, fields for soccer, and new softball complex.
SCHOOL LOCATION
The 50-acre Albertus Magnus College campus stands as a beautiful gem within the Prospect Hill neighborhood of New Haven, Connecticut. Located halfway between New York City and Boston, New Haven is a cosmopolitan cultural city alive with nearly 130,000 residents and seven universities that collectively enroll 50,000 students. New Haven's award-winning professional theaters, orchestras, art galleries, and museums make it the perfect place to learn and live.
ATHLETICS
Albertus Magnus is a NCAA Division III member and participates in the Great Northeast Athletic Conference (GNAC). The College currently offers 13 varsity programs—men's and women's soccer, volleyball, field hockey, men's and women's tennis, men's golf, men's and women's basketball, baseball, softball, and men's and women's lacrosse—and will be adding men's ice hockey and women's swimming & diving in the near future.
In April 2018, the College announced a new partnership with the City of New Haven, deepening its commitment to Greater New Haven, broadening and enriching the lives of students and residents of the area. The College will bring the first NCAA Division III men's ice hockey program to New Haven and will play home games at the newly renovated Ralph Walker Skating Rink. Albertus student-athletes will be involved with a Learn to Skate program for New Haven children, just another example of the College's outreach and volunteerism.
The Student-Athlete Advisory Committee (SAAC), comprised of representatives from every intercollegiate athletic team on the Albertus Magnus campus, connects student-athletes to one another so that they may collaborate and meet with other institutions in the Great Northeast Athletic Conference and the national NCAA Division III population, all to improve their busy experience as both athletes and scholars.
Frankie the Falcon is the mascot of all Albertus Magnus College teams. He traces his lineage to the Middle Ages, when the family of St. Albert enjoyed the sport of falconry. Albertus fans are known as Fearless Falcons, and the school colors are blue and white.
Strong athletic programs enhance campus life, promote student engagement, foster community spirit, and help attract and retain students. As a Division III member of the NCAA, the Albertus Magnus College Department of Intercollegiate Athletics is committed to the philosophy that the pursuit of excellence in competition is fully compatible with the pursuit of excellence in the classroom. A combination of the two endeavors lends itself to a more complete educational experience.
To this end, the Albertus Magnus College Department of Intercollegiate Athletics seeks to promote the overall mission of the institution through the principles and mission of the College. Approximately 53 percent of undergraduate day students participate in Albertus Athletics or intramural sports.
RESIDENCE LIFE
Percent of students living on campus.
First-time, first-year (freshman) students: 57%
Undergraduates: 20%
Campus housing options.
Coed dorms
Women's dorms
Successful Outcomes
HOLISTIC GROWTH
Real-world experience is key to success in the job market, and thanks to the College's hands-on approach to career development, students graduate with plenty of skills for the future. Skilled advisors guide students throughout a pathway for career development that is designed to fit easily alongside their four-year track. And since 2011, Albertus has gone to extra mile to equip every student with an ePortfolio that summarizes the knowledge and experiences they gain all throughout college. Not only do these ePortfolios act as excellent additions to students' résumés, but they also give each student the chance to reflect upon their undergraduate experience and make conscious connections between everything that they have learned. In this way, students graduate with a firm grasp of their field of study and a confident sense of purpose in the world.
"I was amazed by the experiences and opportunities that are available that are outside of the classroom. I had the opportunity to join a number of clubs on campus and gain experience with an internship at a law firm." – Robert Keidel '15, political science major and 2018 Hofstra Law School graduate
ALUMNI SUCCESS
According to the annual Destination Survey, of Albertus Magnus College's Class of 2017, 96 percent were employed full-time or in graduate school far surpassing the national average of 71 percent.
Albertus has over 15,388 alumni around the world, including the first woman named to the Federal bench in Connecticut; the first woman appointed to the trial court in Connecticut; eight-term member of the U.S. House of Representatives, Secretary of the U.S. Department of Health and Human Services and U.S. Ambassador to Ireland; the first woman vice president at Merrill Lynch; and a pioneering pediatric cardiologist whose research has saved countless young lives.
CAREER SERVICES
The Office of Career and Professional Development assists students and alumni with active guidance toward a career plan. With the collaboration of the Office of Academic Affairs, the Office of Career and Professional Development prepares the College community to find and impress potential employers and connect them to the wider professional world.
MORE DISTINCTIONS
According to the annual Destination Survey, of Albertus Magnus College's Class of 2017, 96 percent were employed full-time or in graduate school, far surpassing the national average of 71 percent.

Albertus Magnus College is

accredited

by the Commission on Institutions of Higher Education of the New England Association of Schools and Colleges, Inc.

Accredited for its Master of Arts in Art Therapy and Counseling Program through the American Art Therapy Association.

Accredited for its business programs through the International Assembly for Collegiate Business Education (IACBE).
Admission & Aid
Admissions
ADMISSIONS FACTORS
Very Important
Academic GPA | Application Essay
Important
Rigor of secondary school record | Standardized test scores | Recommendation(s)
Extracurricular activities | Character/personal qualities | First generation
Alumni/ae relation | Volunteer work | Level of applicant's interest
Considered
Class rank | Interview | Talent/ability | Work experience
FRESHMAN PROFILE
SAT Evidence-Based Reading and Writing
25th Percentile: 410 | 75th Percentile: 540
SAT Math
25th Percentile: 400 | 75th Percentile: 510
Tuition & Cost
Tuition: $34,410
Fees: $1,000
Room: $11,120
Board: $3,334
Aid
The value of a degree comes when it is seen through to completion, and Albertus works hard to help lessen the financial burden that may otherwise interfere with students' ability to enroll. Providing financial assistance to those who demonstrate financial need, Albertus aims to make education affordable with  scholarships, grants, loans, and work-study programs.
97% of first-time Albertus students receive some sort of financial assistance. The College's generous aid often enables students to lower their tuition to one comparable to that of a public college tuition.
The College's new Silver Horn Scholarship Fund is one of many scholarships offered at Albertus. The commitment to the success of each student who enrolls at Albertus will be strengthened, providing essential financial support for enrolled students who face financial hardship, to stay on track to graduate with their degrees in four years. Recipients of The Silver Horn Scholarship Fund will be enrolled Albertus students with demonstrated financial hardship, but also are in good academic standing and contributing positively to the life of their classmates and the College.
What Others are Saying
"At Albertus Magnus College you feel mission in a palpable way everyday. The community that we have, the faculty, the staff, are so dedicated to the students that we serve. What that translates to is a values-based, liberal-arts based education. This community is committed to the success of every student who enrolls here."
— Marc M. Camille, Ed.D., President, Albertus Magnus College
Contact Albertus Magnus College