Adrian College
Adrian, Michigan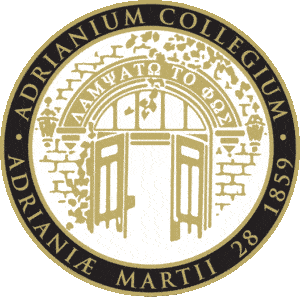 Adrian College is a private college in the liberal arts tradition affiliated with the United Methodist Church. The college was founded in 1859 by Asa Mahan.
With over 40 majors and pre-professional programs to choose from, more than 80 student organizations, and 22 varsity sports, the opportunities to achieve and excel are limitless at Adrian College. Whether students are applying their liberal arts education in AC's innovative Institutes, directing a play in historic Downs Hall Studio Theatre, or scoring in new athletic facilities like the Arrington Ice Arena, Adrian College students are a part of a 151-year history as it surges into the future.
Get to know Adrian College
1,788
Degree-Seeking Undergraduates
Full-time to Part-time Ratio
-
0%
1%
2%
3%
4%
5%
6%
7%
8%
9%
10%
11%
12%
13%
14%
15%
16%
17%
18%
19%
20%
21%
22%
23%
24%
25%
26%
27%
28%
29%
30%
31%
32%
33%
34%
35%
36%
37%
38%
39%
40%
41%
42%
43%
44%
45%
46%
47%
48%
49%
50%
51%
52%
53%
54%
55%
56%
57%
58%
59%
60%
61%
62%
63%
64%
65%
66%
67%
68%
69%
70%
71%
72%
73%
74%
75%
76%
77%
78%
79%
80%
81%
82%
83%
84%
85%
86%
87%
88%
89%
90%
91%
92%
93%
94%
95%
96%
97%
98%
99%
100%
Retention rate
14:1
Student/teacher ratio
$37,755
Full-time tuition cost
-
0%
1%
2%
3%
4%
5%
6%
7%
8%
9%
10%
11%
12%
13%
14%
15%
16%
17%
18%
19%
20%
21%
22%
23%
24%
25%
26%
27%
28%
29%
30%
31%
32%
33%
34%
35%
36%
37%
38%
39%
40%
41%
42%
43%
44%
45%
46%
47%
48%
49%
50%
51%
52%
53%
54%
55%
56%
57%
58%
59%
60%
61%
62%
63%
64%
65%
66%
67%
68%
69%
70%
71%
72%
73%
74%
75%
76%
77%
78%
79%
80%
81%
82%
83%
84%
85%
86%
87%
88%
89%
90%
91%
92%
93%
94%
95%
96%
97%
98%
99%
100%
6-year graduation rate
Rolling
Application deadline
-
0%
1%
2%
3%
4%
5%
6%
7%
8%
9%
10%
11%
12%
13%
14%
15%
16%
17%
18%
19%
20%
21%
22%
23%
24%
25%
26%
27%
28%
29%
30%
31%
32%
33%
34%
35%
36%
37%
38%
39%
40%
41%
42%
43%
44%
45%
46%
47%
48%
49%
50%
51%
52%
53%
54%
55%
56%
57%
58%
59%
60%
61%
62%
63%
64%
65%
66%
67%
68%
69%
70%
71%
72%
73%
74%
75%
76%
77%
78%
79%
80%
81%
82%
83%
84%
85%
86%
87%
88%
89%
90%
91%
92%
93%
94%
95%
96%
97%
98%
99%
100%
Acceptance rate
-
0%
1%
2%
3%
4%
5%
6%
7%
8%
9%
10%
11%
12%
13%
14%
15%
16%
17%
18%
19%
20%
21%
22%
23%
24%
25%
26%
27%
28%
29%
30%
31%
32%
33%
34%
35%
36%
37%
38%
39%
40%
41%
42%
43%
44%
45%
46%
47%
48%
49%
50%
51%
52%
53%
54%
55%
56%
57%
58%
59%
60%
61%
62%
63%
64%
65%
66%
67%
68%
69%
70%
71%
72%
73%
74%
75%
76%
77%
78%
79%
80%
81%
82%
83%
84%
85%
86%
87%
88%
89%
90%
91%
92%
93%
94%
95%
96%
97%
98%
99%
100%
Out-of-state students
College Highlights
Engaged Students
Great Teaching
Vibrant Communities
Successful Outcomes
Admission & Aid
Engaged Students
Student engagement at Adrian College involves cutting-edge teaching and learning for students. Research today shows that students who "do" learn best. From service-learning opportunities to class projects to lecture series, students learn in an environment rooted in a philosophy called the "Ribbons of Excellence." These values are taken from the long-standing tradition of attaching ribbons with graduates' names to the shepherd's crook during graduation ceremonies. These ribbons of excellence support the College's mission—a mission rooted in personal and professional excellence standards. Just as the Latin inscription on the shepherd's crook suggests, the Ribbons of Excellence cannot be achieved without hard work. The Ribbons of Excellence are:
Caring for humanity and the world

Crossing boundaries and disciplines

Thinking critically

Developing creativity

Learning throughout a lifetime
CARING FOR HUMANITY AND THE WORLD
Students learn and live this ribbon at Adrian College through various courses involving outreach to the local and global community. For the past two years, students enrolled in a "Global Health Experience" apply their knowledge and skills to a medical and dental outreach trip each December to Nicaragua. In Nicaragua, students work with medical professionals helping to organize, advertise, and assist in mobile health clinics to reach the neediest sections of the population. Over 40 Adrian College students and staff have taken advantage of this opportunity and students recently presented their work at the annual student conference on campus, "Ribbons of Excellence Day."
CROSSING BOUNDARIES AND DISCIPLINES
For the past three years, Adrian College's "Model Arab League" course has offered students an opportunity to study international politics, hone their research and speaking skills, and travel to Washington D.C. to compete with other nationally recognized schools in a simulation experience. Model Arab League is a student leadership development program administered by the National Council on U.S.–Arab Relations. Participants learn about the politics and history of the Arab world and the arts of diplomacy and public speech. It is also a gateway to exchange programs in the Arabic world. The Adrian College delegation won outstanding delegation in 2011 during the Michigan competition and competed in the national session. Numerous students were recognized as "outstanding chairs" of countries and "outstanding delegates" during the competitions.
THINKING CRITICALLY
The Honors Program at Adrian College offers an opportunity it its colloquium for students to embed themselves into 19th century England and the evolution debate. Using role-playing simulation pedagogy called "Reacting to the Past," students play characters, research key debates around a topic, and present their perspective in an interactive game. Over the many weeks of the course, the historic event unfolds before their eyes, as its relevance today is reinforced through reflection papers and class discussion.  
DEVELOPING CREATIVITY
Upon arriving at Adrian College in the spring of 2009, Dr. Jennifer Ellsworth brought over twenty years of experience from the business world by working at internationally known companies such as American Girl, Patagonia, and Williams-Sonoma. As a result of these experiences, Dr. Ellsworth knew that in order to succeed in business, students would need more than theories and concepts; they would need experiences directly tied to that world. So, she immediately procured a seed donation for a project and her students worked over the next fifteen weeks on developing, budgeting, marketing, and selling the "Downs Hall Holiday Ornament" to commemorate the oldest building on the Adrian College campus. Since this class, every class has taken a project from conception to profit. Engaged learning at its best!
LEARNING THROUGHOUT A LIFETIME
Engaged learning at Adrian College takes on special meaning during Homecoming when alumni return for the popular, "Professor for a Day" program. This program invites alumni to come and teach a class to current students, share life lessons, and provide advice. "Professor for a Day" allows students and alumni to connect and continue to live this ribbon of excellence.
ENROLLMENT BY ETHNICITY
Non-U.S. Citizen: 0%
Hispanic/Latinx: 6%
Black or African American, non-Hispanic: 7%
White, non-Hispanic: 67%
Native/Indigenous American or Alaska Native, non-Hispanic: 0%
Asian, non-Hispanic: 0%
Native Hawaiian or other Pacific Islander, non-Hispanic: 0%
Two or more races, non-Hispanic: 4%
Race and/or ethnicity unknown: 15%
Great Teaching
ENGAGED FACULTY
Whether it's in small classes (with a 12:1 student-to-faculty ratio) or in individualized, academic advising for each student, Adrian faculty always make students their top priority. They utilize innovative pedagogy, such as Reacting to the Past's Darwin Games, and regularly take students into the field for hands-on and service-learning. They have crafted a curriculum that balances traditional liberal arts inquiry with professional preparation.
QUALITY EDUCATION
Adrian faculty do not complacently reuse old lectures; they attend conferences in order to stay up to date on the latest ideas in teaching. Additionally, they can also be found winning awards and giving presentations about their own teaching, research, and successes. For example, Art professor Garin Horner was recently the featured speaker at the Great Lakes Conference on Teaching and Learning, and Biology professor Marti Morales-Ensign participated in a teaching and research symposium held by the National Science Foundation.
ESTEEMED PROFESSORS
Research shows that the best teachers are also active and engaged scholars and creators. In addition to being award-winning teachers, Adrian College faculty have diverse and lively research and creative interests. Dr. Sarah Hanson recently discovered a new mineral, Allanite. Drs. Carissa Massey and Fritz Detwiler attended NEH Summer Institutes to study Appalachian and Native American Pacific culture, respectively. Recent faculty articles can be read in such places as Theology Today Journal and Journal of Comparative Neurology, and others can be found bringing presentations to the Association of Asian Studies and the National Lawyers Guild. Additionally, Adrian College has hosted several Fulbright scholars to teach Arabic language classes.
Vibrant Communities
LIFE OUTSIDE THE CLASSROOM
There is never a dull moment on the Adrian College campus. Nearly every day and evening, students can hear engaging speakers, participate in community service, perform creatively, or be a leader in any kind of student organization. There is sure to be a community that meshes with anyone's interests.
Adrian students belong to more than 80 student organizations, including religious, professional, academic, Greek, and special interest groups. More than 50% of students participate in athletics, where 22 varsity sports are nationally competitive. Rounding out these activities, there are also several music ensembles, theatrical productions, and visual art groups.
SPEAKERS AND EVENTS
Numerous organizations bring nationally renowned speakers to campus. Recent speakers include Native American activist Charlotte Black Elk, investigative journalist Radley Balko, and humanitarian Steven Lewis.
The College also celebrates numerous annual events that bring together campus and community to engage in academic pursuits, to raise awareness, to give back to the community, and to simply have fun. Right away during the Community Plunge, freshmen help out around the community as a part of Welcome Week activities. Conferences, speakers, and student group activities mark Women's History Month, Black History Month, and Hispanic Heritage Month. The annual Dance Marathon and Gift of Life Ball are student-led events that raise awareness and money for selected causes. Military Appreciation Day honors student and community veterans. Ribbons of Excellence Day rounds out this calendar with a celebration of student research.
SCHOOL LOCATION
Adrian College is located in the Adrian, MI. Known as the Maple City, Adrian is the seat of Lenawee County and is nestled among southeast Michigan's farmland. The college is about 50 miles from Detroit's airport, 35 miles from Jackson's (MI) Amtrak station, and 35 miles from Toledo (OH).
ATHLETICS
Adrian College is a Division III school. The Bulldogs compete in the Michigan Intercollegiate Athletic Association (MIAA). Over 50% of students participate in varsity, club, and intramural sports.
Women's Varsity sports include basketball, bowling, cross-country, golf, ice hockey, lacrosse, soccer, softball, tennis, outdoor track and field, and volleyball.
Men's Varsity sports include baseball, basketball, cross-country, football, golf, ice hockey, lacrosse, soccer, tennis, and outdoor track and field.
Other notable intercollegiate club sports include ACHA men's hockey, women's figure skating, mixed cheerleading, and women and men's equestrian teams. Intramural offerings range from traditional sports to ultimate frisbee, badminton, and racquetball.
Mascot: Bruiser the Bulldog
Colors: Black and Gold
New athletic facilities include the Arrington Ice Arena, the Multi-sport Performance Stadium (football, soccer, and lacrosse), Nicolay Field (baseball), the Craft Tennis Complex, and the Track and Field Complex. The Softball Field was also given an extensive renovation.
To add to the excitement of Adrian College Athletics, the Adrian College Marching Band has been performing since 2007 at football games and local celebrations.
Successful Outcomes
EXCITING OPPORTUNITIES
Students at Adrian College, both recent and past alum, are living successful lives rooted in the school's mission of personal and professional excellence. Current students demonstrate their excellent academic preparation through their ability to compete for national awards in fields from science to religion. The following are just a few highlights of their success:
Choir invited to perform at Carnegie Hall (NYC)

Perry Kuipers

(political science) was selected to go to the University of Illinois in summer 2010 under a research for undergraduate experience funded through the Council on Undergraduate Research.

Shane Hinson

(political science) was elected Chief Justice of the Arab Court of Justice for the 2011 National Model Arab League competition.

Kelly Eberhardt

(Biology major) is a paid intern at NASA Glenn Research Center in Cleveland working in a space exploration-related research facility this summer.

First cohort of 5 students in Athletic Training pass Board of Certification national exam in Athletic Training (national pass rate is 50%; Adrian is 100%).
PRESTIGIOUS GRADUATE SCHOOLS
For the past two years over 25% of the graduating classes is attending graduate or professional school studying anything from law and medicine to ecology. The following is a short list of graduate schools attended by Adrian alumni:
University of Michigan, School of Law

University of Notre Dame

Loyola University

Xavier of Louisiana College of Pharmacy

University of Chicago
ACHIEVED ALUMNI
From business, medicine, law, and education, to serving as a pastor at a church, Adrian College alumni contribute to their fields all across the world, truly exemplifying the historic impact of an Adrian College education.
The following is a short list of notable alumni:
Charles Baer '59, former President of the National American Diabetes Association

Doug Hudgins '86, Ph.D. National Aeronautics and Space Administration (NASA) astrochemist

Bob Miller '86, U.S. Department of Foreign Service (Tanzania, Belarus)

Virgil P. Bernero, '86 Mayor, City of Lansing Michigan

Melody Morris, '05, U.S. Department of Justice Law Enforcement Officer
Admission & Aid
Admission
TEST SCORES
Required
FRESHMAN PROFILE
SAT Evidence-Based Reading and Writing
25th Percentile: 460 | 75th Percentile: 570
SAT Math
25th Percentile: 467 | 75th Percentile: 550
ACT Composite
25th Percentile: 19 | 75th Percentile: 25
ACT Math
25th Percentile: 18 | 75th Percentile: 26
ACT English
25th Percentile: 17 | 75th Percentile: 24
Tuition & Cost
Tuition: $37,755
Fees: $975
Room: $5,720
Board: $6,500