2023 Best Public Colleges in Florida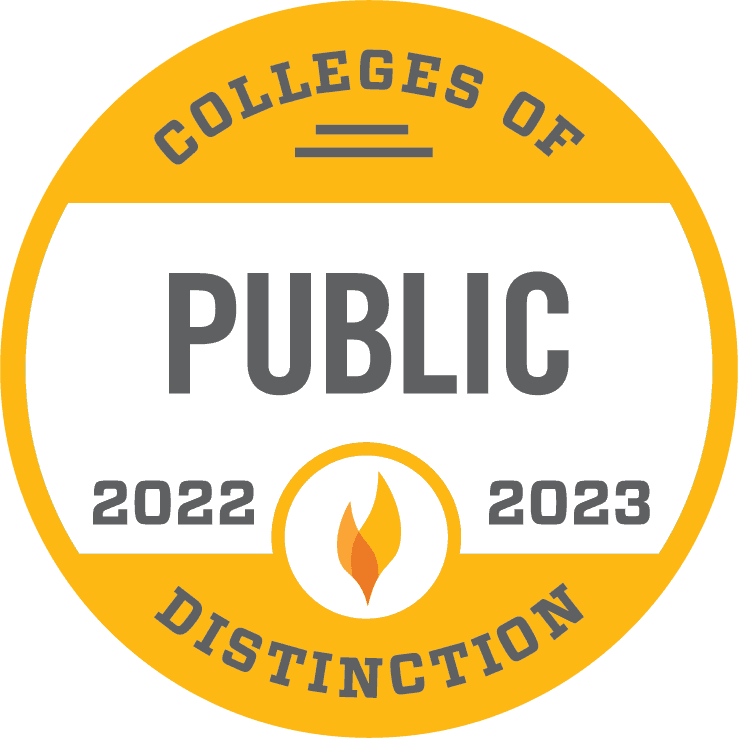 Published: September 1, 2022
By: Colleges of Distinction Staff
Jump to: Florida Agricultural and Mechanical University | University of Florida | University of South Florida | University of West Florida | Frequently Asked Questions
Public colleges and universities are usually perceived to have larger class sizes, less attention, and less prestige than private colleges. Don't let these labels fool you! Each institution offers a unique college experience, ranging from small liberal arts colleges to research institutions.
Rather than looking at college rankings to choose where you will study for the next four years, take a more immersive approach to your college search. Explore college campuses, sift through your top college majors, and find the college experience that you want.
Colleges of Distinction has hand-picked a selection of the best colleges in the United States that cater to students' interests to help you with your college search. Take a look below to see our list of 2022-2023 Colleges of Distinction to help you find the right college for you.
---
Tallahassee, FL ‧ Public ‧ 4-year
Florida Agricultural and Mechanical University (FAMU) is a public, historically Black university located in Tallahassee, Florida. What distinguishes FAMU from other universities is its legacy of providing access to a high-quality, affordable education with programs and services that guide students toward successfully achieving their dreams. FAMU is part of the State University System of Florida and is accredited by the Southern Association of Colleges and Schools Commission on Colleges.
In addition to the main Tallahassee campus, FAMU has several satellite campuses across Florida. These include the College of Law in Orlando and the College of Pharmacy and Pharmaceutical Sciences, Institute of Public Health, which has sites in Crestview, Tampa, Jacksonville, and Miami.
Acceptance rate 33% • Net price $12,903 • SAT Range 1030-1150 • Students submitting SAT scores 86%
Total Undergrad Population 9,184 • Setting City: Midsize • Public 4-year
Graduation rate (6 year) 55% • Retention rate 85% • Student-to-faculty ratio 14:1
---

Gainesville, FL ‧ Public ‧ 4-year
Nestled in the vibrant city of Gainesville, Florida, the University of Florida (UF) is a leading public research university with a storied history dating back to 1853. Offering a diverse array of undergraduate and graduate programs in fields such as engineering, business, arts and sciences, education, and law, UF is committed to academic excellence and innovative research that addresses the most pressing challenges of our time.
With a student body of over 56,000 individuals from all corners of the world, UF is a community of trailblazers, changemakers, and leaders who are united by a passion for discovery and a commitment to making a difference in the world. Experience the energy and excitement of UF's campus and discover what makes it one of the top public universities in the country.
Acceptance rate 31% • Net price $10,075 • SAT Range 1290-1460 • Students submitting SAT scores 81%
Total Undergrad Population 34,931 • Setting City: Midsize • Public 4-year
Graduation rate (6 year) 89% • Retention rate 97% • Student-to-faculty ratio 17:1
---

Tampa, FL ‧ Public ‧ 4-year
Bright, talented students hailing from over 128 countries come to the University of South Florida to experience everything the institution has to offer: student access, innovative research opportunities, and a rigorous, interdisciplinary academic environment. USF graduates enter the workforce as thoughtful, dedicated, innovative citizens ready to change the world.
Founded in 1956, the University of South Florida is a major metropolitan research university located in the heart of Tampa Bay. USF is dedicated to empowering students to maximize their potential for lifelong success.
Acceptance rate 49% • Net price $10,004 • SAT Range 1160-1320 • Students submitting SAT scores 74%
Total Undergrad Population 50,626 • Setting City: Large • Public 4-year
Graduation rate (6 year) 74% • Retention rate 92% • Student-to-faculty ratio 22:1
---

Pensacola, FL ‧ Public ‧ 4-year
Founded in 1963, the University of West Florida is a public institution with more than 12,000 students in undergraduate, graduate, doctoral, and specialist programs. Its spirited community of learners forges new paths through education and research while embracing core values of caring, collaboration, entrepreneurship, innovation, creativity, and inclusiveness.
The University of West Florida is creating the next generation of big thinkers who will change the world. Students challenge their limits in 70+ degree programs and small class sizes that ensure personalized attention from world-class faculty.
DIVERSITY
UWF believes that success is unlimited when its community is seen, heard and understood. Diversity Programs advance the guiding principles of acceptance, awareness, and respect. Faculty, staff, and students are eligible to earn the University's Cross-Cultural Competency Certificate at no cost, and monthly Campus Conversations events welcome the campus to build community through discussion.
Acceptance rate 58% • Net price $8,452 • SAT Range 1060-1230 • Students submitting SAT scores 65%
Total Undergrad Population 13,061 • Setting City: Small • Public 4-year
Graduation rate (6 year) 48% • Retention rate 84% • Student-to-faculty ratio 20:1
---
What it's like to attend public schools in Florida and other FAQ:
What are average public tuition costs in Florida (in-state, out-of-state)?
The average undergraduate tuition & fees for public colleges in Florida is $4,029 for in-state students and $16,062 for out-of-state students
Cheapest public degree program in Florida
The University of West Florida has an average net price of $8,452 making it the least expensive public school in Florida that made our list.
Easiest public degree program to get into in Florida
The University of West Florida has an acceptance rate of 58%, making it the least exclusive public institution on our list.
Best Florida Colleges by Award
2023 Best Engineering Schools in Florida
2023 Best Nursing Schools in Florida
2023 Best Education Schools in Florida
2023 Best Business Schools in Florida