Whittier College
Whittier, California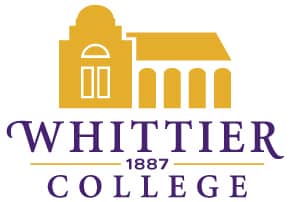 COVID-19 News | Visit Info
Many institutions are offering virtual tours and online information sessions while their campuses are closed to the public.
SHOW MORE
What Really Matters
The essential heart of Whittier College was formed at its founding by Quakers in 1887. Those roots are distinct among California colleges, even though Whittier hasn't been religiously affiliated since the 1930s. What hasn't changed, however, is a mission based on the core belief that no one is inherently superior to anyone else; that everyone has unique gifts that should be respected, developed, and shared. One illustration of this is that Whittier has always welcomed students irrespective of gender, race, religion, or social status. Few Whittier students fit stereotypes; even fewer want to.
Such values inform and animate nearly all aspects of campus life at Whittier. They make a fitting matrix for liberal arts thinking and action alike. Courses are intimate, interactive, and interdisciplinary, and the campus culture is residential, friendly, and exceptionally diverse. Teachers can be classmates—and vice versa. The facilities are impressive—especially in STEM—and study abroad is abundant. Opportunities abound for research and professional internships, as do sports and other activities. And what better location is there to maximize all of that than in Southern California?
No wonder Whittier graduates go on to an impressive array of achievements, both for themselves and for others.
Get to know Whittier College
1,681
Degree-Seeking Undergraduates
Full-time to Part-time Ratio
-
0%
1%
2%
3%
4%
5%
6%
7%
8%
9%
10%
11%
12%
13%
14%
15%
16%
17%
18%
19%
20%
21%
22%
23%
24%
25%
26%
27%
28%
29%
30%
31%
32%
33%
34%
35%
36%
37%
38%
39%
40%
41%
42%
43%
44%
45%
46%
47%
48%
49%
50%
51%
52%
53%
54%
55%
56%
57%
58%
59%
60%
61%
62%
63%
64%
65%
66%
67%
68%
69%
70%
71%
72%
73%
74%
75%
76%
77%
78%
79%
80%
81%
82%
83%
84%
85%
86%
87%
88%
89%
90%
91%
92%
93%
94%
95%
96%
97%
98%
99%
100%
Retention rate
11:1
Student/teacher ratio
$45,720
Full-time tuition cost
-
0%
1%
2%
3%
4%
5%
6%
7%
8%
9%
10%
11%
12%
13%
14%
15%
16%
17%
18%
19%
20%
21%
22%
23%
24%
25%
26%
27%
28%
29%
30%
31%
32%
33%
34%
35%
36%
37%
38%
39%
40%
41%
42%
43%
44%
45%
46%
47%
48%
49%
50%
51%
52%
53%
54%
55%
56%
57%
58%
59%
60%
61%
62%
63%
64%
65%
66%
67%
68%
69%
70%
71%
72%
73%
74%
75%
76%
77%
78%
79%
80%
81%
82%
83%
84%
85%
86%
87%
88%
89%
90%
91%
92%
93%
94%
95%
96%
97%
98%
99%
100%
4-year graduation rate
-
0%
1%
2%
3%
4%
5%
6%
7%
8%
9%
10%
11%
12%
13%
14%
15%
16%
17%
18%
19%
20%
21%
22%
23%
24%
25%
26%
27%
28%
29%
30%
31%
32%
33%
34%
35%
36%
37%
38%
39%
40%
41%
42%
43%
44%
45%
46%
47%
48%
49%
50%
51%
52%
53%
54%
55%
56%
57%
58%
59%
60%
61%
62%
63%
64%
65%
66%
67%
68%
69%
70%
71%
72%
73%
74%
75%
76%
77%
78%
79%
80%
81%
82%
83%
84%
85%
86%
87%
88%
89%
90%
91%
92%
93%
94%
95%
96%
97%
98%
99%
100%
5-year graduation rate
-
0%
1%
2%
3%
4%
5%
6%
7%
8%
9%
10%
11%
12%
13%
14%
15%
16%
17%
18%
19%
20%
21%
22%
23%
24%
25%
26%
27%
28%
29%
30%
31%
32%
33%
34%
35%
36%
37%
38%
39%
40%
41%
42%
43%
44%
45%
46%
47%
48%
49%
50%
51%
52%
53%
54%
55%
56%
57%
58%
59%
60%
61%
62%
63%
64%
65%
66%
67%
68%
69%
70%
71%
72%
73%
74%
75%
76%
77%
78%
79%
80%
81%
82%
83%
84%
85%
86%
87%
88%
89%
90%
91%
92%
93%
94%
95%
96%
97%
98%
99%
100%
6-year graduation rate
Rolling
Application deadline
-
0%
1%
2%
3%
4%
5%
6%
7%
8%
9%
10%
11%
12%
13%
14%
15%
16%
17%
18%
19%
20%
21%
22%
23%
24%
25%
26%
27%
28%
29%
30%
31%
32%
33%
34%
35%
36%
37%
38%
39%
40%
41%
42%
43%
44%
45%
46%
47%
48%
49%
50%
51%
52%
53%
54%
55%
56%
57%
58%
59%
60%
61%
62%
63%
64%
65%
66%
67%
68%
69%
70%
71%
72%
73%
74%
75%
76%
77%
78%
79%
80%
81%
82%
83%
84%
85%
86%
87%
88%
89%
90%
91%
92%
93%
94%
95%
96%
97%
98%
99%
100%
Acceptance rate
-
0%
1%
2%
3%
4%
5%
6%
7%
8%
9%
10%
11%
12%
13%
14%
15%
16%
17%
18%
19%
20%
21%
22%
23%
24%
25%
26%
27%
28%
29%
30%
31%
32%
33%
34%
35%
36%
37%
38%
39%
40%
41%
42%
43%
44%
45%
46%
47%
48%
49%
50%
51%
52%
53%
54%
55%
56%
57%
58%
59%
60%
61%
62%
63%
64%
65%
66%
67%
68%
69%
70%
71%
72%
73%
74%
75%
76%
77%
78%
79%
80%
81%
82%
83%
84%
85%
86%
87%
88%
89%
90%
91%
92%
93%
94%
95%
96%
97%
98%
99%
100%
Out-of-state students
College Highlights
Engaged Students
Great Teaching
Vibrant Communities
Successful Outcomes
Admission & Aid
Engaged Students
"A 'Jane Austen" course taught by Professor Andrea Rehn, concluded with easily the most memorable final exam of any of my years of school—our class put on a Regency Era Ball." – Elizabeth Sanchez '15 (San Gabriel, CA)
PERSONALLY DESIGNED MAJORS
For more than 40 years, the Whittier Scholars Program (WSP) has offered a unique option for students to construct personalized programs of study as well as original majors.
In addition to the wide array of seminars and classes offered across the academic spectrum, the WSP incorporates off-campus learning opportunities and culminates in a substantial senior capstone project. The program equips students with attentive advisement and support, empowering undergraduate students to customize their education plans so that they may prepare for their goals more directly than they would with a standard catalog major.
Examples of customized, interdisciplinary majors include a combination of Business with Film Studies, which prepares students to be movie producers or agents. One could, for example, blend Pre-Medicine with Global & Cultural Studies in preparation to serve Doctors Without Borders. Students aspiring to create children's books could mix English, Art, and Child Development, or they could work toward authoring science fiction with a combination of Creative Writing and Physics courses.
Note this option is not an "honors program." It's available to anyone who has the self-discipline and originality to make their pitch and the wherewithal to fulfill it.
"[My internship] gave me the opportunity to delve into the intricacies of clinical research, surgical procedures, and the everyday lives of practicing physicians. Over the course of this 8-week program I have grown tremendously as a scholar and as an aspiring physician." – Ryan Nakamura '17 (Honolulu, HI)
STUDY ABROAD
Within four years, a student could manage to study in nine other countries. That's because Whittier offers travel opportunities in addition to the typical junior year or semester abroad concept that is common to other schools. Whittier's partner programs are located in Australia, Scotland, England, and Hong Kong, but that doesn't mean that one's options are limited. In fact, Whittier's staff works to arrange studies at essentially any school in the world that fits a student's ambitions.
Briefer travel opportunities are regularly offered twice each academic calendar year. These occur throughout the "mini-terms," which are offered 3-4 weeks before and after the spring semester. Each mini-term presents the chance to take one of several Whittier courses that happen to take place abroad. Examples include Environmental Science in the Amazon; International Business in Hong Kong; Theatre in London; Latin Jazz in Havana; Philosophy in Greece; and Art in Paris.
Whittier regards an education with a wide-world perspective so much that it provides financial support in order to turn study abroad into a reality. Because they want every student to have a shot at going abroad, Whittier offers the "Global Poet Scholarship," which virtually guarantees an extra $2,000 to any Whittier student who chooses to study abroad.
"Being able to see Maasai pastoralism, religion, and lifestyle was something I really enjoyed. Experiencing another culture's way of life, if only for a short amount of time, definitely forces one to think critically about their own lifestyle and culture. This experience abroad definitely prepared me for what I imagine my life to be." – Malory Henry '19 (Yorba Linda, CA)
ENROLLMENT BY ETHNICITY
Nonresident aliens: 3%
Hispanic/Latino: 50%
Black or African American, non-Hispanic: 5%
White, non-Hispanic: 27%
American Indian or Alaska Native, non-Hispanic: 0%
Asian, non-Hispanic: 7%
Native Hawaiian or other Pacific Islander, non-Hispanic: 0%
Two or more races, non-Hispanic: 7%
Race and/or ethnicity unknown: 1%
Great Teaching
"The great thing about Whittier is that the professors make sure to put an emphasis on fundamentally understanding concepts, which has helped me tremendously more than just rote learning problems." – Chris Marvin '09 (now completing a PhD in astronomy at Germany's University of Goettingen, and member of the team that discovered two planets orbiting Kapetyn's star.)
FACULTY AND STUDENTS
Whittier faculty members are exceptionally qualified in their fields, and their commitment to student success is their highest priority. The classes they teach have an average enrollment in the teens, which is an ideal size for the kind of hands-on and discussion-based learning that best fosters individual growth.
Professors are pivotal to the Whittier experience beyond the classroom as well. Their office hours are generous, as is their everyday presence throughout the campus community. Some professors even live on campus as "Faculty Masters" who have many chances to host their own striking learning experiences. For example, Faculty Masters could host an informal meeting place with a visiting Nobel Laureate, plan an outing to a Young Hollywood lecture series, do henna tattooing, or even host a game night. These personally involved faculty members are perfect for helping students connect with future mentors during events like the "Backpack to Briefcase" programs, which invite successful Whittier alumni to meet with students who aspire to similar careers.
"It was because of Dr. Kaufman that I decided to apply to the Whittier Scholars Program and designing my own major. It was because of her guidance and direction that I received the absolutely life-changing opportunity to work abroad in South Africa."   – Faith Govan '14 (Santa Rosa, CA)
FRESHMAN WRITING
Whittier understands that students have greater chances for success (both in college and after) if they are able to write well, whether they become novelists, veterinarians, math teachers, or stockbrokers. The challenge, therefore, is to make a writing course that is interesting and relevant regardless of a student's major or intended profession.
Navigating this challenge, Whittier approaches writing with an attractive twist. Incoming students get to pick a specific topic that will serve as the primary context in which to sharpen their writing skills. These courses could be taught by professors of biology, business, political science, psychology, English, or anything else. These courses are each paired with another course that is thematically linked to the topic of the writing course. Such a unique structure introduces students to Whittier's overall interdisciplinary approach to the liberal arts—one that demonstrates the excitement that comes from seeing the connections between seemingly different fields.
Recent examples of such course pairings include "Nonviolent Activism and Conflict," "Climate Change and National Identity," "Religion and Humor," "Financial Crisis and Math," "Shakespeare, Heroism, and Business Forces," "Gender Perceptions and the Middle East," "Fairy Tales and Biology," and "Faith and Baseball."
OUT-OF-THE-BOX LEARNING
Even beyond the Freshman Writing Seminar, Whittier's innovative curriculum is undeniably rooted in the liberal arts tradition and fit for real-world application. Its interdisciplinary approach fosters amazing collaboration among professors from disparate disciplines.
Political science and mathematics can merge in a team-taught course on code-breaking. Courses in physics and creative writing find common ground when studying science fiction. And, of course, more and more fields are themselves interdisciplinary, such as Global Studies and Environmental Studies. Each can straddle several disciplines, ranging from biochemistry and economics to sociology and politics.
Such a mind-broadening education ultimately endows graduates with the skills to thrive in an increasingly interconnected world. Whittier's aim is not to produce narrow specialists, but instead to develop problem-solvers who have expertise, vision, and the ability to adapt and communicate with those who might come from other perspectives. It's through a combination of traits that leaders are defined in any organization, company, or community.
"Students camped out overnight, allowing them to conduct two days of research, surveying, data gathering, and sampling along the stream. I want my students to understand that we are in a global diversity hotspot in Southern California. I want them to be able to appreciate how humans impact this system and know that we can change how we impact this environment." – Dr. Cheryl Swift, Professor of Biology
RESEARCH AND FIELDWORK
Whittier students work in close collaboration with world-class thinkers and doers. Their professors have the powerful credentials that are found at mega-universities, but they are uniquely dedicated teachers who actually enjoy working with undergraduates. They regularly act as advisors and assist students who may be breaking new ground on their own research. Each year, more and more Whittier students are able to present their ideas and achievements at academic and professional conferences nationwide.
"Since starting my college career, I yearned for the opportunity to participate in research. To actually be in charge of my own project with the support of Whittier College and Dr. Kozek has been a humbling and rewarding experience." – Philip de Castro '18 (La Habra, CA)
Vibrant Communities
WAYS TO ENGAGE
Rarely has a Whittier College student been called under-involved. Whittier students don't just read about places and ideas; they engage at every level. The clubs and service organizations on campus span a wide spectrum of interests and pursuits, including their own brand of fraternities and sororities called "societies," NCAA Division III athletics, intramural sports, student government, performing arts, widespread internships, and more.
"I loved dancing at the Homecoming game and Midnight Madness with the Dance Team, preparing for DubSync with my society sisters, attending the Athenian Homecoming Brunch, and celebrating Whittier with our alumni." – Nicole Guzzo '17 (Livermore CA)
UPTOWN WHITTIER
Adjacent to the College, historic Uptown Whittier offers a lively district that's brimming with coffee houses, shops, parks, restaurants, movie theaters, and many other inviting places, all within easy walking distance. For those who want to escape civilization, the hills directly behind the campus are among the few remaining undeveloped strips of land in Southern California, including 50 miles of hiking trails. Another nearby nature corridor is ideal for biking to the beach.
Whittier is in a prime Southern California location. No more than an hour's drive from the campus are: Hollywood, spots for snowboarding, Disneyland, the Getty Museum, 23 beaches, the Nixon Presidential Library, L.A. Live, Dodger Stadium, Angels Stadium, Staples Center, the Santa Monica Promenade, hiking trails, and a scattered selection of In-N-Out Burgers.
ATHLETICS
NCAA Division III, Southern California Intercollegiate Athletic Conference. 22 varsity sports.
11 men's: baseball, basketball, cross-country, football, golf, lacrosse, soccer, swimming, tennis, track & field, water polo
11 women's: basketball, cross-country, golf, lacrosse, soccer, softball, swimming, tennis, track & field, volleyball, water polo
"Fear The Poet!" (Namesake John Greenleaf Whittier was a poet… and probably liked the colors purple and gold.)
"We knew we were going to win our conference because we had the ball and the clock was running out of time. I'll never forget jumping in the pool, pushing our coaches in, and simply celebrating as a team." – Caitlin Bronzan '17 (Monterey, CA)
RESIDENCE LIFE
Campus housing options.
Coed dorms
Apartments for single students
Special housing for disabled students
Theme housing
Successful Outcomes
INTERNSHIPS AND PROFESSIONAL DEVELOPMENT
For career exploration, preparation, and connection, Whittier's Center for Career and Professional Development provides outstanding counseling and coaching to both students and alumni. It makes a focused commitment to centralize internships for students (even though many internships are otherwise formed through the everyday relationships between alumni, professors, staff, and students in and around individual academic departments).
However they arise, internships are abundant for Whittier students. California has long been in the vanguard of social change and innovation, and the College has played a vital role in its progress. It helps that Whittier is located at the intersection of Los Angeles and Orange counties, only minutes away from what makes Southern California the most dynamic and livable region in the world for arts, commerce, technology, and ideas.
Whittier students have interned with New Line Cinema, the Getty Museum, Martin Sound Studio, Disneyland Resort College Program, Major League Soccer's Los Angeles Galaxy, Merrill Lynch, Yamaha Instruments, the United Nations, Goldman Sachs, Growthink Research, the American Red Cross, NASA's Jet Propulsion Lab, and much more.
"The person I was my first day here wouldn't recognize the person I am today. It's all thanks to the opportunities Whittier offers. I've met so many people and have had so many amazing conversations. Many of the professors here will have a lifelong impact on my life." – Charlie Newman '18 (Bryn Mawr, PA)
A RECORD THAT SPEAKS FOR ITSELF
The value of a Whittier education is clear in the achievements of its students and alumni. Many have been state and regional finalists for the elite Rhodes Scholarship; four have actually won it. The College has also produced impressive numbers of NCAA Scholar Athletes as well as Marshall, Fulbright, and Mellon scholarship winners. Whittier's medical school acceptance rate is double the national average, sending alumni to such prestigious institutions as Boston University, Cornell, Harvard, Johns Hopkins, UCLA, and Yale. Similarly, students have progressed to such law schools as Georgetown, Berkeley, Michigan, Duke, and Vanderbilt.
Whittier alumni have also been admitted to a wide range of other outstanding graduate programs. A small recent sampling includes Carnegie-Mellon, the University of Southern California, Columbia, Duke, New York University, UCLA, Northwestern, Boston College, Oxford, Princeton, Rutgers, Cornell, and Stanford.
NOTABLE ALUMNI
Some notable Whittier alumni include Richard Nixon '34 (U.S. President), Fred Anderson '62 (Chief Financial Officer, Apple Computers), Yasmin Khorram '10 (CNN Producer), Darrell Walker '76 (Executive Vice President and General Counsel for Black Entertainment Television), Miguel Santana '91 (President and CEO of the L.A. County Fair Association), RJ Clason '84 (Vice-President for Corporate Communications, Dell Computer Corporation), Jascha Kaykas-Wolff '98 (Chief Marketing Director, Mozilla), Cheryl Boone Isaacs '71 (President of the Academy of Motion Picture Arts and Sciences), Michael Dobrzycki '98 (Senior Graphic Designer, Walt Disney Imagineering), Carey Halio '95 (CFO, Goldman Sachs Bank USA), and fitness entrepreneur Cassey Ho '09 (CEO of Blogilates).
"Because I was so involved on campus while I was at Whittier, I learned how to be very resourceful. I loved putting on events, so connecting with organizations and people all over campus helped me learn how to collaborate and make things happen." – Cassey Ho '09 (Named by "Time" magazine one of the 25 most influential people on the Internet)
Admission & Aid
Admission
FRESHMAN PROFILE
SAT Evidence-Based Reading and Writing
25th Percentile: 510 | 75th Percentile: 620
SAT Math
25th Percentile: 500 | 75th Percentile: 600
ACT Composite
25th Percentile: 21 | 75th Percentile: 27
HOW TO APPLY
Whittier exclusively accepts the Common Application. Students must also submit a $50 application fee (fee waivers accepted), essay, transcripts, two letters of recommendation, and SAT I or ACT with writing scores. Whittier has a test-optional policy for students with a high school GPA above a 3.0, but all admission decisions are made after carefully assessing the overall candidacy. Thus, no GPA or test result is an automatic determinant.
The best way to know whether Whittier College is the right fit is to visit it in person. Whittier's Office of Admission happily arranges tailored itineraries for prospective students, whether they be an hour in length or an overnight stay. These can most easily be booked online through the Whittier College website.
Tuition & Cost
Tuition: $45,720
Fees: $590
Room: $7,414
Board: $6,096
Aid
SCHOLARSHIP INFORMATION
John Greenleaf Whittier Scholarships and Poet Awards are given to a sizable number of admitted students. Decisions are based on academic achievement and/or leadership in extracurricular activities. Thus, financial need is not a requirement for these awards, which range from $5,000 to full tuition. They are automatically renewable each year as long as the recipient remains a full-time student in good standing.
Talent Scholarships are also merit-based and renewable, with value ranging from $1,000 to $12,000 per year. They are awarded for talent in art, music, and theatre (acting or stage management/design/technology). Audition and/or portfolio review dates and procedures are determined by each department and may vary slightly from year to year. Contact the Office of Admission for such clarifications. Recipients do not have to major or minor in a discipline to be eligible but must participate to some extent in the awarding program.
What Others are Saying
"The old paths we'll keep until better are shown, Credit good where we find it, abroad or on our own. And while 'Lo here' and 'Lo there' the multitude call, Be true to ourselves, and do justice to all."
— "The Quaker Alumni," written by College namesake John Greenleaf Whittier in 1892.
Send a message to Whittier College
Fill out the form below and a representative from Whittier College will get in touch.