University of Mount Union
Alliance, Ohio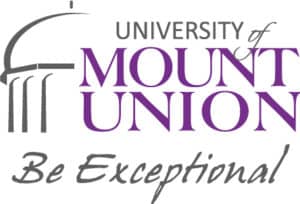 The University of Mount Union, a private institution located in Alliance Ohio, offers a rigorous and relevant academic program that is grounded in the liberal arts tradition. Mount Union's nearly 2,300 students can select from 56 undergraduate majors, both broad-based and career-specific, as well as three graduate programs. Known for its excellent academics and personal approach, the institution boasts a 13:1 student-faculty ratio and a dedicated faculty of teacher-scholars, 87% of whom hold terminal degrees in their fields. 
SHOW MORE
At the heart of a Mount Union education is a drive to foster an exceptional experience that enhances students' personal growth and wellbeing. Opportunities for leadership development, social responsibility, and spiritual growth guide them as they seek and solidify a sense of self in preparation for their roles in a global society. It's all part of the institution's mission to prepare students for fulfilling lives, meaningful work, and responsible citizenship. As a result, alumni experience outstanding opportunities for success after graduation, both in the workforce and in graduate study.
Get to know University of Mount Union
2,140
Degree-Seeking Undergraduates
Full-time to Part-time Ratio
-
0%
1%
2%
3%
4%
5%
6%
7%
8%
9%
10%
11%
12%
13%
14%
15%
16%
17%
18%
19%
20%
21%
22%
23%
24%
25%
26%
27%
28%
29%
30%
31%
32%
33%
34%
35%
36%
37%
38%
39%
40%
41%
42%
43%
44%
45%
46%
47%
48%
49%
50%
51%
52%
53%
54%
55%
56%
57%
58%
59%
60%
61%
62%
63%
64%
65%
66%
67%
68%
69%
70%
71%
72%
73%
74%
75%
76%
77%
78%
79%
80%
81%
82%
83%
84%
85%
86%
87%
88%
89%
90%
91%
92%
93%
94%
95%
96%
97%
98%
99%
100%
Retention rate
13:1
Student/teacher ratio
$29,560
Full-time tuition cost
-
0%
1%
2%
3%
4%
5%
6%
7%
8%
9%
10%
11%
12%
13%
14%
15%
16%
17%
18%
19%
20%
21%
22%
23%
24%
25%
26%
27%
28%
29%
30%
31%
32%
33%
34%
35%
36%
37%
38%
39%
40%
41%
42%
43%
44%
45%
46%
47%
48%
49%
50%
51%
52%
53%
54%
55%
56%
57%
58%
59%
60%
61%
62%
63%
64%
65%
66%
67%
68%
69%
70%
71%
72%
73%
74%
75%
76%
77%
78%
79%
80%
81%
82%
83%
84%
85%
86%
87%
88%
89%
90%
91%
92%
93%
94%
95%
96%
97%
98%
99%
100%
6-year graduation rate
Rolling
Application deadline
-
0%
1%
2%
3%
4%
5%
6%
7%
8%
9%
10%
11%
12%
13%
14%
15%
16%
17%
18%
19%
20%
21%
22%
23%
24%
25%
26%
27%
28%
29%
30%
31%
32%
33%
34%
35%
36%
37%
38%
39%
40%
41%
42%
43%
44%
45%
46%
47%
48%
49%
50%
51%
52%
53%
54%
55%
56%
57%
58%
59%
60%
61%
62%
63%
64%
65%
66%
67%
68%
69%
70%
71%
72%
73%
74%
75%
76%
77%
78%
79%
80%
81%
82%
83%
84%
85%
86%
87%
88%
89%
90%
91%
92%
93%
94%
95%
96%
97%
98%
99%
100%
Acceptance rate
-
0%
1%
2%
3%
4%
5%
6%
7%
8%
9%
10%
11%
12%
13%
14%
15%
16%
17%
18%
19%
20%
21%
22%
23%
24%
25%
26%
27%
28%
29%
30%
31%
32%
33%
34%
35%
36%
37%
38%
39%
40%
41%
42%
43%
44%
45%
46%
47%
48%
49%
50%
51%
52%
53%
54%
55%
56%
57%
58%
59%
60%
61%
62%
63%
64%
65%
66%
67%
68%
69%
70%
71%
72%
73%
74%
75%
76%
77%
78%
79%
80%
81%
82%
83%
84%
85%
86%
87%
88%
89%
90%
91%
92%
93%
94%
95%
96%
97%
98%
99%
100%
Out-of-state students
-
0%
1%
2%
3%
4%
5%
6%
7%
8%
9%
10%
11%
12%
13%
14%
15%
16%
17%
18%
19%
20%
21%
22%
23%
24%
25%
26%
27%
28%
29%
30%
31%
32%
33%
34%
35%
36%
37%
38%
39%
40%
41%
42%
43%
44%
45%
46%
47%
48%
49%
50%
51%
52%
53%
54%
55%
56%
57%
58%
59%
60%
61%
62%
63%
64%
65%
66%
67%
68%
69%
70%
71%
72%
73%
74%
75%
76%
77%
78%
79%
80%
81%
82%
83%
84%
85%
86%
87%
88%
89%
90%
91%
92%
93%
94%
95%
96%
97%
98%
99%
100%
Full-time faculty w/ terminal degree
Student Activities
Student Activities
Campus Ministries
Choral groups
Concert band
Dance

Drama/theatre
International Student Organization
Jazz band
Literary magazine
Marching band
Model UN
Music ensembles
Musical theatre
Pep band
Radio station
Student government
Student newspaper
Yearbook
High-Impact Practices
High-Impact Practices
First-Year Seminars and Experiences
Common Intellectual Experiences
Learning Communities
Writing-Intensive Courses

Collaborative Assignments and Projects
Undergraduate Research
Diversity/Global Learning
Service-Learning, Community-Based Learning
Internships/Coops/Practica
Capstone Courses and Projects/Senior Experience
Campus Resources
Campus Resources
Career Services
Writing Center
Academic Advisors
Library Services

Disability Services
Multicultural Engagement Center
Health Services
Academic Tutors
Student Success Initiative
Peer Mentors
Counseling
Gender & Sexuality Center
SHOW MORE
College Highlights
Engaged Students
Great Teaching
Vibrant Communities
Successful Outcomes
Admission & Aid
Engaged Students
Active and engaged learning is a priority at the University of Mount Union. The University's experience fosters leadership and growth, shaping ethical citizens with strong character who act responsibly in an increasingly global society.
"Enjoy college. These are some of the best times of your life. Stay focused on where you want to go and what you have to do, but balance that with things you enjoy. Talk to people and create relationships that will outlast college." – Tristan Bender '20; Nursing Major; Loudonville, Ohio
PREVIEW AND ORIENTATION
New students are welcomed to campus for two transitional events—Preview during the summer, and Orientation immediately prior to the start of classes. With a focus on academics and student development, both Preview and Orientation are geared toward fostering meaningful and purposeful connections between the new students and the University.
INTEGRATIVE CORE
The Integrative Core (IC) is Mount Union's way to bring the liberal arts to life. This unique curriculum is a collection of foundational courses that ensure breadth of study and a well-rounded experience. Extending throughout all four years of undergraduate study, the IC allows students to explore a variety of concepts and topics through four levels that build upon one another. It is structured to enhance the learning developed through majors and minors and provides for the development of critical thinking and written and oral communication skills.
COLLABORATIVE LEARNING
Across the curriculum, Mount Union students are engaged in collaborative learning that fosters teamwork, communication, and interdisciplinary understanding. One example includes a joint effort of engineering and business students as they work hand-in-hand to design and develop products going to market. Another brought engineering and art students together to create a conceptual design for a September 11th memorial, incorporating two artifacts that were secured from the former Twin Towers.
RESEARCH
Each year, students have the opportunity to participate in SCHOLAR Day, which stands for Student Celebration Honoring Our Latest Academic Research. This campus-wide event showcases the academic excellence and scholarly research completed during the year through both formal and poster presentations. In addition, a number of students annually participate in independent or joint research with faculty members or fellow students.
STUDY ABROAD
Students have an opportunity to spend a week, a summer, a semester, or a whole year studying abroad. The University has partnerships with 58 universities in 30 countries. Internships and student teaching experiences can be pursued through these study abroad programs, and short-term travel opportunities led by faculty are organized annually. In addition, some courses and academic programs have an incorporated global experience. Engineering students travel abroad to learn through field projects that address worldwide issues, and students in the Social Responsibility Class travel to Guatemala during Spring Break to complete various service projects in rural areas.
INTERCULTURAL COMPETENCE
Mount Union is committed to creating an inclusive culture that values diversity and fosters an environment in which all students can learn. The University offers diversity-specific academic programs, including minors in African American studies and gender studies. In addition, diversity-related student organizations (Association of International Students, Black Student Union, Gender Equity Matters, Hispanic Organization Latin America, and GSA/PRIDE) and annual events (Black History Month, Women's History Month, Hispanic Heritage Month, and the Martin Luther King Jr. Day of Service) contribute to the effort to foster a global mindset and develop intercultural competence.
CLASS SIZE
The number of sections of each class size.
2-9: 75 | 10-19: 173 | 20-29: 158
30-39: 65 | 40-49: 12 | 50-99: 2 | 100+: 0
ENROLLMENT BY ETHNICITY
Nonresident aliens: 0%
Hispanic/Latino: 3%
Black or African American, non-Hispanic: 7%
White, non-Hispanic: 79%
American Indian or Alaska Native, non-Hispanic: 1%
Asian, non-Hispanic: 1%
Native Hawaiian or other Pacific Islander, non-Hispanic: 0%
Two or more races, non-Hispanic: 3%
Race and/or ethnicity unknown: 6%
Great Teaching
Mount Union excels at providing an optimal combination of theoretical appreciation and practical preparation, both of which are vital to success in today's rapidly changing world. The University's stellar faculty, many of whom have received their educations from world-class institutions, put student learning and success first.
"I think Mount Union is preparing me for for my dream job by providing me a well-rounded education and teaching me everyday lessons that will not only be help me at work but with life in general." – Alex Huson '19; Management and Marketing Double Major; Hermitage, Pennsylvania
FIRST-YEAR SEMINAR
Mount Union's First-Year Seminar (FYS), part of the Integrative Core, explores a range of unexpected topics with an ultimate goal to help new students find their footing. These courses expose new students to the expectations of college-level work while assisting in the development of skills they need to succeed. During the course, new students make immediate connections with their peers as well as with a professor who mentors them throughout their first semester.
WRITTEN AND ORAL COMMUNICATION (WOC) PROGRAM
At Mount Union, all students develop oral and written communication skills across the curriculum through the Integrative Core as well as within their majors and minors. In an effort to gauge communication proficiency, all students submit a WOC Portfolio—including samples of their written and oral communication work developed during their first two years on campus—that is evaluated by numerous trained faculty and staff. This portfolio allows students to reflect upon their abilities and receive valuable guidance toward further development.
RELEVANT AND IN-DEMAND PROGRAMS
Over the course of the past decade, Mount Union has added a number of high-demand and academically rigorous undergraduate majors to its curriculum. Recent additions include criminal justice, biomedical engineering, civil engineering, computer engineering, electrical engineering, mechanical engineering, national security and foreign intelligence analysis, nursing, and risk management and insurance. In addition, minors in programs such as sustainability, leadership, and entrepreneurship complement a number of majors and further enhance student success after graduation.
CENTER FOR STUDENT SUCCESS
Mount Union's Center for Student Success is committed to providing students with resources ranging from help with a class to deciding upon a major. The center works in collaboration with students' professors to provide an array of support, including individual academic counseling and peer tutoring, academic development workshops, and assessments to pinpoint academic strengths.
DIGITAL, WRITTEN, AND ORAL COMMUNICATION (DWOC) STUDIO
The DWOC Studio provides students with a space to work on writing, oral presentations, and digital pieces. Consultants are on hand to provide help from project development through final editing. Assistance is available with a variety of communication-related projects, including reports, employment and graduate school documents, public speeches, PowerPoints, Prezis, videos, audio files, ePortfolios, and more.
Vibrant Communities
Mount Union is committed to creating a campus environment that moves students along in their journeys toward independence, immersing them in a supportive yet challenging haven that is comfortable, stimulating, inviting, and safe. From housing and gathering spaces to cultural and wellness experiences, Mount Union's transformational campus life is designed to transition its students from adolescence to adulthood.
THEME HOUSES
Through theme houses, students have an opportunity to live with others who share a common interest. These University-owned houses, located close to campus, provide students with the chance to explore their theme and develop programs and activities that are aimed at benefiting the greater Mount Union community.
HONORS PROGRAM
Students have an opportunity to join a community of other highly motivated students as members of the Honors Program. From advanced seminars to cultural events, and service-learning to leadership opportunities, students in the Honors Program benefit from opportunities to spur their intellectual curiosity, stretch their abilities, and build résumés that will stand out to employers and graduate schools.
LECTURE SERIES
Mount Union is committed to extending learning beyond the classroom through an annual lecture series that brings renowned speakers to campus. Former presidents, Supreme Court justices, professional athletes, and social activists are among the special guests who have been featured. These events provide opportunities for interdisciplinary learning, the exploration of new ideas and concepts, and exposure to global issues and ideas.
STUDENT INVOLVEMENT AND LEADERSHIP
Home to nearly 90 student organizations, Mount Union provides ample opportunity for students to engage with their classmates while exploring their passions and interests. Student organizations range in type and include academic, athletic, diversity, governing, media, service, social, special interest, and spiritual groups. Not only do these organizations provide students with an opportunity to connect with others through their mutual interests, but they also provide opportunities for learning and leadership development outside of the classroom.
VISUAL AND PERFORMING ARTS
At Mount Union, a great number of students participate in art, music, and theatre at the co-curricular level, no matter their major or future career aspirations. From private music lessons to small and large group ensembles, and annual student art exhibits to theatrical productions, the opportunities for participation in and appreciation of the visual and performing arts on campus are robust.
"Shakespeare at the Castle brought me to Mount Union. The summer before my senior year of high school, I was in the show and felt connected to the professors and students who worked on the show. I chose Mount Union because of the theatre faculty. They seemed truly invested in me, and it seemed as though that same care and passion was representative of the campus community in general." – Kerstin Vaughn '19; Theatre and Communication Studies Double Major; Norton, Ohio
SCHOOL LOCATION
Mount Union's charming yet modern 123-acre campus is complemented by the additional 162-acre Huston-Brumbaugh Nature Center. The University is located in Alliance, OH (population 23,000), which is situated within 80 miles of both Cleveland and Pittsburgh. Alliance combines a small-town feel with a recent commitment to growth and development.
ATHLETICS
The Mount Union Purple Raiders athletic program offers 24 intercollegiate athletic teams, including 13 men's and 11 women's teams.
Men's teams include: baseball, basketball, cross country, football, golf, lacrosse, soccer, swimming and diving, tennis, indoor track and field, outdoor track and field, volleyball, and wrestling.
Women's teams include: basketball, cross country, golf, lacrosse, soccer, softball, swimming and diving, tennis, indoor track and field, outdoor track and field, and volleyball.
The Purple Raiders have amassed an impressive 17 NCAA Division III national championships, including 13 in football, one in men's cross country, two in men's outdoor track and field, and one in men's indoor track and field.
Mount Union is a member of the National Collegiate Athletic Association (NCAA) Division III and the Ohio Athletic Conference (OAC). The University's mascot is MUcaw, the purple parrot, and its colors are purple and white.
Mount Union also recently announced the addition of competitive cheer and dance to its already robust student life offerings.
Successful Outcomes
At Mount Union, professors offer an education that combines breadth and depth of learning with the skills employers value most: effective communication, critical thinking, creative problem solving, and the ability to work with and lead teams. Over the past 10 years, an average of 96% of graduates have reported success in their career searches or graduate school acceptance.
CAPSTONE
The final course of the Integrative Core (IC), the Capstone Seminar, provides students with an opportunity to work with their peers to address a real-world issue. Students draw upon their learning from other IC courses and their major and minor to solve problems in a team-focused environment.
THE REGULA CENTER FOR PUBLIC SERVICE AND CIVIC ENGAGEMENT
The Regula Center offers opportunities to get involved in community service initiatives. From organizing clothing drives to volunteering in local parks, service-learning is an incredible hands-on experience. Annually, nearly 80% of students on campus participate in community service initiatives through individual, class, organizational, or campus-wide initiatives.
INTERNSHIPS
Hands-on learning through internships with leading organizations provides students with the professional, practical experience that employers seek. Mount Union students have participated in unique internship experiences with organizations, including Amnesty International, Cleveland Cavaliers, Cleveland Clinic Center for Autism, Country Music Television, Firestone, Greenpeace, House of Blues, The Humane Society, Interpol, MTV Networks, Ohio Environmental Protection Agency, Pro Football Hall of Fame, Progressive Insurance, Sherwin-Williams, Smithsonian Institute, State of Ohio Crime Lab, U.S. Department of Treasury, U.S. Marshal Service, U.S. Secret Service, and Walt Disney World, among others.
CAREER PLACEMENTS
Recent grads have found career opportunities with such reputable businesses and organizations as Agland, Akron Children's Hospital, Bayer Technology Services, the Cleveland Browns, the Cleveland Cavaliers, Disney Worldwide Services, Ernst & Young LLP, Gabrail Cancer Center, FirstMerit, JP Morgan Chase Co., Google, Holland America Cruise Line, Major League Soccer, the Memphis Grizzlies, the Miami Dolphins, the Miami Heat, the Minnesota Timberwolves, Nationwide Insurance, Nike, Ohio EPA, Patriot Software, PNC, PriceWaterhouseCoopers, Sherwin-Williams, Target, The JM Smucker Company, Timken Steel, Walt Disney World, and Westinghouse Electric Company.
NOTABLE ALUMNI
Among Mount Union's loyal alumni base of 18,000 are: Emmy-nominated actor Carrie Coon, retired Director of the Secret Service Brian Stafford '69, children's book author Vanita (Bauknight '63) Oelschlager, former NFL Defensive Coordinator Dom Capers '72, Managing Director of ANNIKA Mike McGee '97, Former President and CEO of the American Association of Advertising Agencies Nancy Hill '79, Director of the Kidney Project Dr. Shuvo Roy '92, Metropolitan Opera Principal Artist Eduardo Valdes '83, ESPN Commentator Antonietta "Toni" Collins '07, and San Francisco 49ers Wide Receiver Pierre Garcon '09.
"The choral programs were very important in my decision to choose Mount Union, and the institution's music program provided me with the history, theory, basic musicianship, and practical skills necessary to achieve career success. Mount Union gave me a good foundation to enter the mainstream of music and to get into the schools that eventually led me to The Metropolitan Opera." – Eduardo Valdes '83; Principal Artist; The Metropolitan Opera
Admission & Aid
Admission
ADMISSIONS FACTORS
Very Important
Rigor of secondary school record | Class rank | Academic GPA | Standardized test scores
Important
Recommendation(s)
Considered
Application Essay | Extracurricular activities | Talent/ability | Character/personal qualities
Alumni/ae relation | Racial/ethnic status | Volunteer work | Work experience
FRESHMAN PROFILE
SAT Evidence-Based Reading and Writing
25th Percentile: 430 | 75th Percentile: 540
SAT Math
25th Percentile: 460 | 75th Percentile: 570
ACT Composite
25th Percentile: 20 | 75th Percentile: 26
ACT Math
25th Percentile: 19 | 75th Percentile: 25
ACT English
25th Percentile: 19 | 75th Percentile: 26
ADMISSION PROCESS
Visiting campus is the best way to experience Mount Union first-hand. Prospective students are encouraged to do so beginning in their junior year. Mount Union's rolling admission policy means that there is no due date for application for upcoming semesters. The Mount Union application is available beginning in July prior to the senior year. Mount Union also accepts the Common Application, which opens annually in August. Admission decisions are made starting September 15. Early application is encouraged. For traditional undergraduates, Mount Union requires an official high school transcript, official standardized test scores, an essay, and a completed online application.
Tuition & Cost
Tuition: $29,560
Fees: $330
Room & Board: $10,100
Aid
Mount Union's Office of Student Financial Aid assists students and parents throughout the process of applying for financial aid. This includes the sharing of information on grant and loan programs, assistance with completing FAFSA forms, communication of deadlines, and estimating and accepting of financial aid awards.
Mount Union helps meet the financial aid needs of its students by offering $30.2 million in grants and scholarships each year.  Mount Union offers generous financial aid and scholarships to ensure that its educational experience is accessible to students of all backgrounds. The average financial aid award for full-time freshmen is $26,172. The University of Mount Union's tuition and fees are among the lowest among private colleges and universities in Ohio.
Students are awarded merit aid at the time of admission. Other scholarship opportunities include visual and performing arts scholarships, merit awards, and diversity awards. Students are encouraged to apply for financial aid through the federal and state government by completing the FAFSA when it becomes available on October 1.
What Others are Saying
"I received the Founder's Scholarship at Mount Union. College is expensive, and this scholarship helped financially and made it more affordable. The scholarship made the decision to attend UMU easier and much more enjoyable."
— Matthew Weingart '20; Biology Major; Salem, Ohio
Contact University of Mount Union