University of Holy Cross
New Orleans, Louisiana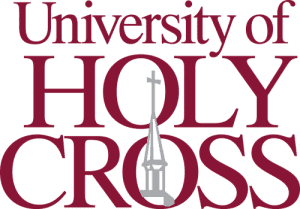 The University of Holy Cross differs from other institutions in the greater New Orleans area by way of its small classes, individual attention and support, and overall welcoming environment. Teaching and learning are always guided by the University's mission to educate "the mind, but not at the expense of the heart." The University nurtures the development of its students through adherence to five fundamental values: excellence, respect, integrity, inclusion, and passionate service. 
SHOW MORE
University of Holy Cross exemplifies the core tenets of a Marianite education, which is to educate the "Whole Person" in both the heart and the mind. Students graduate with a deep understanding of how to use their knowledge, experience, and Christian values in their careers and beyond. Such success is thanks to the University's rigorous and comprehensive curriculum that pushes students to think deeply and reason wisely about their place in the world. Graduates of Holy Cross are prepared to conduct meaningful work and service to make their communities a better place.
Get to know University of Holy Cross
784
Degree-Seeking Undergraduates
Full-time to Part-time Ratio
-
0%
1%
2%
3%
4%
5%
6%
7%
8%
9%
10%
11%
12%
13%
14%
15%
16%
17%
18%
19%
20%
21%
22%
23%
24%
25%
26%
27%
28%
29%
30%
31%
32%
33%
34%
35%
36%
37%
38%
39%
40%
41%
42%
43%
44%
45%
46%
47%
48%
49%
50%
51%
52%
53%
54%
55%
56%
57%
58%
59%
60%
61%
62%
63%
64%
65%
66%
67%
68%
69%
70%
71%
72%
73%
74%
75%
76%
77%
78%
79%
80%
81%
82%
83%
84%
85%
86%
87%
88%
89%
90%
91%
92%
93%
94%
95%
96%
97%
98%
99%
100%
Retention rate
10:1
Student/teacher ratio
$13,440
Full-time tuition cost
-
0%
1%
2%
3%
4%
5%
6%
7%
8%
9%
10%
11%
12%
13%
14%
15%
16%
17%
18%
19%
20%
21%
22%
23%
24%
25%
26%
27%
28%
29%
30%
31%
32%
33%
34%
35%
36%
37%
38%
39%
40%
41%
42%
43%
44%
45%
46%
47%
48%
49%
50%
51%
52%
53%
54%
55%
56%
57%
58%
59%
60%
61%
62%
63%
64%
65%
66%
67%
68%
69%
70%
71%
72%
73%
74%
75%
76%
77%
78%
79%
80%
81%
82%
83%
84%
85%
86%
87%
88%
89%
90%
91%
92%
93%
94%
95%
96%
97%
98%
99%
100%
Acceptance rate
-
0%
1%
2%
3%
4%
5%
6%
7%
8%
9%
10%
11%
12%
13%
14%
15%
16%
17%
18%
19%
20%
21%
22%
23%
24%
25%
26%
27%
28%
29%
30%
31%
32%
33%
34%
35%
36%
37%
38%
39%
40%
41%
42%
43%
44%
45%
46%
47%
48%
49%
50%
51%
52%
53%
54%
55%
56%
57%
58%
59%
60%
61%
62%
63%
64%
65%
66%
67%
68%
69%
70%
71%
72%
73%
74%
75%
76%
77%
78%
79%
80%
81%
82%
83%
84%
85%
86%
87%
88%
89%
90%
91%
92%
93%
94%
95%
96%
97%
98%
99%
100%
Out-of-state students
College Highlights
Engaged Students
Great Teaching
Vibrant Communities
Successful Outcomes
Admission & Aid
Engaged Students
FIRST-YEAR EXPERIENCE
The freshman experience at Holy Cross begins with an overnight orientation that introduces students to the University mission, student life, campus safety, and all the resources available to them. Once the semester starts, students enroll in a freshman seminar to learn effective writing, research, and study skills; time management; and goal setting to enhance and enable their success through college. They also meet regularly with the Counseling Center to further support their transition.
Advising at Holy Cross is structured to ensure that every student finds success in and out of the classroom. Students are assigned an advisor based specifically on their major, setting them up for clear guidance and success from the time of their acceptance through the end of their senior year.
UNDERGRADUATE RESEARCH
Research is rampant on the Holy Cross campus! In PSY 490, for example, all students pursuing degrees in the Behavioral Sciences (including the Early Entry program) design and conduct research projects that they might present at conferences or publish in peer-reviewed journals. It is also not unusual for undergraduate students to join department faculty at professional conferences.
Another example is within the Health Sciences department. The HSC 410 Directed Studies and HSC 411 Advanced Studies courses enable students to do independent studies or conduct a research project in a particular area. Neurodiagnostic Technology students have the opportunity to present a project through the student section of ASET, a national professional organization, at its annual conference.
Research across disciplines has had great success. This last semester, an undergraduate student, as well as a 4+1 graduate theology student, presented papers at the Jacques Maritain conference. One recent English graduate has also presented independently written papers at two scholarly conferences, one in Theology and one in Philosophy. It is hoped that this will be a common opportunity for students in the new Master of Arts in Humanities program.
DIVERSITY/GLOBAL LEARNING
International programs are available to students in Italy, Ireland, and Taiwan through the Counseling Department. Travel abroad can integrate discipline-specific studies into the curriculum, including the Food Science Program's summer courses in Italy. Students in Nursing, Food Science, Counseling, and Education can also attend conferences across the United States with expenses paid by the University.
ENROLLMENT BY ETHNICITY
Non-U.S. Citizen: 0%
Hispanic/Latinx: 14%
Black or African American, non-Hispanic: 28%
White, non-Hispanic: 43%
Native/Indigenous American or Alaska Native, non-Hispanic: 0%
Asian, non-Hispanic: 5%
Native Hawaiian or other Pacific Islander, non-Hispanic: 0%
Two or more races, non-Hispanic: 5%
Race and/or ethnicity unknown: 4%
Great Teaching
UHC GENERAL EDUCATION
Foundational study in the liberal arts forms the core and basis of every degree offered at University of Holy Cross. The philosophy of a liberal arts education is that a broad, well-founded education is the key to developing an active and adaptive mind. A person with such a mind naturally stands ready to set out on any of various paths, career, or otherwise. Indeed, a literate, logical, motivated, and worthy person who has facility with oral and written communication, connection of ideas, and quantitative and critical thinking is well prepared for any endeavor or occupation.
The UHC general education requirements give students a broad understanding of liberal arts disciplines, requiring study of English Literature, the Fine Arts, History, Science, Mathematics, Philosophy, and Theology—all of which are essential to a Catholic liberal arts education. Since the Mission of UHC includes educating both the hearts and minds of students, faculty are committed to including more than instruction in their courses, whether that be through service-learning or other hands-on learning. 
WRITING-INTENSIVE COURSES
Writing-intensive courses, usually capstone courses, are required at the upper-division level in every undergraduate major. These courses are taught by instructors in the disciplines who have received special training via Writing Institutes and follow-up sessions. Capstone courses are typically delivered in a seminar format and are project-based. Some include internships and experiential learning activities.
Students in BUS 414: Business Policies & Problems, for example, can participate in GLO-BUS international managerial decision game, which involves all aspects of the business program. Students in groups of 3-4 make a myriad of decisions weekly as the class comes up with an informed strategy for the week. The strategies are submitted to the faculty prior to class and discussed before submission. Decisions range from finance, budgeting, and site locations to marketing, payroll, and vendor relations. 
In the Counseling Department, several capstone-designated courses either have a particular cumulative exam or an upper-level paper. The capstone courses for the behavioral sciences degrees (B.S. in Addiction Counseling; B.S. in Applied Behavioral Sciences; B.S. in Psychology; B.S. in Social Counseling) are within the individual majors.
And, of course, a Senior Thesis is one option for senior English majors; there is also a senior-level seminar course required.  Capstone writing-intensive courses are also required for Liberal Arts majors in both of the selected modules for the degree.
COLLABORATIVE LEARNING
Instructors address learning style through group work and collaborative learning across the disciplines as good teaching practice, especially in courses offered in education, business, developmental studies, and counseling. Group work and collaboration are viewed university-wide as preparation for the workforce as well as an impetus for critical thinking.
Vibrant Communities
FRESHMAN LLC
All Holy Cross freshmen enroll in ICS 100, a college success course designed to lay the foundation for academic success. Students housed in the Residence Hall enjoy a living-learning community as they experience guest speakers from academic departments and administrative units. Later, residents have opportunities to join cohort groups established within their discipline.
SERVICE-LEARNING
Students leave UHC not only with the knowledge and skills needed to succeed in their career, but also with an understanding of the importance of Christian values in their lives. Because graduates know true success comes through service to others, UHC faculty, students, and alumni volunteer their time, give back to the community, and serve in their churches. Service organizations actively functioning at the University include, but are not limited to, Student Ambassadors, Student Mentors, Student Educators and Leaders (SEALs), and the Student Government Association.
STUDENT ORGANIZATIONS
The Student Government Association, Omicron Delta Kappa, American Medical Student Association, Student Nurses' Association, and all cultural organizations (Black Student Union, Muslim Student Organization, Organization of Latin American Students) serve as the most popular organizations.
SCHOOL LOCATION
Located in the charming Algiers neighborhood of New Orleans, the University of Holy Cross campus is an exciting place to live and learn. Nestled on the West Back of the Mississippi River, Algiers is a historically beautiful and quintessential New Orleans neighborhood. Students are encouraged to explore the arts, culture, and culinary delights of the community. Downtown New Orleans and the French Quarter are a short ferry ride away.
ATHLETICS
While UHC does not currently have intercollegiate sports on campus, good-natured competition can be found in intramural sports teams. Students can have fun and stay fit in the football, volleyball, softball, and kickball leagues.
Successful Outcomes
ACADEMIC SUPPORT SERVICES
UHC provides various support services in keeping with the mission of the University to "educate the minds and the hearts of the students."
Academic support services include the following: Tutoring, Online Tutorials, Placement Testing, the Academic Skills Center computer lab, the Blaine S. Kern Library, and developmental courses in English, Math, and Reading. Personal support services include the Chambers Counseling Center and Campus Ministries. The Center for Teaching and Learning also offers reading tutoring services to the greater New Orleans community.
CAREER SERVICES
Most of UHC's degree programs afford opportunities for internships, field experiences, and clinical training. Introductory courses are offered in various disciplines to aid students in determining which careers may be of interest. Excellent examples include: 1) clinical training at the Thomas E. Chambers Counseling and Training Center whereby graduate students in counseling practice their trade under the direct supervision of Counseling Department faculty; and 2) free tax-preparation clinics offered to the public in which accounting majors prepare tax forms under the supervision of Business Department faculty.
Admission & Aid
Admission
TEST SCORES
Optional
Tuition & Cost
Tuition: $13,440
Fees: $1,840
Room: $7,400
Contact University of Holy Cross