Stephen F. Austin State University
Nacogdoches, Texas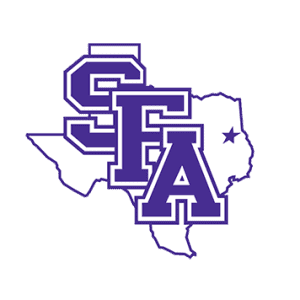 COVID-19 News | Visit Info
Many institutions are offering virtual tours and online information sessions while their campuses are closed to the public.
SHOW MORE
SFA has been recognized as a College of Distinction! Stay tuned—this profile is under construction.
College Highlights
Engaged Students
Great Teaching
Vibrant Communities
Successful Outcomes
Admission & Aid
Engaged Students
CLASS SIZE
The number of sections of each class size.
2-9: 47 | 10-19: 392 | 20-29: 474
30-39: 230 | 40-49: 106 | 50-99: 113 | 100+: 11
ENROLLMENT BY ETHNICITY
Nonresident aliens: 1%
Hispanic/Latino: 19%
Black or African American, non-Hispanic: 16%
White, non-Hispanic: 58%
American Indian or Alaska Native, non-Hispanic: 0%
Asian, non-Hispanic: 1%
Native Hawaiian or other Pacific Islander, non-Hispanic: 0%
Two or more races, non-Hispanic: 4%
Race and/or ethnicity unknown: 1%
Great Teaching
SPECIAL STUDY OPTIONS
Programs available at this institution.
Accelerated program
Distance learning
Double major
Dual enrollment
Independent study
Internships
Liberal arts/career combination
Student-designed major
Study abroad
Teacher certification program
Vibrant Communities
RESIDENCE LIFE
Percent of students living on campus.
First-time, first-year (freshman) students: 90%
Undergraduates: 43%
Campus housing options.
Coed dorms
Men's dorms
Women's dorms
Wellness housing

Successful Outcomes
More information on Successful Outcomes coming soon.
Admission & Aid
Admission
ADMISSIONS FACTORS
Very Important
Rigor of secondary school record | Class rank
Academic GPA | Standardized test scores
Considered
Extracurricular activities | Talent/ability | Character/personal qualities
First generation | Alumni/ae relation | Geographical residence
State residency | Volunteer work | Work experience
FRESHMAN PROFILE
SAT Evidence-Based Reading and Writing
25th Percentile: 500 | 75th Percentile: 600
SAT Math
25th Percentile: 490 | 75th Percentile: 580
ACT Composite
25th Percentile: 17 | 75th Percentile: 24
ACT Math
25th Percentile: 17 | 75th Percentile: 24
ACT English
25th Percentile: 17 | 75th Percentile: 24
Tuition & Cost
Tuition (in-state): $7,260
Tuition (out-of-state): $19,710
Fees: $2,277
Room & Board: $8,964
Contact Stephen F. Austin State University
Send a message to Stephen F. Austin State University
Fill out the form below and a representative from Stephen F. Austin State University will get in touch.