Stephen F. Austin State University
Nacogdoches, Texas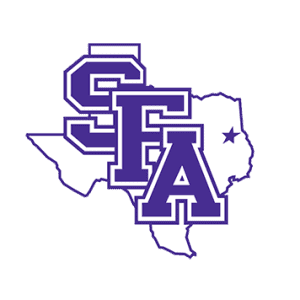 Axe 'em, Jacks! Across a comprehensive array of disciplines, Stephen F. Austin State University helps its proud community of Lumberjacks pursue their passions and prepare for a lifetime of success. Its approximately 13,000 students benefit from over 80 undergraduate majors throughout six colleges: Business; Education; Fine Arts; Forestry & Agriculture; Liberal & Applied Arts; and Sciences & Mathematics. SFA offers degree programs both online and on its beautifully wooded campus in Nacogdoches, the heart of Texas Forest Country.
SHOW MORE
Everything may be bigger in Texas, but that's not the case when it comes to the SFA classroom; a student-to-faculty ratio of 18:1 and an average class size of 26 ensure that professors get to know their students and tailor their courses to each student's needs. SFA Lumberjacks enjoy the academic breadth of a public university alongside the personalized attention of a private school, getting the support they need to thrive both in the classroom as well as during such hands-on experiences as internships and research projects.
College Highlights
Engaged Students
Great Teaching
Vibrant Communities
Successful Outcomes
Admission & Aid
Engaged Students
HANDS-ON FACILITIES
The four-story STEM Research and Learning Center building bolsters SFA's efforts to support STEM education at the K-12, undergraduate, and graduate levels.
Beyond that, the 2,560-acre Stephen F. Austin Experimental Forest, owned by the USDA Forest Service, was created to conduct research in silviculture, the art and science of managing forests for desired outcomes. Research topics at this forest range from wildlife to soils to hardwoods to birds. Through the years, researchers here have established effective control methods for undesirable hardwoods, and they've contributed much of our knowledge about managing southern forests for wildlife.
STUDY ABROAD
SFA sponsors a variety of undergraduate and graduate study abroad programs that can be grouped into three options: SFA Faculty-led Programs, Exchange Programs, and Provider Programs. These vary in length and times of the year, so all students have more flexibility to choose a program that best fits their personal and academic needs, interests, and abilities. No matter what, students' SFA tuition remains the same regardless of where in the world they go!
CLASS SIZE
The number of sections of each class size.
2-9: 47 | 10-19: 392 | 20-29: 474
30-39: 230 | 40-49: 106 | 50-99: 113 | 100+: 11
ENROLLMENT BY ETHNICITY
Nonresident aliens: 1%
Hispanic/Latino: 19%
Black or African American, non-Hispanic: 16%
White, non-Hispanic: 58%
American Indian or Alaska Native, non-Hispanic: 0%
Asian, non-Hispanic: 1%
Native Hawaiian or other Pacific Islander, non-Hispanic: 0%
Two or more races, non-Hispanic: 4%
Race and/or ethnicity unknown: 1%
Great Teaching
INVESTED FACULTY
Since 2014, SFA faculty members have participated in more than 500 grant-funded research projects, enhancing the instruction they provide and making valuable contributions to their fields. Currently, funding for active research projects exceeds $30 million. Students also participate in structured research and creative projects that are integrated into program curricula, as well as faculty-led extracurricular projects. It's for these reasons that Lumberjacks make excellent researchers, with students and faculty making constant connections to one another as well as constant contributions to their fields.
EARLY CHILDHOOD LAB
In addition to providing public childcare for infants, toddlers, and preschoolers, SFA's early childhood lab helps more 2,000 students each fall and spring prepare for careers working with young children and families. The lab's curriculum is intended to develop intellectual and personal competence rather than merely train children to perform a specific set of academic skills.
SPECIAL STUDY OPTIONS
Programs available at this institution.
Accelerated program
Distance learning
Double major
Dual enrollment
Independent study
Internships
Liberal arts/career combination
Student-designed major
Study abroad
Teacher certification program
Vibrant Communities
THE BIG EVENT
SFA's The BIG Event promotes unity between campus and community as students come together for one day to express their gratitude through service for the support from the Nacogdoches community. Students work in teams to complete projects across Nacogdoches County as a way to thank the community for their support of SFA students.Throughout the years, the Nacogdoches community has shown endless support to the students of Stephen F. Austin State University. For this reason, The BIG Event strives to reciprocate that appreciation to all residents. Each year, SFA students spend one day performing various service projects all across Nacogdoches County. More than 1,000 students participate annually!
JACK CAMP
Jack Camp welcomes incoming students to SFA each year by giving them an opportunity to meet fellow students, have fun, and learn about life at SFA. It is the university's hope that, through Jack Camp, each student will find their place in the Lumberjack Family. Jack Camp is a three-day extended orientation program that takes place in Trinity, Texas. Students will arrive at Jack Camp to find some of the best camp facilities in the state of Texas, including air conditioned cabins, on-site cafeteria, athletic fields, and more. In addition, Jack Camp is led by some of the most successful student leaders at SFA. Once students arrive at Jack Camp, they become part of several groups: their cabin, their family group, their tribe, and your team. This will allow everyone to meet as many other Lumberjacks as possible. With these groups, students enjoy team-building exercises, participate in group discussions, play sports, and socialize.
ATHLETICS
Women's: Basketball, Bowling, Cross Country, Golf, Soccer, Softball, Tennis, Track & Field, Volleyball
Men's: Baseball, Basketball, Cross Country, Football, Golf, Track & Field
RESIDENCE LIFE
Percent of students living on campus.
First-time, first-year (freshman) students: 90%
Undergraduates: 43%
Campus housing options.
Coed dorms
Men's dorms
Women's dorms
Wellness housing

Successful Outcomes
CENTER FOR CAREER AND PROFESSIONAL DEVELOPMENT
SFA's Center for Career and Professional Development (CCPD) is full of resources to help students prepare for a meaningful career. Available to students and alumni for free, CCPD staff can provide guidance through all levels of the career search, from recognizing one's strengths or preparing for an interview. 
To begin the journey to the professional world, students can meet with career coaches to select or change their major and match their career possibilities to their strengths, interests, and personality. From there, students are encouraged to take part in courses and extracurricular activities that help them hone their skills. Eventually, the staff at CCPD can help brush up résumés, help conduct mock interviews, and aid the application process to internships. 
The Center even has a Career Closet available to help students dress for success for different networking events, job interviews, and career fairs. Professionally appropriate clothes, shoes, and jewelry are available to rent so that students of all income levels and available resources can put their best foot forward in terms of their attire.
PROJECT CEO
The Co-Curricular Experience Outcomes project, better known as Project CEO, focuses on student perceptions of skill development and attainment, especially in relation to co-curricular experiences, to prepare students to make the transition from their campuses to the career marketplace. This nationally renowned college-to-career program tracks students progress and career readiness by measuring their competencies in eleven areas:
Teamwork

Decision Making

Problem Solving

Workflow Planning

Verbal Communication

Information Processing

Quantitative Analysis

Career-Specific Knowledge

Computer Software Skills

Writing and Editing Reports

Selling and Influencing
Through intentional co-curricular engagement, students are more than prepared to excel not just as knowledgeable scholars, but as active, successful citizens.
Admission & Aid
Admission
ADMISSIONS FACTORS
Very Important
Rigor of secondary school record | Class rank
Academic GPA | Standardized test scores
Considered
Extracurricular activities | Talent/ability | Character/personal qualities
First generation | Alumni/ae relation | Geographical residence
State residency | Volunteer work | Work experience
FRESHMAN PROFILE
SAT Evidence-Based Reading and Writing
25th Percentile: 500 | 75th Percentile: 600
SAT Math
25th Percentile: 490 | 75th Percentile: 580
ACT Composite
25th Percentile: 17 | 75th Percentile: 24
ACT Math
25th Percentile: 17 | 75th Percentile: 24
ACT English
25th Percentile: 17 | 75th Percentile: 24
Tuition & Cost
Tuition (in-state): $7,260
Tuition (out-of-state): $19,710
Fees: $2,277
Room & Board: $8,964
Contact Stephen F. Austin State University