Northern Michigan University
Marquette, Michigan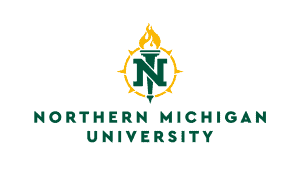 Northern Michigan University believes a well-rounded individual draws on a wide range of experiences. For that reason, Northern embraces not only the incredible academic experiences that happen in its classrooms but also the passions that its students pursue beyond the walls of the lecture halls.
SHOW MORE
At NMU, a classroom is a place where collaboration, dialogue, and debate are encouraged. The student-faculty ratio is 21:1, the average class size is 25, and the average lab size is 16. More than 75 percent of NMU's  300-plus full-time faculty members have doctorates or the highest degree in their fields, and a hallmark of the NMU experience is that full-time faculty members teach at all levels – freshmen through graduate courses.
In the midst of a spectacular outdoor environment, NMU students take full advantage of their surroundings. They can be found longboarding to class, playing volleyball on the beaches of Lake Superior, riding the miles of mountain bike trails, and enjoying the local ski hill. No matter the season, the city of Marquette is a giant playground, and Northern's students take advantage of it in every way they can.
Get to know Northern Michigan University
7,168
Degree-Seeking Undergraduates
Full-time to Part-time Ratio
-
0%
1%
2%
3%
4%
5%
6%
7%
8%
9%
10%
11%
12%
13%
14%
15%
16%
17%
18%
19%
20%
21%
22%
23%
24%
25%
26%
27%
28%
29%
30%
31%
32%
33%
34%
35%
36%
37%
38%
39%
40%
41%
42%
43%
44%
45%
46%
47%
48%
49%
50%
51%
52%
53%
54%
55%
56%
57%
58%
59%
60%
61%
62%
63%
64%
65%
66%
67%
68%
69%
70%
71%
72%
73%
74%
75%
76%
77%
78%
79%
80%
81%
82%
83%
84%
85%
86%
87%
88%
89%
90%
91%
92%
93%
94%
95%
96%
97%
98%
99%
100%
Retention rate
21:1
Student/teacher ratio
$9,072
In-state tuition cost
$14,568
Out-of-state tuition cost
-
0%
1%
2%
3%
4%
5%
6%
7%
8%
9%
10%
11%
12%
13%
14%
15%
16%
17%
18%
19%
20%
21%
22%
23%
24%
25%
26%
27%
28%
29%
30%
31%
32%
33%
34%
35%
36%
37%
38%
39%
40%
41%
42%
43%
44%
45%
46%
47%
48%
49%
50%
51%
52%
53%
54%
55%
56%
57%
58%
59%
60%
61%
62%
63%
64%
65%
66%
67%
68%
69%
70%
71%
72%
73%
74%
75%
76%
77%
78%
79%
80%
81%
82%
83%
84%
85%
86%
87%
88%
89%
90%
91%
92%
93%
94%
95%
96%
97%
98%
99%
100%
4-year graduation rate
-
0%
1%
2%
3%
4%
5%
6%
7%
8%
9%
10%
11%
12%
13%
14%
15%
16%
17%
18%
19%
20%
21%
22%
23%
24%
25%
26%
27%
28%
29%
30%
31%
32%
33%
34%
35%
36%
37%
38%
39%
40%
41%
42%
43%
44%
45%
46%
47%
48%
49%
50%
51%
52%
53%
54%
55%
56%
57%
58%
59%
60%
61%
62%
63%
64%
65%
66%
67%
68%
69%
70%
71%
72%
73%
74%
75%
76%
77%
78%
79%
80%
81%
82%
83%
84%
85%
86%
87%
88%
89%
90%
91%
92%
93%
94%
95%
96%
97%
98%
99%
100%
5-year graduation rate
-
0%
1%
2%
3%
4%
5%
6%
7%
8%
9%
10%
11%
12%
13%
14%
15%
16%
17%
18%
19%
20%
21%
22%
23%
24%
25%
26%
27%
28%
29%
30%
31%
32%
33%
34%
35%
36%
37%
38%
39%
40%
41%
42%
43%
44%
45%
46%
47%
48%
49%
50%
51%
52%
53%
54%
55%
56%
57%
58%
59%
60%
61%
62%
63%
64%
65%
66%
67%
68%
69%
70%
71%
72%
73%
74%
75%
76%
77%
78%
79%
80%
81%
82%
83%
84%
85%
86%
87%
88%
89%
90%
91%
92%
93%
94%
95%
96%
97%
98%
99%
100%
6-year graduation rate
-
0%
1%
2%
3%
4%
5%
6%
7%
8%
9%
10%
11%
12%
13%
14%
15%
16%
17%
18%
19%
20%
21%
22%
23%
24%
25%
26%
27%
28%
29%
30%
31%
32%
33%
34%
35%
36%
37%
38%
39%
40%
41%
42%
43%
44%
45%
46%
47%
48%
49%
50%
51%
52%
53%
54%
55%
56%
57%
58%
59%
60%
61%
62%
63%
64%
65%
66%
67%
68%
69%
70%
71%
72%
73%
74%
75%
76%
77%
78%
79%
80%
81%
82%
83%
84%
85%
86%
87%
88%
89%
90%
91%
92%
93%
94%
95%
96%
97%
98%
99%
100%
Acceptance rate
-
0%
1%
2%
3%
4%
5%
6%
7%
8%
9%
10%
11%
12%
13%
14%
15%
16%
17%
18%
19%
20%
21%
22%
23%
24%
25%
26%
27%
28%
29%
30%
31%
32%
33%
34%
35%
36%
37%
38%
39%
40%
41%
42%
43%
44%
45%
46%
47%
48%
49%
50%
51%
52%
53%
54%
55%
56%
57%
58%
59%
60%
61%
62%
63%
64%
65%
66%
67%
68%
69%
70%
71%
72%
73%
74%
75%
76%
77%
78%
79%
80%
81%
82%
83%
84%
85%
86%
87%
88%
89%
90%
91%
92%
93%
94%
95%
96%
97%
98%
99%
100%
Out-of-state students
Campus Resources
Campus Resources
Career Services
Writing Center
Academic Advisors
Library Services

Disability Services
Health Services
Counseling
SHOW MORE
College Highlights
Engaged Students
Great Teaching
Vibrant Community
Successful Outcomes
Admissions & Aid
Engaged Students
"My residence hall my first two years has shaped me into the person I have become, and to me that is the most rewarding thing I could ask for. I am thankful for all of the wonderful people I surrounded myself around and the events we were involved with such as Make a Difference Day, Craft Nights, and House Cup challenges."
– Rachel Bazen, Neuroscience student

"It's very easy to get involved on campus because everyone's so nice. There is something for everyone on campus."
– Ryan Meister, Economics student
ENROLLMENT BY ETHNICITY
Nonresident aliens: 2%
Hispanic/Latino: 3%
Black or African American, non-Hispanic: 2%
White, non-Hispanic: 84%
American Indian or Alaska Native, non-Hispanic: 2%
Asian, non-Hispanic: 1%
Native Hawaiian or other Pacific Islander, non-Hispanic: 0%
Two or more races, non-Hispanic: 3%
Race and/or ethnicity unknown: 3%
Great Teaching
"As I've gone through NMU, I'm amazed by how much the professors care and carve out time for their students. Even those who I have not had as a professor yet but wanted advice from have been so prompt with responding to me and willing to meet with me. This kind of attention and dedication helps so much as a student to keep motivated knowing that there's multiple people who are rooting for you to succeed."
– Lauren Rotundo, Public Relations student
In recent years, a number of NMU's degree programs have received national or international recognition for their achievements. These include art and design, business, computer science, education, English, and nursing. Some unique aspects of Northern's academic menu include being the only university to offer five National Accrediting Agency for Clinical Laboratory Science programs. Northern is also one of only three universities nationwide with both diagnostic molecular science and cytogenetics programs, and it boasts one of the few programs in the country for both ski area management and wildland firefighting. NMU is one of only two Michigan universities to have an entrepreneurship major.
Programs that boast 90 percent placement rate or higher are business, clinical sciences, construction management, engineering technology, music education, line and power technician, and theater, as well as Northern's pre-medical and pre-dental students for professional school admittance.
First-Year Seminars and Experiences
NMU's First Year Experience (FYE) is a learning community initiative that helps new students develop strategies to maximize academic success, utilize campus resources, and cultivate positive relationships with other students and faculty. FYE is designed to help all first-time full-time students successfully manage the transition to college. With FYE's block scheduling, freshmen are able to reserve a spot in class even before orientation. In most cases, students share the same course schedule with about 20 other students, creating an immediate cohort of peers for study groups and getting connected to campus.
"I wouldn't have gotten my internship if it wasn't for such awesome faculty that provided me letters of recommendation. NMU has helped me in that my classes are small enough where my professors know me by my name." — Thomas Hagan, Physics and Mathematics student
WRITING INTENSIVE COURSES
As part of the General Education requirements, students take two courses to fulfill the Effective Communication component, which may include composition, writing, and/or foreign languages. In addition, a course in the Human Expression component includes analysis and evaluation of the artistic, literary, or rhetorical expression. Writing is a key component in numerous courses across the curriculum. An on-campus Writing Center offers free, one-on-one, or online tutoring sessions or help and feedback on any part of the writing process.
Students have the opportunity to work on a respected literary journal, Passages North, write for The North Wind student newspaper, or contribute to Conspectus Borealis, an undergraduate interdisciplinary journal of scholarly and creative works.
Vibrant Community
SERVICE LEARNING, COMMUNITY-BASED LEARNING
"There has never been a place I have loved more than NMU and its close knit family of students and faculty."
– Ryan Zawodny, Biology student
ACADEMIC SERVICE LEARNING
The Academic Service Learning program at Northern Michigan University aims to incorporate community service as a means of helping its students gain a deeper understanding of course objectives, acquire new knowledge, develop professional expertise, and engage in civic activity. Through incorporating academics with volunteer and hands-on opportunities, Northern elevates learning in ways that can't be experienced in the traditional classroom setting.
The ASL program at NMU continues to grow every year. With over 300 courses that are ASL certified, students have the opportunity to immerse themselves in real-world scenarios by working with a number of community partners.
SUPERIOR EDGE
Northern is the only university in the U.S. that packs community engagement, diversity awareness, leadership development, and real-world experience into one life-changing program: Superior Edge. It is open to all students regardless of major, year in school, or GPA. Students complete 100 hours in each of four different edges, mostly tailored to their own interests and passions. In addition to the fulfilling experiences students experience in this program, they receive a "student enrichment" transcript along with their academic transcript when they graduate. More than 1/3 of NMU students voluntarily participate in this program.
STUDENT LEADER FELLOWSHIP PROGRAM
NMU's Student Leader Fellowship Program (SLFP) is a two-year, nationally awarded leadership program. Committed to developing competent, ethical, and community-centered leaders, the SLFP provides student fellows with a series of unique experiences such as a fall retreat, a two-credit leadership class, a community mentor, a Community Service Internship, and a thorough workshop series.
LEARNING COMMUNITIES
The Honors Program at NMU provides academically talented students with a two- or four-year series of interdisciplinary and department-based courses. The courses are designed to complement students' undergraduate degrees, regardless of their majors' fields.
The Honors Program is not an academic major itself, but it rather substitutes specially-designed courses for most of the general education classes typically required for graduation. The substituted classes provide unique learning experiences to some of Northern's most academically motivated students.
RESIDENCE HALLS
With some very distinct residence hall communities, students can find just the right kind of environment to fit their personalities. There are nine halls altogether that will house approximately 2,500 students in Fall 2018: Spooner Hall, Meyland Hall, Magers Hall, Hunt Hall, VanAntwerp Hall, Spalding Hall, Birch Hall, Cedar Hall, and Maple Hall. Spooner Hall is home to 100 upperclassmen and graduate students, and Meyland Hall houses athletes training with the Olympic Training Site and 175 other students who prefer a quieter community. Birch, Cedar, and Maple Hall are a part of the new residence hall complex called The Woods. This 1,200 bed facility will be fully open this fall and will also feature classrooms, 24/7 study space, and the campus's family room, The lodge.
Each of the halls contains six smaller communities of about 50 students each, called "houses." Houses share a common hall identity, but each has its own personality, rules, traditions, programs, and activities. This house model is very unique to NMU and gives students the small community feel. Each house has their own Resident Adviser, or RA, that is there to help the students. Since the RA's only have about 50 residents to look after instead of the about 300 residents that live in one hall, the RA's can really get to know the students and make them feel connected to their communities. Some house names include: Hogwarts, Looney Bin, Whoville, and Reel House. More information on houses.
SCHOOL LOCATION
Northern's hometown of Marquette is a city of 20,000 residents located along the southern shore of Lake Superior. Michigan's Upper Peninsula region is known for its safe, friendly and natural environment. Marquette enjoys four distinct seasons that are celebrated by a wide variety of festivals and activities throughout the year. The Marquette community and Northern Michigan University are intricately intertwined, which adds to the vitality of the area and to the opportunities available to NMU students.

ATHLETICS
What's a great way to enhance your college experience? Sports! At Northern, you'll find opportunities to play for—or cheer for—some of the Midwest's top-ranking collegiate sports teams. You can also get active in a wide variety of club or intramural sports open to all students. NMU's excellent fitness facilities provide many ways to take part in recreation activities, on your own, with friends or as part of group classes. The Department of Intercollegiate Athletics, Recreational Sports and United States Olympic Training Site is also one of the largest employers of students on campus, so you can combine what you love doing with earning money for school. You'll find most of the action in three buildings and surrounding playing fields conveniently grouped on campus:
The Superior Dome: intercollegiate teams, club and intramural sports practices and competitions take place in the largest wooden dome in the world, also home to the United States Olympic Training Site.
The Berry Events Center: Wildcat hockey action and fast-paced basketball games can be enjoyed in this up-close and exciting setting.
The Physical Education Instructional Facility (PEIF) is the site of NMU's recreation center and venue for basketball, swimming/diving and volleyball team competitions. The PEIF also has an indoor climbing wall, racquetball courts, weight training rooms, cardio deck, dance studio, golf simulator, and six basketball courts. Students can rent camping equipment, kayaks, canoes, snowshoes and cross-country skis from the PEIF's Outdoor Recreation Center for adventures in nature.
In addition to the sports complex, NMU owns a golf course and our Nordic ski teams practice at two 3K and 5K lighted trail systems. Both are open to all NMU students. The city of Marquette has extensive paved and forest bike trails, a downhill skiing resort and miles of Lake Superior shoreline. In other words, it's an active person's paradise!
Successful Outcomes
The Northern experience culminates in a 96 percent job placement/graduate school acceptance rate for its alumni.

INTERNSHIPS/CO-OPS/PRACTICUMS
NMU faculty and staff help students make connections with valuable internship opportunities. Many majors require an internship. Just a few examples of recent internships students have taken include positions at NASA, Intel, Amazon, Helly Hansen, the Milwaukee Crime Laboratory, IBM, USAA, IRS, America's Test Kitchen, and Mayo Clinic.
"Getting involved opened up amazing opportunities for me, such as earning a summer fellowship at the Mayo Clinic, presenting my research at the National Institute of Health, and getting a post-baccalaureate fellowship at the Food and Drug Administration."
-Aaron Lewkowics, Clinical Lab Sciences Graduate
CAPSTONE COURSES AND PROJECTS/SENIOR EXECUTIVE
The student experience in many majors at NMU concludes with the accumulation of what has been learned over the course of one's academic career. This is typically in the form of a capstone project or paper. Students have the chance to show off their projects each spring at the Celebration of Student Research, Creative Works, and Academic Service Learning. The campus and community event features short presentations and poster displays to highlight student achievements. Students graduating from the School of Art and Design have their final works showcased in the DeVos Art Museum, which concludes with a rousing closing reception.
"I was given so many opportunities to work one on one with professors and complete research projects that I never would have gotten at a different school. I was able to be a part of two different research fellowships, be a teaching assistant, work in a research center, work on campus, tutor, mentor, and experience so many different things. My experiences at NMU is why I know I will thrive post-graduation."
-Erin McNabb, Secondary Education Social Studies and French Education graduate
Admissions & Aid
Northern Michigan University seeks to admit students who exhibit potential to succeed in the program of their choice. Applications for admission to NMU are individually reviewed with strong emphasis given to grade point average in high school college preparatory subjects, standardized achievement test scores, strength of academic curriculum, and/or college academic record. Northern also has a long-standing policy of providing opportunity for students whose previous academic experiences were less than satisfactory, but who can show other evidence of their potential for success. However, the university retains the right to exercise judgment as to the eligibility of applicants for specific courses of study.
A student may be admitted to the university in good standing, admitted on probation, admitted with restriction to a specific program, asked to take a pre-admission test or supply further information, or denied admission until the student can demonstrate potential for success at the college level. When a student is admitted, the admission is to the university, not into a particular academic degree program. Academic departments may have additional requirements for admission to specific programs. A student may be asked to agree to certain conditions as part of his or her enrollment.
Applicants denied admission to the university may appeal to the Admissions Review Committee. The university also retains the right to withdraw an offer of admission or change the admission status if a student's academic record significantly changes between the date of admission and enrollment or if the applicant falsifies or withholds information requested on the application for admission.
Scholarships
Northern Michigan University offers a variety of scholarships and awards to admitted students. See below for further information:
Presidential Scholars Competition: The Presidential Scholars Competition is designed for academically talented high school seniors to compete for 10 full-ride scholarships, which include tuition, fees, room, and board as well as 10 full-tuition scholarships, which cover tuition and fees. In addition to the 20 large scholarships, approximately 200 smaller scholarships will be awarded to participants.
Freshman scholarships: Northern Michigan University also offers scholarships designated for new freshmen students who have not attended any college/post-secondary institution after high school graduation.
Transfer scholarships: All transfer students who meet the general requirements will be considered for financial awards upon admission.
Freshman Fellowship: The Freshman Fellowship Program at Northern Michigan University provides academically talented students with an enriched educational experience. Freshmen Fellows will have the opportunity to practice scholarship, work directly with a university professor, interact with other students, and enhance overall intellectual curiosity. Each Freshman Fellow will also earn a cash stipend.
Talent recognition awards: Students at NMU have the opportunity to earn talent recognition awards in art and design, music and theater. Interested students may contact their respective department directly to arrange auditions, submit portfolios, or obtain more detailed information.
Donor-funded scholarships: Privately funded scholarships are offered through the NMU Foundation by donors who have created these opportunities for a variety of reasons. These scholarships or endowments are typically established to honor a family member, classmate, mentor, friend, or faculty member.
Alumni Legacy Scholarship and Alumni Dependent Tuition Program: The Alumni Legacy Scholarship is offered exclusively to students whose parent or grandparent is a Northern Michigan University alumnus/na and resides in the state of Michigan. The NMU Alumni Association annually awards 10 Legacy Scholarships worth $1,000 each. The Alumni Dependent tuition program enables dependents of out-of-state NMU alumni to pay in-state tuition rates.
FRESHMAN PROFILE
SAT Critical Reading
25th Percentile: 280 | 75th Percentile: 350
SAT Math
25th Percentile: 480 | 75th Percentile: 590
ACT Composite
25th Percentile: 19 | 75th Percentile: 25
ACT Math
25th Percentile: 17 | 75th Percentile: 24
ACT English
25th Percentile: 18 | 75th Percentile: 25
TUITION & COST
Tuition (in-state): $9,072
Tuition (out-of-state): $14,568
Fees: $694
Room: $5,160
Board: $4,678
What Others are Saying
"Choosing to attend Northern Michigan was one of the best decisions I've ever made. I am getting a quality education, worthwhile degree, and complete college experience. Northern gave me the opportunity to get involved in several different ways, all while living in the greatest place on earth."
— Aaron Rochow, International Political Science student
Contact Northern Michigan University