Nichols College
Dudley, Massachusetts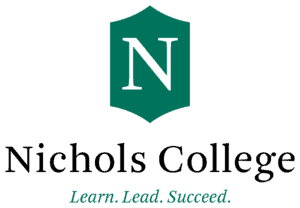 Nichols College is a college of choice for business and leadership education due to its distinctive career-focused and leadership-based approaches to learning both, in and out of the classroom, and through impactful research and professional education. Founded in 1815 as Nichols Academy, the college transforms today's students into tomorrow's leaders through dynamic, career-focused business and professional education. Nichols serves students who are interested primarily in a comprehensive business education that is supported by a strong liberal arts curriculum, as well as research and experiential learning opportunities.
SHOW MORE
Starting in their first year, students are immersed in the study and practice of leadership through the required LEAD 101 course. The signature Professional Development Seminar, a required four-year program, prepares students to confidently market themselves to prospective employers. With a focus on experiential learning, students have access to a range of competitive internships as well as high-impact, hands-on learning experiences embedded in coursework, including consulting projects for local businesses, a Bloomberg finance lab, and student-managed investment fund. The college's  impressive outcomes attest to the value of a Nichols education – more than 94% of graduates find employment within six months of graduation.
Nichols College is accredited by the Commission on Institutions of Higher Education of the New England Association of Schools and Colleges, Inc. Nichols has also received specialized accreditation for its business programs through the International Assembly for Collegiate Business Education (IACBE). The Nichols Sport Management BSBA program is also fully accredited by the Commission on Sport Management Accreditation (COSMA).
Get to know Nichols College
1,279
Degree-Seeking Undergraduates
Full-time to Part-time Ratio
-
0%
1%
2%
3%
4%
5%
6%
7%
8%
9%
10%
11%
12%
13%
14%
15%
16%
17%
18%
19%
20%
21%
22%
23%
24%
25%
26%
27%
28%
29%
30%
31%
32%
33%
34%
35%
36%
37%
38%
39%
40%
41%
42%
43%
44%
45%
46%
47%
48%
49%
50%
51%
52%
53%
54%
55%
56%
57%
58%
59%
60%
61%
62%
63%
64%
65%
66%
67%
68%
69%
70%
71%
72%
73%
74%
75%
76%
77%
78%
79%
80%
81%
82%
83%
84%
85%
86%
87%
88%
89%
90%
91%
92%
93%
94%
95%
96%
97%
98%
99%
100%
Retention rate
16:1
Student/teacher ratio
$35,290
Full-time tuition cost
Rolling
Application deadline
-
0%
1%
2%
3%
4%
5%
6%
7%
8%
9%
10%
11%
12%
13%
14%
15%
16%
17%
18%
19%
20%
21%
22%
23%
24%
25%
26%
27%
28%
29%
30%
31%
32%
33%
34%
35%
36%
37%
38%
39%
40%
41%
42%
43%
44%
45%
46%
47%
48%
49%
50%
51%
52%
53%
54%
55%
56%
57%
58%
59%
60%
61%
62%
63%
64%
65%
66%
67%
68%
69%
70%
71%
72%
73%
74%
75%
76%
77%
78%
79%
80%
81%
82%
83%
84%
85%
86%
87%
88%
89%
90%
91%
92%
93%
94%
95%
96%
97%
98%
99%
100%
Acceptance rate
-
0%
1%
2%
3%
4%
5%
6%
7%
8%
9%
10%
11%
12%
13%
14%
15%
16%
17%
18%
19%
20%
21%
22%
23%
24%
25%
26%
27%
28%
29%
30%
31%
32%
33%
34%
35%
36%
37%
38%
39%
40%
41%
42%
43%
44%
45%
46%
47%
48%
49%
50%
51%
52%
53%
54%
55%
56%
57%
58%
59%
60%
61%
62%
63%
64%
65%
66%
67%
68%
69%
70%
71%
72%
73%
74%
75%
76%
77%
78%
79%
80%
81%
82%
83%
84%
85%
86%
87%
88%
89%
90%
91%
92%
93%
94%
95%
96%
97%
98%
99%
100%
Out-of-state students
College Highlights
Engaged Students
Great Teaching
Vibrant Communities
Successful Outcomes
Admission & Aid
Engaged Students
"I like Nichols for the atmosphere, it's very much like you feel you're part of a community. Nichols, from the time you walk on campus, you just feel like you belong and I can't really describe the feeling other than when you're here, you know you're here. You just connect instantly. You blend with the campus around you, you blend with the people that are here on campus with you." — Spenser Malloy '21, dual major: Corporate Finance and Investments and Economics
Nichols offers distinctive career-focused and leadership-based opportunities, in and out of the classroom. 
EMERGING LEADERS PROGRAM
Nichols believes that leadership is a quality that everyone can learn and possess. The Emerging Leaders Program (ELP) is a four-year initiative that helps students cultivate their own leadership style through structured study and practice.
PROFESSIONAL DEVELOPMENT SEMINAR
The four-year, award-winning Professional Development Seminar is a required course at Nichols. It is custom designed to help each student stand out in the professional world. Each year, the students are guided through levels of professionalism as they learn skills that stand out to recruiters. Topics of the seminar include Making the Transition, Developing Your Brand, Refining Your Skills, and Launching Your Career. 
STUDY ABROAD
Nichols College offers students a number of options for learning beyond campus borders. Opportunities include intensive faculty-led, course-related travel; immersive international internships; life-changing study abroad experiences; international student services; and resources for students to explore different cultures and enhance their academic profile.
INSTITUTE FOR WOMEN'S LEADERSHIP
The Institute for Women's Leadership focuses on the issues and challenges that uniquely impact women's roles in business. Students conduct research, participate in gatherings, and attend speaking events while developing their leadership potential and serving as a helpful resource for high school students and women in the community at large.
ENROLLMENT BY ETHNICITY
Non-U.S. Citizen: 2%
Hispanic/Latinx: 10%
Black or African American, non-Hispanic: 7%
White, non-Hispanic: 75%
Native/Indigenous American or Alaska Native, non-Hispanic: 0%
Asian, non-Hispanic: 1%
Native Hawaiian or other Pacific Islander, non-Hispanic: 0%
Two or more races, non-Hispanic: 3%
Race and/or ethnicity unknown: 1%
Great Teaching
"The way Nichols College has shaped me as a student has completely changed me. After a week here I knew I was home. It shaped me into the person I am today because I am confident and always driven to succeed with the help of my professors." — Toni Souza '20, Marketing
FACULTY MENTORS
Every member of the Nichols College faculty has extensive experience in their respective fields, passionately training their students to be leaders and innovators. Nichols professors make each student's college experience challenging, memorable, and valuable. They are proud mentors and advocates for their students.
Within Nichols' close-knit community, collaboration is possible; Nichols faculty and staff work together to design an education that stays current. Everyone is there for their students, providing a strong foundation of support among the faculty and administration alike. The professors get to know their students personally and are able to provide helpful resources and opportunities that cater to individual goals and interests.
EXPERIENTIAL LEARNING
At Nichols College, hands-on learning is embedded in coursework as high-impact experiences comprising professional certifications, consulting projects, and case competitions. Students offer consulting services to local businesses, such as designing, planning, and executing fundraising events for non-profit organizations; creating marketing plans, including a new product launch, for local companies; and developing stronger security protocols for an animal shelter following a break-in. Opportunities to earn professional certifications, such as Bloomberg, participate in case study competitions, and travel internationally also add a critical dimension to the educational experience.
SPECIAL STUDY OPTIONS
Programs available at this institution.
Accelerated program
Distance learning
Double major
Dual enrollment
Honors Program
Independent study
Internships
Study abroad
Vibrant Communities
"Nichols taught me how to work in teams, taught me through the experiences I've been able to have at Nichols to bring a different perspective from the typical college student. I really believe that at Nichols they allow you to thrive in your own right." — Nick Anderson '21, General Business
COMMUNITY SERVICE
Being a good neighbor is serious business. Nichols students, faculty, and staff have performed hundreds of hours of community service. Some examples of the community's astounding service includes helping elderly and lower-income area residents prepare their income tax returns; mentoring children at local elementary schools; working as volunteers for the Dudley Hill Cancer Awareness golf tournament; and serving dinner to residents of Jeremiah's Inn, a residential recovery program in Worcester, Massachusetts. Nichols students have also volunteered for Habitat for Humanity and the Community Harvest Project during "Alternative Spring Break" trips, providing housing and food to lower-income individuals and families.
FISCHER INSTITUTE
At Nichols, students can always find opportunities to expand their intellectual and cultural perspectives beyond what they currently know. The school's Fischer Institute provides opportunities to further develop students through such community-building experiences as guest lectures from national and international speakers, campus community events, performing arts events, and faculty-led outings. These experiences diversify students' views of the world, bringing context to the social, political, and cultural events and ideas they are bound to encounter throughout their lives.
STUDENT ACTIVITIES
It's easy to feel at home on Nichols' friendly campus. With over 35 student organizations, students can easily meet friends with the same interests and make an impact while having fun at the same time. The student-run Campus Activities Board also holds dozens of events each semester, coming up with creative ways to hang out on campus. Fun events include outdoor movie nights. music events. game show-style competitions, and fun zipline courses!
SCHOOL LOCATION
Nichols College's beautiful, 200-acre campus is located in the rolling hills of central Massachusetts, close to five cities, beaches, mountains, and walking and biking trails. Nichols is one hour from Boston and Providence as well as 20 minutes from Worcester, which is New England's second-largest city.
ATHLETICS
Varsity sports at Nichols provide a competitive environment that is ideal for students learning to be successful leaders both on and off the field. Students at Nichols can participate in 22 varsity programs at the Division III level of the NCAA. Nichols teams compete in the Commonwealth Coast Conference, New England Football Conference, and ECAC Northeast Hockey. Athletics at Nichols complement what students learn in the classroom. Club, varsity, and intramural sports provide vital teamwork and team-building experiences that hone students' abilities to plan, practice, and execute personal and team goals.
RESIDENCE LIFE
Percent of students living on campus.
First-time, first-year (freshman) students: 84%
Undergraduates: 74%
Campus housing options.
Coed dorms
Men's dorms
Women's dorms
Apartments for single students
Special housing for disabled students
Wellness housing
Successful Outcomes
"For me, I feel like I've been focused on my future and my career and that's benefitted me more than anything. I'm 20 years old and I've started my own business and that's something not many other students can say." — Jared Williamson '21, Criminal Justice
CAREER AND PROFESSIONAL DEVELOPMENT CENTER
With Nichols College's Career and Professional Development Center, students have the tools and resources they need to find the right careers for them. They are given plenty of help to present themselves on paper, in person, and online throughout their application processes to jobs, graduate schools, and more. Whether they are pursuing internships, on-campus positions, or full-time employment, Nichols College staff are there to help every step of the way.
PROFESSIONAL DEVELOPMENT SEMINAR
Nichols makes sure that professional development, skill building, and leadership education is woven throughout each student's undergraduate experience. The College's required four-year, award-winning Professional Development Seminar (PDS) is custom-designed by faculty to prepare students for their pursuits after college. It helps them succeed with job hunting and interviewing techniques, evolving every semester to stay current with workplace demands.
Admission & Aid
At Nichols, students and their families are given individualized attention from admissions counselors, providing students with unique guidance during the decision-making process. Students are also given flexibility in submitting test scores and students with a GPA over 2.6 do not need to submit any test scores.  
First-time students at Nichols on average received over $21,000 in grants and scholarships last year. If students receive a merit-based scholarship, the money is guaranteed for all four years.
Admission
ADMISSIONS FACTORS
Very Important
Academic GPA
Important
Rigor of secondary school record | Standardized test scores | Application Essay
Recommendation(s) | Interview | Extracurricular activities | Character/personal qualities
Considered
Class rank | First generation | Alumni/ae relation
Volunteer work | Work experience |Level of applicant's interest
FRESHMAN PROFILE
SAT Evidence-Based Reading and Writing
25th Percentile: 470 | 75th Percentile: 570
SAT Math
25th Percentile: 470 | 75th Percentile: 570
ACT Composite
25th Percentile: 19 | 75th Percentile: 24
Tuition & Cost
Tuition: $35,290
Fees: $1,250
Room: $8,000
Board: $5,950
What Others are Saying
"One of the reasons that I chose Nichols was because when I came here for my first tour everyone was so friendly and nice, holding the door and asking how I was liking Nichols and saying hello. For me that was so different from other college tours I've been on. Everyone's so happy here and want to be here."
— Kayla DeWitt '21, Accounting