Mount Mercy University
Cedar Rapids, Iowa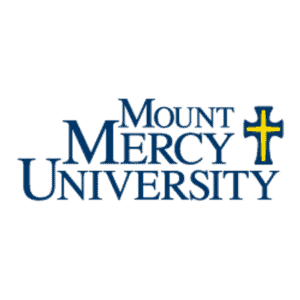 COVID-19 News | Visit Info
Many institutions are offering virtual tours and online information sessions while their campuses are closed to the public.
SHOW MORE
Housed on a hill nestled in Cedar Rapids' historical Mound View neighborhood, Mount Mercy University's main campus is safe, charming, and full of life.
Established on five critical concerns—earth, immigration, nonviolence, racism, and women—MMU's curriculum guides students in exploring and working towards a more just, equal, and peaceful world. Hands-on work often accompanies classroom learning, giving students the experience needed to start their careers with confidence.

Mount Mercy was founded on academic excellence, offering students a values-based curriculum. The university's accomplished faculty are easily accessible with a student/faculty ratio of 14:1. Students are often involved in faculty-led research and career-oriented internships with local, national, and global organizations. Focused on outcomes, 97% of MMU alumni are employed or in graduate school within nine months of graduation.
With over 25+ registered student organizations, students can connect with others who share similar values and interests. The university's strong campus ministry culture engages students and encourages an exploration of faith through Mass, spiritual direction, reflection groups, service-learning, and volunteer opportunities.

A forward-thinking undergraduate curriculum, in-demand graduate programs, and the region's most successful accelerated program have led Mount Mercy to be recognized as a distinguished institution and national leader within the Conference for Mercy Higher Education.
Get to know Mount Mercy University
1,488
Degree-Seeking Undergraduates
Full-time to Part-time Ratio
-
0%
1%
2%
3%
4%
5%
6%
7%
8%
9%
10%
11%
12%
13%
14%
15%
16%
17%
18%
19%
20%
21%
22%
23%
24%
25%
26%
27%
28%
29%
30%
31%
32%
33%
34%
35%
36%
37%
38%
39%
40%
41%
42%
43%
44%
45%
46%
47%
48%
49%
50%
51%
52%
53%
54%
55%
56%
57%
58%
59%
60%
61%
62%
63%
64%
65%
66%
67%
68%
69%
70%
71%
72%
73%
74%
75%
76%
77%
78%
79%
80%
81%
82%
83%
84%
85%
86%
87%
88%
89%
90%
91%
92%
93%
94%
95%
96%
97%
98%
99%
100%
Retention rate
14:1
Student/teacher ratio
$34,506
Full-time tuition cost
-
0%
1%
2%
3%
4%
5%
6%
7%
8%
9%
10%
11%
12%
13%
14%
15%
16%
17%
18%
19%
20%
21%
22%
23%
24%
25%
26%
27%
28%
29%
30%
31%
32%
33%
34%
35%
36%
37%
38%
39%
40%
41%
42%
43%
44%
45%
46%
47%
48%
49%
50%
51%
52%
53%
54%
55%
56%
57%
58%
59%
60%
61%
62%
63%
64%
65%
66%
67%
68%
69%
70%
71%
72%
73%
74%
75%
76%
77%
78%
79%
80%
81%
82%
83%
84%
85%
86%
87%
88%
89%
90%
91%
92%
93%
94%
95%
96%
97%
98%
99%
100%
6-year graduation rate
Rolling
Application deadline
-
0%
1%
2%
3%
4%
5%
6%
7%
8%
9%
10%
11%
12%
13%
14%
15%
16%
17%
18%
19%
20%
21%
22%
23%
24%
25%
26%
27%
28%
29%
30%
31%
32%
33%
34%
35%
36%
37%
38%
39%
40%
41%
42%
43%
44%
45%
46%
47%
48%
49%
50%
51%
52%
53%
54%
55%
56%
57%
58%
59%
60%
61%
62%
63%
64%
65%
66%
67%
68%
69%
70%
71%
72%
73%
74%
75%
76%
77%
78%
79%
80%
81%
82%
83%
84%
85%
86%
87%
88%
89%
90%
91%
92%
93%
94%
95%
96%
97%
98%
99%
100%
Acceptance rate
-
0%
1%
2%
3%
4%
5%
6%
7%
8%
9%
10%
11%
12%
13%
14%
15%
16%
17%
18%
19%
20%
21%
22%
23%
24%
25%
26%
27%
28%
29%
30%
31%
32%
33%
34%
35%
36%
37%
38%
39%
40%
41%
42%
43%
44%
45%
46%
47%
48%
49%
50%
51%
52%
53%
54%
55%
56%
57%
58%
59%
60%
61%
62%
63%
64%
65%
66%
67%
68%
69%
70%
71%
72%
73%
74%
75%
76%
77%
78%
79%
80%
81%
82%
83%
84%
85%
86%
87%
88%
89%
90%
91%
92%
93%
94%
95%
96%
97%
98%
99%
100%
Out-of-state students
-
0%
1%
2%
3%
4%
5%
6%
7%
8%
9%
10%
11%
12%
13%
14%
15%
16%
17%
18%
19%
20%
21%
22%
23%
24%
25%
26%
27%
28%
29%
30%
31%
32%
33%
34%
35%
36%
37%
38%
39%
40%
41%
42%
43%
44%
45%
46%
47%
48%
49%
50%
51%
52%
53%
54%
55%
56%
57%
58%
59%
60%
61%
62%
63%
64%
65%
66%
67%
68%
69%
70%
71%
72%
73%
74%
75%
76%
77%
78%
79%
80%
81%
82%
83%
84%
85%
86%
87%
88%
89%
90%
91%
92%
93%
94%
95%
96%
97%
98%
99%
100%
Full-time faculty w/ terminal degree
College Highlights
Engaged Students
Great Teaching
Vibrant Communities
Successful Outcomes
Admission & Aid
Engaged Students
"My foundations class helped me realize the things I'm already doing in my day-to-day work. I now have definitions behind behaviors—almost like a dictionary for my professional life. I'm beginning to understand how I lead, but also how I respond to leaders as a follower. It's helped me become a better communicator because I understand my behaviors and the behaviors of others." – Sauvik Goswami | '20 MSL
SERVICE-LEARNING
A group of 23—two nursing faculty, 17 nursing faculty, and friends of Mount Mercy­—headed to Tanzania for 16 days to help the local schools as well as a new health center in the area called Lake Eyasi Clinic.
INTERNSHIPS
By helping people with disabilities, Megan Andresen '98 helped build her résumé for graduate school. It worked. Andresen went on to get her master's in physical therapy from the University of Iowa and is currently a senior therapist who has been practicing at UnityPoint-St. Luke's in Cedar Rapids since 2001.
"During my time at Mount Mercy, I was fortunate enough to be an intern at the Catherine McAuley Center, and I absolutely loved it. I can't pinpoint what class it was that made me realize I wanted to work for a nonprofit after graduation, but that's one of the biggest things I gained from Mount Mercy. Getting to work with people from various backgrounds offered me new perspectives, and I got to teach others something I've never really done before." – Jemi Baskerville '18 | Bachelor of Business Administration
STUDY ABROAD
Since 2009, Mount Mercy education students have had the opportunity to study abroad in Canterbury, England, as part of an exchange partnership with Christ Church University. Students participate in CCU education courses and visit rural and urban schools in Canterbury. Partner schools also include Carlow College in Ireland and the University of Stirling in Scotland. MMU students have the opportunity to study abroad at hundreds of other institutions as well through the University's collaboration with AIFS.
"After my two best friends and I convinced each other, we decided to go on the European study abroad trip to Germany, Austria, and Italy. Being able to see in person the different things I had studied in art classes was pretty surreal. Not to mention the amazing food, sights, and castles! These trips took me outside of my comfort zone and allowed me to meet and become friends with so many great people. I was able to step into different cultures and experience things I wouldn't have gotten the chance to otherwise." – Leslie Schultz '17 | Bachelor of Arts in Graphic Design
PROFESSIONAL DEVELOPMENT SCHOOL
Since 2012, MMU has partnered with community schools through its Professional Development School (PDS) program. The PDS model provides MMU juniors in the teacher education program the opportunity to apply theory and content hands-on in a classroom setting.
PROJECT CONNECT
Project Connect, a free program for underrepresented students, offers a jump start on the college experience.
GRADUATE-LEVEL OPPORTUNITIES
Mount Mercy's graduate students are immersed in experiential learning. Recently, MMU has expanded opportunities for graduate students by providing additional formats for students to get their master's degree, like our virtual seminar format in the Master of Strategic Leadership program.
"The entire staff at MMU worked to ensure I could pursue both my career and education goals without missing a beat. The flexibility of the program even allowed me to continue coaching my son's traveling baseball team." – Larry Covington | '19 MBA
CLASS SIZE
The number of sections of each class size.
2-9: 68 | 10-19: 124 | 20-29: 118
30-39: 5 | 40-49: 10 | 50-99: 3 | 100+: 0
ENROLLMENT BY ETHNICITY
Nonresident aliens: 4%
Hispanic/Latino: 1%
Black or African American, non-Hispanic: 8%
White, non-Hispanic: 78%
American Indian or Alaska Native, non-Hispanic: 1%
Asian, non-Hispanic: 2%
Native Hawaiian or other Pacific Islander, non-Hispanic: 0%
Two or more races, non-Hispanic: 2%
Race and/or ethnicity unknown: 4%
Great Teaching
"Working one-on-one with a faculty member is an amazing experience. I've learned a lot about qualitative research and seen the work that goes into getting a research project approved and finding individuals to participate. These are all things that will be an advantage for graduate school." – Kaitlin Gregerson '19 | Bachelor of Science in Psychology
MOUNT MERCY FACULTY PRACTICE WHAT THEY PREACH
Marriage & Family Therapy faculty member

Heather Morgan-Sowada '09, '12 MA

founded the Body Dysmorphic Disorder Clinic of Iowa—the only clinic in the Midwest that specifically specializes in treating BDD.

Dr. Kim Bro

, Interim Dean of Martin-Herold College of Nursing and Bachelor of Science in Nursing chair at Mount Mercy University, has been named one of 100 great Iowa Nurses.

Vice President for Student Success

Nate Klein '07

  was chosen as one of two recipients of the national Enactus Sam Walton Fellow of the Year Award.
FACULTY VALUE 1:1 RESEARCH
Faculty and students participate in research across Mount Mercy's programs. A vast majority of students leave Mount Mercy with professional experience under their belts. Some projects students and faculty have undertaken are:
Three-Strikes Laws and Their Effects on Society

Applying Psychology to Increase Water Conservation

Synthesizing Human Trafficking Screening Tools and Identifying Barriers to Help for Marginalized Populations

Oncology-Fertility Support in Breast Cancer Patients

Father Involvement in the NICU

Recognizing the Humanitarian Crisis at the U.S./Mexico Border through Franciso Cantu's Memoir, The Line Becomes a River

Developing a Personality Assessment App for Author Dave Mitchell

Studies of Lichen Distribution on a Linn County (Iowa) Hill Prairie

The Invisible Problem of Human Trafficking

Iowa Watch: Statewide Journalism Projects

Light Effects on the Growth of Raphanus sativus

The Impact of Student Engagement has on Post-Graduation Success

The Harmful Effects of Radon and its Levels in the Mount Mercy University Community

Putting the Goth in American Gothic (Public Art Project)
FALL FACULTY SERIES HIGHLIGHTS IMPORTANT TOPICS OF OUR TIME
Every fall, Mount Mercy faculty facilitate an interdisciplinary, semester-long conversation aimed at challenging the community to reflect in deep ways about the important topics of our time, called the Fall Faculty Series.
MMU BRINGS DOCTORAL-LEVEL EDUCATION TO CEDAR RAPIDS
In Fall 2018, Mount Mercy launched two doctoral-level programs—Doctor of Nursing Practice (DNP) and PhD in Marriage and Family Therapy (MFT) program—not only a first for MMU but also for the City of Cedar Rapids.
"I had been looking for a DNP program for five years before learning about Mount Mercy's program. I was looking for something I could do in-person, because I felt like an online setting wouldn't support the personal attention needed for a final DNP project. Time to completion and flexibility were also big factors. The five-week classes, one day a week fit my work schedule." – Kimberly Glasgow | '22 DNP
SPECIAL STUDY OPTIONS
Programs available at this institution.
Accelerated program
Cross-registration
Distance learning
Double major
Dual enrollment
Honors Program
Internships
Liberal arts/career combination
Student-designed major
Study abroad
Teacher certification program
Vibrant Communities
"Volleyball first introduced Mount Mercy to me, and for that I will be forever grateful. Being a part of this team instantly gave me that sense of belonging in a new place and gave me a support group that turned into lifetime friends. Over the years, volleyball taught me to see the bigger picture beyond just the court: to be a leader, a role model, a supportive and kind teammate, the power of positive thinking, and that hard work pays off." – Leslie Hoffmann '17 | Bachelor of Arts in Graphic Design
SERVICE & VOLUNTEERISM
"I didn't understand while in school just how important a degree from Mount Mercy was until I did job interviews and people recognized what it meant that I went to Mount Mercy." – Steve Smith '08 | Bachelor of Arts in Criminal Justice
CLUBS & ORGANIZATIONS
A note from Mount Mercy's Student Government Association:
"As a student, you have genuine needs and expectations. As the Student Government Association, our goal is to ensure all of those needs and expectations are met. SGA seeks to solve students' biggest problems and help fulfill their greatest ambitions. One of the best ways to accomplish this is by providing students with outlets true to their passions. We offer many ways to get involved and embrace meaningful work in the form of clubs and organizations. Our student-led groups help enhance studies and ensure long-lasting growth of students."
LECTURES & SPEAKERS
Mount Mercy University hosts a variety of speakers throughout the year. Several lecture series—like the Global Issues Series, Visiting Writer Series, and Business Speaker Series—and events bring renowned guests to campus.
ARTS & CULTURE
Mount Mercy Professor of English Mary Vermillion said it best: "Creativity always deserves to be celebrated." Whether it be winning an award for a published chapter, gathering with student-writers, or creating a magazine from scratch, the MMU community makes a point to celebrate

creative success

.

The on-campus

Janalyn Hanson White Gallery

showcases local and national artists as well as Mount Mercy students themselves.

All Mount Mercy University students, regardless of major, have the opportunity to continue their

musical growth

and involvement through participation in choral or instrumental ensembles, applied private lessons, musical education offerings, and liturgical music.
CAMPUS TRADITIONS
Students participate in time-honored events and activities, like the Thanksgiving Dress Dinner, Vegas Night, and Spring Fling.
ATHLETICS
Mount Mercy University, a member of the National Association of Intercollegiate Athletics (NAIA) and the Heart of America Athletic Conference (the Heart), offers varsity competition in the following:
Coed: competitive cheer & dance
Men's: basketball, baseball, golf, soccer, cross country, track & field, bowling, and volleyball
Women's: basketball, softball, volleyball, golf, cross country, track & field, soccer, and bowling.

Altogether, these programs have 44 conference team championships and frequently send teams and individuals to national championship events. In addition, Mount Mercy student-athletes are annually recognized as NAIA Scholar-Athletes and Champions of Character. For those looking for something more recreational, MMU has a number of intramural programs, including basketball, volleyball, golf, flag football, and softball.
"What first brought me to MMU was running! I ran on the cross country and track teams and absolutely loved every second of it. Being part of these teams brought me such great friends and an amazing support system. Running for MMU taught me so much more than just hard work and dedication, though. It showed me what it means to be part of a team, family, and a community! I was so proud to wear Mount Mercy across my chest every single race." – Liz Mosbach '16 | Bachelor of Arts in Marketing
Learn more about MMU athletics »
SCHOOL LOCATION
Mount Mercy is proud to be part of the friendly, tight-knit Iowa community of Cedar Rapids, Iowa. Many students come from the greater Cedar Rapids region, and many graduates continue to live there. There are sure to be Mustangs at any hospital, school, or local business one may visit.
Cedar Rapids is known as an art and cultural hub with great theatre, live music, and museums. The area is home to family-friendly sports teams including baseball, hockey, and indoor arena football. In addition to a growing culinary scene, local events are plentiful.
Cedar Rapids Highlights
NewBo City Market
Indian Creek Nature Center
CSPS Arts Venue
McGrath Amphitheatre
Cedar Rapids Museum of Art
Paramount Theater
African American Museum of Iowa
Grant Wood Studio
Islamic Center of Cedar Rapids
National Czech & Slovak Museum & Library
Brucemore Historic Site
RESIDENCE LIFE
Percent of students living on campus.
First-time, first-year (freshman) students: 91%
Undergraduates: 43%
Campus housing options.
Coed dorms
Men's dorms
Women's dorms
Special housing for disabled students

Successful Outcomes
"This institution helped me discover who I was and what I could offer the world. I don't just think of this university as a place where I earned my degree, but as my home during one of the most critical times of my life. I will always love this university and will forever be grateful for the values it instilled in me." – Brittney Thomas Burmahl '13 | Bachelor of Business Administration
BE A MUSTANG. SUCCESS FOLLOWS.
97% of MMU alumni are employed or in graduate school within nine months of graduation.
There's no limit to what can be achieved with a Mount Mercy education. Alumni find success in every professional sector imaginable—as doctors, lawyers, entrepreneurs, educators, business leaders, storytellers, artists, and more.
"I have always been an entrepreneur at heart, constantly dreaming of business ideas. Looking for a gap in the Cedar Rapids area, I focused on my degree so that I could learn the business fundamentals to someday open my dream career: Crisp Cedar Rapids. I was able to graduate and quickly secure space for my restaurant at NewBo City Market. Mount Mercy encouraged the entrepreneur spirit within me. On top of having amazing professors, they offer great courses that are applicable to the real world. I'm extremely proud to be a Mustang!" – Richard Drager '17 | Bachelor of Business Administration
DEGREE IN THREE
Mount Mercy University makes it possible to earn a bachelor's degree in three years. This helps students save time and money while getting a jumpstart on their careers.
MMU PLUS
Students interested in furthering their education with Mount Mercy also have a fast-track option with the MMU Plus program. Through the plan, undergraduate students begin taking graduate courses during their junior and senior years and are thus enabled to complete both bachelor's and master's degrees in under five years.
CAREER SERVICES
Career Services helps Mount Mercy students and alumni find professional employment opportunities, explore career options, polish résumés and cover letters, practice mock interviews, and more.
"Even though I work in the communications field, my career took me along a different path than what I originally studied, which was mostly writing. Now I work in television, but not as a writer. The dedication and discipline that I put into my MMU studies definitely paid off when I accepted my role at Fox Sports." – Jun Endo '13 | Bachelor of Arts in Journalism
PROJECT CONNECT
Project Connect, a free program for underrepresented students, offers a jumpstart on the college experience.
"One big thing Project Connect taught me was that it's okay to struggle a little bit. Without Project Connect, I would have felt so alone when I hit my first academic roadblocks, but having a community that showed me and told me that I was not going through this solo helped me grow exponentially as a student." – Jacob Waltersdorf '21 | Bachelor of Arts in International Studies
STUDENT SERVICES
Mount Mercy believes students can't succeed without community-wide support. For this reason, students have free access to all services, including Career Services, Academic Center for Excellence, Mustang Market Food Pantry, Busse Library, Campus Ministry, fitness centers, counseling services, and so much more.
"Mount Mercy University is a community of people looking to succeed not only for the betterment of themselves but for the greater good of society. Mount Mercy University understands that their alumni's success is dependent on the success of their supporting community." – Douglas Doyle '09 | Bachelor of Arts in Criminal Justice
Admission & Aid
Admission
ADMISSIONS FACTORS
Very Important
Rigor of secondary school record | Class rank | Academic GPA
Important
Standardized test scores
Considered
Application Essay | Recommendation(s) | Interview | Extracurricular activities
Talent/ability | Character/personal qualities | First generation | Alumni/ae relation
Volunteer work | Work experience | Level of applicant's interest
FRESHMAN PROFILE
ACT Composite
25th Percentile: 19 | 75th Percentile: 25
ACT Math
25th Percentile: 18 | 75th Percentile: 24
ACT English
25th Percentile: 18 | 75th Percentile: 24
Tuition & Cost
Tuition: $34,506
Fees: $1,000
Room & Board: $10,112
Aid
SCHOLARSHIPS | Find a complete list here »
Catherine McAuley Scholarship
Full Tuition
Sister Mary Ildephonse Holland Scholarship
Full Tuition
Freshman Academic Scholarships, Grants, & Awards
$7,000–$18,000
Transfer Academic Scholarships, Grants, & Awards
$10,000–$14,500
Scholarship Day Awards
$500–$2,000
Athletic Scholarships
Amount Determined by Coach
Music Scholarships
Amount Determined by Director
Creative Talent Scholarships in Art & Design and Writing
$2,000–$3,000
Sustainability "Green" Scholarships
$2,000–$3,000
Out-of-State Grant
$1,000–$3,500
International Student Scholarships
$10,000–$14,500
What Others are Saying
"The thing that I appreciate the most about MMU is the fact that I feel like an individual, not a number. The faculty and staff here aren't just looking for 'any student' to participate in programs like Student Ambassadors, campus employment, or leaders on campus. Your hard work doesn't go unnoticed, and you get recognized for your achievements. It is clear that individuals who make contributions to campus are appreciated."
— Jacob Waltersdorf '21 | Bachelor of Arts in International Studies
Contact Mount Mercy University
Send a message to Mount Mercy University
Fill out the form below and a representative from Mount Mercy University will get in touch.