Georgian Court University
Lakewood, New Jersey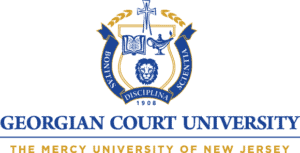 Georgian Court University, established in 1908, provides a comprehensive education in the Mercy Catholic tradition. Located in Lakewood, NJ, GCU advances a curriculum that is broad enough to be truly liberal, yet specialized enough to provide in-depth preparation for careers or further study, offering 30 undergraduate degrees, 10 graduate degrees, and a variety of certificates. As part of its mission, GCU devotes significant academic and financial resources to serving high-need, underserved students, many of whom are the first in their family to attend college. The GCU atmosphere is one of a small college ambiance in a technologically advanced, university setting. Centered on the core Mercy values of respect, integrity, justice, compassion, and service, GCU offers a nurturing campus environment with individualized attention and guidance.
Get to know Georgian Court University
1,642
Degree-Seeking Undergraduates
Full-time to Part-time Ratio
-
0%
1%
2%
3%
4%
5%
6%
7%
8%
9%
10%
11%
12%
13%
14%
15%
16%
17%
18%
19%
20%
21%
22%
23%
24%
25%
26%
27%
28%
29%
30%
31%
32%
33%
34%
35%
36%
37%
38%
39%
40%
41%
42%
43%
44%
45%
46%
47%
48%
49%
50%
51%
52%
53%
54%
55%
56%
57%
58%
59%
60%
61%
62%
63%
64%
65%
66%
67%
68%
69%
70%
71%
72%
73%
74%
75%
76%
77%
78%
79%
80%
81%
82%
83%
84%
85%
86%
87%
88%
89%
90%
91%
92%
93%
94%
95%
96%
97%
98%
99%
100%
Retention rate
11:1
Student/teacher ratio
$32,050
Full-time tuition cost
-
0%
1%
2%
3%
4%
5%
6%
7%
8%
9%
10%
11%
12%
13%
14%
15%
16%
17%
18%
19%
20%
21%
22%
23%
24%
25%
26%
27%
28%
29%
30%
31%
32%
33%
34%
35%
36%
37%
38%
39%
40%
41%
42%
43%
44%
45%
46%
47%
48%
49%
50%
51%
52%
53%
54%
55%
56%
57%
58%
59%
60%
61%
62%
63%
64%
65%
66%
67%
68%
69%
70%
71%
72%
73%
74%
75%
76%
77%
78%
79%
80%
81%
82%
83%
84%
85%
86%
87%
88%
89%
90%
91%
92%
93%
94%
95%
96%
97%
98%
99%
100%
6-year graduation rate
Rolling
Application deadline
-
0%
1%
2%
3%
4%
5%
6%
7%
8%
9%
10%
11%
12%
13%
14%
15%
16%
17%
18%
19%
20%
21%
22%
23%
24%
25%
26%
27%
28%
29%
30%
31%
32%
33%
34%
35%
36%
37%
38%
39%
40%
41%
42%
43%
44%
45%
46%
47%
48%
49%
50%
51%
52%
53%
54%
55%
56%
57%
58%
59%
60%
61%
62%
63%
64%
65%
66%
67%
68%
69%
70%
71%
72%
73%
74%
75%
76%
77%
78%
79%
80%
81%
82%
83%
84%
85%
86%
87%
88%
89%
90%
91%
92%
93%
94%
95%
96%
97%
98%
99%
100%
Acceptance rate
-
0%
1%
2%
3%
4%
5%
6%
7%
8%
9%
10%
11%
12%
13%
14%
15%
16%
17%
18%
19%
20%
21%
22%
23%
24%
25%
26%
27%
28%
29%
30%
31%
32%
33%
34%
35%
36%
37%
38%
39%
40%
41%
42%
43%
44%
45%
46%
47%
48%
49%
50%
51%
52%
53%
54%
55%
56%
57%
58%
59%
60%
61%
62%
63%
64%
65%
66%
67%
68%
69%
70%
71%
72%
73%
74%
75%
76%
77%
78%
79%
80%
81%
82%
83%
84%
85%
86%
87%
88%
89%
90%
91%
92%
93%
94%
95%
96%
97%
98%
99%
100%
Out-of-state students
-
0%
1%
2%
3%
4%
5%
6%
7%
8%
9%
10%
11%
12%
13%
14%
15%
16%
17%
18%
19%
20%
21%
22%
23%
24%
25%
26%
27%
28%
29%
30%
31%
32%
33%
34%
35%
36%
37%
38%
39%
40%
41%
42%
43%
44%
45%
46%
47%
48%
49%
50%
51%
52%
53%
54%
55%
56%
57%
58%
59%
60%
61%
62%
63%
64%
65%
66%
67%
68%
69%
70%
71%
72%
73%
74%
75%
76%
77%
78%
79%
80%
81%
82%
83%
84%
85%
86%
87%
88%
89%
90%
91%
92%
93%
94%
95%
96%
97%
98%
99%
100%
Full-time faculty w/ terminal degree
College Highlights
Engaged Students
Great Teaching
Vibrant Communities
Successful Outcomes
Admission & Aid
Engaged Students
GCU students have many opportunities to take an active part in their learning. GCU's programs are designed to create ethical leaders who are prepared to become engaged citizens who lead and serve with integrity, justice, respect, and compassion in their personal and professional lives.

GLOBAL EDUCATION AND STUDY ABROAD
The Office of Global Education Programs advances the university's mission to educate and empower students in a diverse global community by globally transforming the campus community in multiple ways. These include: Travel Abroad and Study Abroad programs, International Student Exchange Programs, faculty exchanges and visiting professors, hosting international conferences and visitors, and international collaboration inside and outside the classroom.

GCU's study abroad program continues to grow with student interest increasing each year. Each semester, dozens of students participate in study/education abroad programs throughout the world, including such places as Rome, Jordan, Morocco, Guatemala, and Barcelona. GCU also continues to increase its number of faculty-led study abroad trips. Recent trips include World Wars/Holocaust Europe Trip, Costa Rica Tropical Ecology, and Literary Paris. In addition, students can participate in a number of education abroad programs in which GCU has formalized agreements: St. Mary's College, London, England; IT Sligo, Sligo, Ireland; John Cabot University, Rome, Italy; University of Stirling, Stirling, Scotland; Spanish Studies Abroad in Spain and Argentina; and Webster University (Missouri) with branch campuses in London, Leiden (Netherlands), Vienna, Geneva, Cha-am (Thailand), and Beijing.

Global education is also embedded in various classes, programs, and activities on campus. A highlight includes GCU's Collaborative Online International Learning (COIL) program, in which faculty members integrate a globally networked learning component into an existing course. Faculty connect with other parts of the world for international collaborations, such as global peer reflections on shared readings, peer-to-peer interviews, collaborative problem-solving, debates and/or discussions, collaborative project work, etc. Collaborations are done via Skype, Google Hangout, Blackboard, or smart phones.

STUDENT LEADERSHIP PROGRAMS
The GCU Office of Student Leadership and Engagement encompasses co-curricular opportunities and experiences to prepare students to be socially responsible leaders. Students are also exposed to a variety of skill-building workshops, interactive programs, and opportunities for service and networking.

Student Government Association: The Student Government Association is the official representative voice of the GCU student body, advocating on behalf of students' interests and concerns. Through representation on committees and attendance at special meetings, the SGA plays a vital role in fostering a sense of community and providing a direct link between students, faculty, and administration. In addition, the SGA sponsors a variety of activities incorporating the Mercy core values of justice, respect, integrity, service, and compassion and is committed to facilitating diverse social and educational programs.

Emerging Leaders Program: The Emerging Leaders Program is geared toward helping students discover and develop their leadership potential. Students gain an understanding of general leadership models and theories. They immediately get the opportunity to apply their college experience to the broader context of their desired future professions. They explore and assess their own personal leadership style and begin develop a personal leadership philosophy. Additionally, students work with a faculty mentor, with whom they must meet at least once per month, to create a long-term action plan for their own leadership development.

Women in Leadership Development (WILD): The Women in Leadership Development (WILD) program at GCU is the flagship leadership development program dedicated to educating, equipping, and empowering undergraduate women. WILD provides women with the knowledge, skills, and values necessary for effective and engaged citizenship in their local and global communities. Students are encouraged to assume leadership roles on and off campus to enhance their ability to lead in all aspects of their life. WILD women are often exposed to issues of leadership and prominent women leaders who have already established their roles as leaders within their communities and organizations, locally, nationally, and globally.

SERVICE LEARNING
GCU is a repeat honoree of the President's National Community Service Honor Roll. Georgian Court University students, faculty, and staff last year contributed nearly 121,000 volunteer service hours to help individuals, community organizations, and area nonprofit agencies.
GCU community service hours are tracked and reported on by GCU's Office of Mission Integration. Volunteer service hours are up over 27 percent since 2017—which reflects the university's dedicated to the Mercy core value of service.
"It really demonstrates the commitment of the overall campus," says Evelyn Quinn, M.S.W., M.Ed., '74, GCU vice president for mission integration. "We are invested. We talk a lot about our values, but this indicates that we live what we say."
There are many opportunities for students to participate in community service:
Habitat for Humanity: GCU has established its own Habitat for Humanity chapter, part of a global, nonprofit housing organization operated on Christian principles that seeks to put God's love into action by building homes, communities, and hope. The GCU campus chapter is a student-led, student-initiated organization that partners with the Northern Ocean Habitat affiliate to fulfill the four functions of a campus chapter: building, fundraising, advocating, and educating.
The Office of Campus Ministry helps students to identify and address the needs of the local community, partnering with churches, pastors, and organizations such as Providence House, Redeem-Her, Interfaith Hospitality, and Catholic Charities for volunteer and community service.
Service Trips: Campus ministry plans multiple service trips throughout the year. Some are local trips lasting a few hours or a day. Others are weeklong domestic or international trips during breaks. These trips include opportunities for prayer and reflection with an emphasis on living the Mercy charism.
Crop Walk: One of GCU's biggest traditions is participation in the annual Crop Walk of Northern Ocean County in mid-October. Campus ministry coordinates GCU students and staff to collect donations from sponsors to help eliminate hunger among our neighbors. On the day of the event, GCU walks in solidarity with hundreds of groups and individuals from around the county.
Thanksgiving Basket Drive: Campus ministry organizes this on-campus food drive to provide baskets containing complete holiday dinners to be delivered to grateful families. Volunteers are needed to collect donations and organize baskets and food.
Giving Tree Project: As Christmas approaches, campus ministry sets up giving trees around campus. These trees carry gift tags naming items needed or desired by those who are unable to buy gifts for their families. Students, faculty, and staff choose items from a tree, purchase them, and return them to campus ministry by the due date. Volunteers are needed to set up trees, collect donations, and organize gifts.
Easter Basket Drive: Campus ministry collects candy, toys, and Easter baskets to spread the sweet joy of Easter to area kids.
Global Mission/Service: In addition, students participate in mission and service trips throughout the world through the Office of Global Education
INDEPENDENT RESEARCH
Georgian Court provides students with a wealth of research opportunities through its academic programming, including joint faculty-student research, grant-funded research, and independent study research. GCU students participate in the annual Independent College Fund of New Jersey Undergraduate Research Symposium, where they present their research results to a panel of judges drawn from New Jersey's top industries, ICFNJ member institutions and trustees.
ENROLLMENT BY ETHNICITY
Non-U.S. Citizen: 2%
Hispanic/Latinx: 14%
Black or African American, non-Hispanic: 9%
White, non-Hispanic: 52%
Native/Indigenous American or Alaska Native, non-Hispanic: 0%
Asian, non-Hispanic: 2%
Native Hawaiian or other Pacific Islander, non-Hispanic: 0%
Two or more races, non-Hispanic: 1%
Race and/or ethnicity unknown: 19%
Great Teaching
HONORS PROGRAM
The University Honors Program offers Georgian Court University students from any major the opportunity to engage in challenging academic experiences inside and outside of the classroom. Smaller, in-depth classes allow students to work closely with their professors while being with their peers who will foster their intellectual growth. GCU's Psychology Scholars Program is an accelerated honors program in psychology that allows students to finish their B.A. in less than four years. Students are welcome to join both the University Honors Program and the Psychology Scholars Program.
"The Psychology Scholars Program and the University Honors Program have definitely changed me in healthy ways in which I see myself growing as an academic hungering for more knowledge. The professors really tend to your needs as a student." – Cristian Mendoza, '21, Major: Psychology
COIL PROGRAM
Through the Collaborative Online International Learning (COIL) program, an extension of the Office of Global Education, faculty members integrate a globally-networked learning component into existing courses. Faculty connect with other parts of the world for international online components such as global peer reflections on shared readings, peer-to-peer interviews, collaborative problem-solving, debates and/or discussions, collaborative project work, etc. Collaborations are done via Skype, Google Hangout, Blackboard, or smart phones.

FIRST YEAR SEMINAR
First Year Seminar (FYS) is a course that introduces students to the total university experience. FYS includes a career development component that helps students focus on selecting an academic major, while exploring the ways their strengths, talents, and interests inform their academic and career paths.

CHART THE COURSE
GCU's Chart the Course program is a unique program to assist students with credit completion. The program extends the fall and spring semesters by offering general education courses, for free, to at-risk students during the winter and summer terms. In the past, GCU has offered two free general education courses (Contemporary Economics and Introduction to Psychology) to 60 freshmen who had fewer than 15 college credits after a certain semester. The courses met the general education requirements for most majors and were offered online (economics) or in hybrid format (psychology) to meet the needs of students who work and have long commutes. Peer tutors assisted with the courses. As a result, 100% of the students retained and continued in the spring 2015 semester, with 85% passing the courses and earning the additional three credits.
THE ACADEMIC DEVELOPMENT & SUPPORT CENTER
The Academic Development & Support Center (ADSC) helps students to enhance their academic skills in a supportive, caring environment. The center offers tutoring, disabilities services, and other academic support services, including The Learning Connection (TLC), a support program to assist students with learning differences that impacts their performance.
"Throughout my time here at Georgian Court University…I have the greatest support system in the world. The staff of TLC and my Academic Development Specialist (ADS) played a major part in my growth and development, not only in academics, but within my personal life as well." – R.N., Class of 2017

"The support and guidance [TLC] has provided me has transformed me into a confident, successful student. Without TLC, I doubt I would have stayed in college, but now I am not only staying, but I am thriving." – J.S., Class of 2018

"The TLC program has had a big impact on my education career. As a freshman, I was very nervous and skeptical about the workload and how difficult it would be. The TLC program helps me with time management and this keeps me on track and I am able to get to class and complete my assignments on time." – L.D., Class of 2019
MATH INDIVIDUALIZED LEARNING
GCU replaced its traditional math SD courses with a web-based assessment and learning system, Assessment and Learning in Knowledge Spaces (ALEKS), which provides students in need of remediation with an individualized learning experience tailored to their unique strengths and weaknesses. Students, supported by an instructor, work at their own pace in a computer lab using adaptive learning software. Assessment at the end of the course determines students' readiness for higher levels of math. Each week, students spend three hours in the lab during fixed class times and one hour at a time of their choosing. The program is designed to move students through developmental instruction that is individually paced to better ensure timely graduation.

WRITING CENTER
GCU opened a Writing Center to aid students in need of writing and research assistance. The center offers peer tutoring and new technology to assist students with English writing assignments and papers.
SPECIAL STUDY OPTIONS
Programs available at this institution.
Accelerated program
Distance learning
Double major
Dual enrollment
English as a Second Language (ESL)
Honors Program
Independent study
Internships
Liberal arts/career combination
Study abroad
Teacher certification program
Weekend college
Vibrant Communities
LIVING LEARNING COMMUNITIES
Living-learning communities offer students the opportunity to participate in shared learning experiences based around a specific theme. GCU's four communities are International Cultures, Gateway to the Arts, Outdoor Adventures, and Sustainability. Members of these communities work closely with a faculty coordinator and graduate assistant who plan and implement various programs, discussion groups, lectures, off-campus experiences, and other activities. Students benefit in many ways when they participate in a living-learning community, including enjoying a greater sense of community, personal attention and mentoring, enhancement of their intellectual development, built-in support systems, opportunities for leadership experiences, and specialized experiences for lifelong learning.

MERCY COLLEGIATE SOCIETY (MCS)
The Mercy Collegiate Society engages college students in the charism and work of Catherine McAuley, the foundress of the Sisters of Mercy. It is the sponsoring organization of Georgian Court University. This group is based on four pillars: social networking, service to the local and global community, the deepening of the spiritual dimension of the person, and engaging in the purest form of leadership: servitude.

ORIENTATION LEADER PROGRAM
Orientation Leaders assist new students and their families through the transition process to GCU campus life, and in the process, gain personal and professional rewards.

RESIDENT ASSISTANTS
Resident assistants (RAs) are students who have completed an extensive selection and training process. They are selected for their concern for others and responsibility, as well as their communication and leadership skills. They work with all residents to create the safest, most comfortable, supportive, and responsive residence environment possible.

CAMPUS CLUBS & ORGANIZATIONS
ACTIVE MINDS: The Active Minds Club's purpose is to utilize the student voice to destigmatize mental illness and judgment on college campuses. This organization is working towards hosting events that are intended to broaden student awareness on campuses and assist in eliminating stereotyped misconceptions on mental illness.
BLACK STUDENT UNION: This group ensures that African-American history, culture, and well-being are promoted throughout the GCU community through community projects and campus events like the Black History Month celebration. Membership is open to all students.
CAMPUS MINISTRY CLUB: The Campus Ministry Club plans, implements, and supports programs in collaboration with the Office of Campus Ministry. Club officers serve as an advisory board to the directors of Campus Ministry. Members participate in Thanksgiving and Easter food drives and a Christmas Giving Tree project, serve on the Retreat Team, and respond to global and local emergencies as needed.
'DA POETRY CORNER: The Poetry Club, or 'Da Poetry Corner, provides a "corner" where students can express their creativity through written and spoken word and helps students overcome a fear of public speaking by offering a supportive venue for performance in front of peers and other poets.
HOLISTIC HEALTH CLUB: The Holistic Health Club promotes the interest in the wellness and health through the mind, body, and soul. It provides an association among students and faculty of the Georgian Court community. This clubs provides a forum for the presentation of new ideas to benefit the Georgian Court community in a way of promoting health and wellness holistically.
LATIN AMERICAN STUDENT ORGANIZATION (LASO): A nonprofit, nonpolitical organization that educates, supports, and encourages the Latin American community at GCU.
MCAULEY INSTITUTE FOR LIFELONG LEARNING: GCU's McAuley Institute for Lifelong Learning (MILL) is a community-building education program for adults 50 and above in the regional area. MILL offers a variety of courses and workshops, taught by experienced college instructors, on a variety of subjects including health & wellness, literature, fine art, music, dance, history, food, social media, and hosts a number of day trips, concerts, and performances.
MODEL UNITED NATIONS (MUN): MUN provides students with the opportunity to understand the inner workings of the United Nations while developing skills and confidence in diplomacy, leadership, and negotiation. Students are assigned a committee based on student's' studies or interests. Students conduct extensive research, become extremely knowledgeable on the topics of the committee, and write position papers based on the assigned country's policies. In meetings, participants learn how to maintain proper decorum, make motions, speak in committee, caucus, vote in a committee and write resolutions and reports.
VEGETARIAN SOCIETY: The Vegetarian Society raises compassion for animals, teaches people about the vegetarian lifestyle, supports those involved in or becoming involved in a vegetarian lifestyle, and does what it can to make life better for animals and people locally and beyond through charity work and donations. The society is open to both vegetarians and non-vegetarians.
WOMEN'S ESTEEM (WE): Women's Esteem promotes healthy choices both physically and emotionally for women in a residential community. Women's esteem strives to embrace cultures while creating wellness within themselves and others. The club seeks to educate, empower, and support women.
YOUNG LIONS' BROTHERHOOD (YLB): The Young Lions' Brotherhood is a group of young men who come together as one and form a brotherhood. They encourage one another to strive to do their best and achieve success, academically and personally. YLB is committed to developing character and promoting respect within the GCU community.
Plus many more to choose from! Other events include:
CRITICAL CONCERNS WEEK
Each year, GCU observes Critical Concerns Week, giving special emphasis to issues addressed by the Sisters of Mercy, GCU's sponsoring organization. Since 2006, GCU has dedicated a week of scholarly study to these special concerns, including women's issues, the environment, immigration and identity, and nonviolence.

GCU hosts a series of speakers, seminars, and artistic events to enhance the transformative educational experience of students. Upcoming and past events include Burns and Allen: An Affectionate Remembrance (video presentation): Healing Power of Grief (lecture); A Taste of the Garden State Film Festival; presentations on resilience by nationally known psychologist and author Robert Wicks, Psy.D.: September 11th memorial ceremonies; and various presentations by GCU faculty. Campus ministry hosts spiritual retreats throughout the year. The Office of Career Services hosts a job fair and networking events. The Counseling Center provides specialized programming on public awareness events such as Take Back the Night, Clothesline Project, Denim Day, Survivor Speak Outs, and candlelight vigils. Poetry slams, game nights, and a Halloween scarecrow contests, hosted by the Office of Student Development, are student community-building traditions at GCU.
SCHOOL LOCATION
Georgian Court University is located in Lakewood, New Jersey. Set on a magnificent 156-acre estate formerly belonging to financier George Jay Gould, the campus is conveniently situated 60 miles from New York and Philadelphia, and only 10 miles from the Jersey Shore. Bordering Lake Carasaljo, the site is a National Historic Landmark with alluring statuary, beautiful architecture, and lush gardens. Georgian Court is the only Catholic university in southern New Jersey.
ATHLETICS
The GCU Athletics Program offers 14 varsity sports, including eight varsity women's sports: basketball, cross country, lacrosse, soccer, softball, indoor and outdoor track & field, and volleyball and six varsity men's sports: basketball, cross country, soccer, men's lacrosse, and indoor and outdoor track & field. The GCU Athletics Program is a member of National Collegiate Athletic Association (NCAA) Division II and the Central Atlantic Collegiate Conference (CACC). The mascot is the GCU Lions and the colors are royal blue and gold.
"These exceptional student-athletes continue to demonstrate each and every day that their roles here on campus transcend the field of play," stated Laura Liesman, Assistant Vice President for Athletics & Recreation. "Our fine young men and women have impacted so many lives in more ways than they will every know and I could not be more proud of them for their efforts."
RESIDENCE LIFE
Percent of students living on campus.
First-time, first-year (freshman) students: 62%
Undergraduates: 27%
Campus housing options.
Coed dorms
Special housing for disabled students
Honors housing
Successful Outcomes
Georgian Court University offers students a life-changing Catholic education, steeped in the liberal arts tradition and inspired by the values of integrity, respect, service, justice, and compassion. GCU's vision is to transform lives and expands possibility, for students and for the communities touched by Georgian Court graduates. GCU's integrated academic and student life approach, which includes joint faculty-student research, small classes, mentoring, and personalized advising, contribute to the dramatic changes students experience and the overall value of a Georgian Court education. With GCU's Mercy mission embedded throughout the campus culture and its excellent academics, GCU educates the whole student with transformative experiences. The school's 14-1 student-faculty ratio, vibrant campus and student life programs, global education focus, and first-rate career preparation ensure that graduates move on with a passion, a clear sense of purpose, and the capacity to change the world for the better.
"At GCU, I flourished and gained the competence and confidence to chase and catch my dreams—all while finding my true north. That is the impact that Georgian Court University has had on my life." – Floyd Barnett III, Director, Global Pricing and Business Transformation, M.B.A. grad, '08
INTERNSHIPS
Internships help GCU students to transform their academic foundation into careers. The Office of Career Services works closely with students in their first year to assess their interests and strengths and connect them with their future career goals. Internships combine supervised work experience with a structured academic plan that includes learning objectives. An internship may be full time or part time, paid or unpaid. Students may participate in internships for academic or experiential learning credits. The Office of Career Services connects students with a network of regional employers, non-profit organizations, and alumni for the internship placements.

CAREER PLACEMENTS
Among the GCU graduates, many were employed full-time with companies including Hackensack Meridian Health, Centra State Healthcare System, Providence House, Walt Disney Work Resort, American Flavors & Fragrances, Bentley Laboratories, TDK Bank Keystone Industries, YMCA, NJ Department of Corrections, ARC of Ocean County, and a variety of school districts throughout Monmouth and Ocean counties. Many graduates were enrolled in graduate school at universities including Fordham University, Monmouth University, Rutgers University, Ashford University, NYU, Penn State, LaSalle, University of Miami Law School Montclair University, and Georgian Court University.
GREAT OUTCOMES
From business courses to an internship at the MTA in Grand Central Station, Miriam Hunte '16 secured a job and a graduate program scholarship to NYU.

Standout soccer player and biology major, Tyler Verdoni '16 landed a coveted spot in podiatry school at Temple University and felt totally prepared on Day 1 of graduate school.
M.B.A. grad Sheri Silversmith '12 wrote a successful grant to find a playground for disabled children.
Artistic director and choreographer of T.MAJ Dance Company, Titilayo Majoyeogbe '14 is a dancer who has reinvested in community-based performing arts.
A GCU career services counseling session sparked the bright idea for Troy Allen's '16 personal branding campaign that led to a job the day after graduation.
NOTABLE ALUMNI
GCU has a host of notable alumni. To highlight a few:
Wilsar Johnson '12 began her career in public policy and politics. Her first stop was at the Democratic National Committee where she had the opportunity to attain valuable knowledge about America's political process, and the Democratic Party. She next served as a Running Start Star Fellow at the U.S. House of Representatives, working in the office of Congresswoman Karen Bass. Wilsar is currently a Legislative Correspondent and Press Assistant in the U.S. House of Representatives in the office of Representative Bonnie Watson Coleman (D, NJ-12), where she manages the robust constituent correspondence operation of the district.

Rod Colon '95 is a motivational speaker, author, career coach, and radio host. With almost over 30 years of experience as a corporate HR management insider and outside agency recruiter, Rod coaches and consults today's professionals and executives around the world.

Honora O'Brien Kilgallen '82 is a judge of the Monmouth County vicinage of Superior Court in

New Jersey

. Kilgallen was appointed to the court in 2003 and obtained tenured status in 2010.

Marlene Lynch Ford '76 is the assignment judge of the Ocean County vicinage of Superior Court in New Jersey. A former Assemblywoman, Ford served as Ocean County Prosecutor between 2007 and 2013.

Helen Hannah Casey '71 is president of Howard Hanna Real Estate Services, the fourth largest real estate company in the U.S. She leads more than 5,700 sales associates and employees in 167 offices located across Pennsylvania, Ohio, Virginia, Michigan, New York, West Virginia, North Carolina and Maryland. She serves on the National Association of REALTORS® (NAR) Executive Committee as chair of the Real Estate Services Advisory Board.
Admission & Aid
Admission
ADMISSIONS PROCESS
Prospective students are encouraged to tour the campus and visit with GCU beginning in their junior year. Applications for fall admission are generally accepted as early as the beginning of senior year. GCU is a member of the Common Application, but students may also apply on the university's website.
ADMISSIONS FACTORS
Very Important
Rigor of secondary school record | Academic GPA
Important
Standardized test scores
Considered
Class rank | Application Essay | Recommendation(s) | Interview
Extracurricular activities | Talent/ability | Character/personal qualities | First generation
Alumni/ae relation | Volunteer work | Work experience | Level of applicant's interest
TEST SCORES
Optional
FRESHMAN PROFILE
SAT Evidence-Based Reading and Writing
25th Percentile: 470 | 75th Percentile: 570
SAT Math
25th Percentile: 470 | 75th Percentile: 568
ACT Composite
25th Percentile: 17 | 75th Percentile: 22
ACT Math
25th Percentile: 17 | 75th Percentile: 22
ACT English
25th Percentile: 16 | 75th Percentile: 22
Tuition & Cost
Tuition: $32,050
Fees: $1,590
Room: $5,712
Board: $5,712
Aid
FINANCIAL AID PROCESS
The GCU Office of Financial Aid assists students and parents throughout the process of applying for financial aid, including providing information on grant and loan programs, assistance with completing FAFSA forms, deadlines, and estimating and accepting financial aid awards.

Georgian Court University helps to meet the financial aid needs of its students with an annual budget of $20 million in institutional aid. The average institutional grant is $17,687 for full-time freshmen (54% discount rate) and $15,634 for all full-time students (42% discount rate). Through internal scholarships and outside scholarships, GCU aims to make education attainable for all students. Over 99% of full-time freshmen receive aid. Other grant programs include: Federal Supplemental Educational Opportunity Grants, Federal Work-Study, New Jersey Tuition Aid Grant, NJ Governor's Urban Scholarship, NJ Educational Opportunity Fund Grants, NJ STARS II, and TEACH Grant Program.

Many GCU scholarships are made possible through the generosity of private donors who believe in the university's mission and values. Students may apply to be considered for nearly 100 scholarships available each year through the GCU Office of Institutional Advancement. GCU also provides students with information for external scholarship opportunities. Among the privately funded scholarship programs at GCU are the OceanFirst Foundation scholarships, the Charlotte W. Newcombe Foundation for Mature Women Students, and the Sutcliffe Foundation scholarships for nursing students.
Contact Georgian Court University