Elmira College
Elmira, New York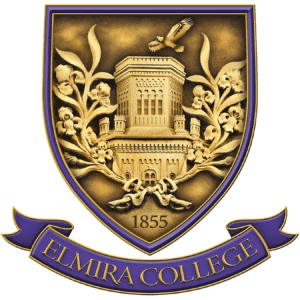 A national, top-tier liberal arts college founded in 1855, Elmira College is proud of its 160-year reputation for academic distinction. From the very beginning, Elmira has placed its focus on academic rigor. It was, in fact, the first college for women with a course of study equal in rigor to the best men's colleges of the time. Today, as a co-educational institution, Elmira continues that same focus on academic rigor and student opportunities.

Students at Elmira College are immersed in a community of study, research, community service, and campus life. Opportunities abound for students to conduct undergraduate research, present at national and international conferences, and have their work published in scholarly journals. Every student completes a career-related internship and, as a collective, the student body completes more than 15,000 hours of community service.

Strong connections between students and alumni have created a worldwide network of opportunity. Elmira alumni have excelled in all areas of professional distinction from public service to entrepreneurialism to medicine and the sciences and beyond, with impressive success stories emanating through the generations.
Grounded in the liberal arts and sciences, Elmira College's mission is to provide a collaborative and supportive environment that enables students to become active learners, effective leaders, responsible community members, and globally engaged citizens. Proud of its history and tradition, the College is committed to the ideals of community service, personal empowerment, and individual growth.

The College is accredited by Middle States Commission on Higher Education.
Get to know Elmira College
715
Degree-Seeking Undergraduates
Full-time to Part-time Ratio
-
0%
1%
2%
3%
4%
5%
6%
7%
8%
9%
10%
11%
12%
13%
14%
15%
16%
17%
18%
19%
20%
21%
22%
23%
24%
25%
26%
27%
28%
29%
30%
31%
32%
33%
34%
35%
36%
37%
38%
39%
40%
41%
42%
43%
44%
45%
46%
47%
48%
49%
50%
51%
52%
53%
54%
55%
56%
57%
58%
59%
60%
61%
62%
63%
64%
65%
66%
67%
68%
69%
70%
71%
72%
73%
74%
75%
76%
77%
78%
79%
80%
81%
82%
83%
84%
85%
86%
87%
88%
89%
90%
91%
92%
93%
94%
95%
96%
97%
98%
99%
100%
Retention rate
10:1
Student/teacher ratio
$34,578
Full-time tuition cost
-
0%
1%
2%
3%
4%
5%
6%
7%
8%
9%
10%
11%
12%
13%
14%
15%
16%
17%
18%
19%
20%
21%
22%
23%
24%
25%
26%
27%
28%
29%
30%
31%
32%
33%
34%
35%
36%
37%
38%
39%
40%
41%
42%
43%
44%
45%
46%
47%
48%
49%
50%
51%
52%
53%
54%
55%
56%
57%
58%
59%
60%
61%
62%
63%
64%
65%
66%
67%
68%
69%
70%
71%
72%
73%
74%
75%
76%
77%
78%
79%
80%
81%
82%
83%
84%
85%
86%
87%
88%
89%
90%
91%
92%
93%
94%
95%
96%
97%
98%
99%
100%
6-year graduation rate
-
0%
1%
2%
3%
4%
5%
6%
7%
8%
9%
10%
11%
12%
13%
14%
15%
16%
17%
18%
19%
20%
21%
22%
23%
24%
25%
26%
27%
28%
29%
30%
31%
32%
33%
34%
35%
36%
37%
38%
39%
40%
41%
42%
43%
44%
45%
46%
47%
48%
49%
50%
51%
52%
53%
54%
55%
56%
57%
58%
59%
60%
61%
62%
63%
64%
65%
66%
67%
68%
69%
70%
71%
72%
73%
74%
75%
76%
77%
78%
79%
80%
81%
82%
83%
84%
85%
86%
87%
88%
89%
90%
91%
92%
93%
94%
95%
96%
97%
98%
99%
100%
Acceptance rate
-
0%
1%
2%
3%
4%
5%
6%
7%
8%
9%
10%
11%
12%
13%
14%
15%
16%
17%
18%
19%
20%
21%
22%
23%
24%
25%
26%
27%
28%
29%
30%
31%
32%
33%
34%
35%
36%
37%
38%
39%
40%
41%
42%
43%
44%
45%
46%
47%
48%
49%
50%
51%
52%
53%
54%
55%
56%
57%
58%
59%
60%
61%
62%
63%
64%
65%
66%
67%
68%
69%
70%
71%
72%
73%
74%
75%
76%
77%
78%
79%
80%
81%
82%
83%
84%
85%
86%
87%
88%
89%
90%
91%
92%
93%
94%
95%
96%
97%
98%
99%
100%
Out-of-state students
College Highlights
Engaged Students
Great Teaching
Vibrant Communities
Successful Outcomes
Admission & Aid
Engaged Students
"There is something about Elmira that is quite unique. I wish I could pinpoint exactly what it is, but I think that's part of the magic…It's impossible to say what it is, because it's truly everything about the place that makes Elmira College what it is. Maybe it's the quirky beanies that every student wears during orientation. Or perhaps it's the school songs that you will never forget, no matter how long you are away from Elmira's hallowed halls. Or maybe it's the love and dedication that you feel from each and every professor, administrator, coach, and staff member. Nursing school is difficult…beyond difficult…but to walk into a classroom day after day and have a professor know your name, your story and what you need to succeed? That makes all the difference."
– Allii Fontaine '15
TERM III
One of the unique features of Elmira College is a 6-week Term III in April and May. The College offers many experiential learning opportunities in Term III, allowing students to do immersive and intensive work in a number of different fields and countries. This can include student teaching, clinical work, and research.

UNDERGRADUATE RESEARCH
Throughout their years at Elmira College, students are actively engaged in undergraduate research alongside their classmates and professors. In business courses, students construct business plans for real clients, including product and marketing strategies. In science courses, students conduct undergraduate research with their professors and, many times, present at state, regional, and national conferences and are published in various academic journals.

STUDY ABROAD
Elmira College partners with Regent's University London to offer a 12-week study abroad option in the heart of London, England.  The Elmira College/Regent's University partnership provides students the chance to spend a Term living and learning in one of the world's preeminent capitals while exchanging ideas with students from around the world and earning academic credit toward their degrees at Elmira.
ENROLLMENT BY ETHNICITY
Non-U.S. Citizen: 4%
Hispanic/Latinx: 6%
Black or African American, non-Hispanic: 5%
White, non-Hispanic: 76%
Native/Indigenous American or Alaska Native, non-Hispanic: 0%
Asian, non-Hispanic: 2%
Native Hawaiian or other Pacific Islander, non-Hispanic: 0%
Two or more races, non-Hispanic: 3%
Race and/or ethnicity unknown: 4%
Great Teaching
FIRST-YEAR SEMINAR
Elmira College's First-Year Seminar (FYS) program is the foundational course in the liberal arts and sciences for all entering freshmen. The FYS introduces students to the wider world of learning beyond the professional training of their declared majors.  The seminar focuses on sharpening students' skills in critical thinking and reading, and students have the opportunity to choose from a wide variety of seminar topics, ranging from the natural sciences and the humanities to the fine arts and the social sciences.

ACADEMIC WRITING PROGRAM
The Academic Writing Program at Elmira College is designed to help incoming students acclimate to college and learn to communicate clearly and effectively, skills they will continue to develop throughout all academic areas. Through classroom instruction, in-class writing workshops, and occasional one-on-one conferences with their instructors, students learn to become more independent writers and thinkers who are better prepared to take on any academic or professional challenge.
COMMUNICATION SCIENCES AND DISORDERS
Elmira College has an undergraduate-only program. All faculty hold professional state licensure and the Certificate of Clinical Competence from the American Speech-Language-Hearing Association (ASHA). All ASHA guidelines are adhered to so that students are prepared for graduate school and, ultimately, for certification by ASHA.
Distinctive aspects of Elmira's program:
Students get an early opportunity to participate in clinical practicum in speech-language pathology or audiology. Following completion of the required 25 hours of clinical observation, students typically begin working directly with clients—attending speech-language therapy or clients requiring a hearing evaluation during the fall of junior year.
Students have access to wide availability of student teaching experience. This allows students to apply for the Initial New York State Teaching Certificate in Speech-Language Disabilities after graduation from Elmira.
Absence of a Master's program allows undergraduate students to have clinical opportunities that might otherwise not be available to them.
Alumni report that Elmira's clinical preparation is excellent and that they are at an advantage in graduate school.
There is an articulation agreement with Thiel College for early admittance to graduate school in Speech-Language Pathology.
Supportive program faculty and close-knit student body.
Vibrant Communities
SCHOOL SPIRIT
Elmira College values its many traditions. Love for the College's purple and gold colors, songs, shape (the Octagon), and flower (the Iris), combine into traditions that connect students and alumni throughout the decades. When individuals link arms and sing the "Alma Mater" or participate in the beloved Mountain Day or Holiday Banquet, they are connecting to the spirit of Elmira College—a spirit that spans generations of Elmira College alumni, family, and friends.

MAJOR ELMIRA LANDMARKS
The City of Elmira was the summer home of American author, Mark Twain and his family. The Mark Twain Study, now located on the Elmira College campus, is the study in which the famous author penned Tom Sawyer, Huck Finn, and other iconic works. USA Today named the Mark Twain Study one of the nation's top ten literary landmarks.

Quarry Farm, home to Twain's in-laws and where Twain and his family spent more than 20 summers, was deeded to the College in 1983 by Twain's great-great grandnephew, Jervis Langdon. The Farm now serves as a research center for faculty and international scholars studying Mark Twain's life and works. The Farm was named one of New York State's literary landmarks by United for Libraries and the Empire State Center for the Book, an affiliate of the Library of Congress Center for the Book.

JULIA REINSTEIN '28 SYMPOSIUM
Each year the Women's and Gender Studies Program organizes the weeklong Julia Reinstein '28 Symposium, made possible by a bequest from college alumna Julia Reinstein '28, a feminist, early lesbian activist, and strong supporter of women's issues. In cooperation with Students Against Sexism and Stereotypes (SASS), the Symposium annually features a different theme and keynote speaker.

ANNUAL EVENTS
The Annual Student Research Conference features the work of more than 40 Elmira College students presenting course projects and independent research conducted with faculty. Work represents multiple disciplines and is presented by students at all levels.

Other annual events include: Arts Alive Term II and Term III celebration of the arts; Trouble Begins and Park Church Lecture Series hosted by the Center for Mark Twain Studies; Dr. Anita B. Ogden Symposium on health-related research and issues; Women's History Month Lecture Series; PRIDE Symposium celebration of PRIDE week; and the Lecture Series in the Sciences.
SCHOOL LOCATION
Located in the Southern Finger Lakes Region of Upstate New York, Elmira College sits on an idyllic 55-acre campus in the City of Elmira, with an additional 20 acres in nearby Pine Valley, NY serving as home to the Murray Athletic Center. The College is 90 minutes south of Rochester and less than a four-hour drive from much of the Mid-Atlantic region of the United States, including New York City and Philadelphia.
ATHLETICS
20 NCAA Division III varsity sports teams, including Men's Baseball, Men's and Women's Basketball, Men's and Women's Cross Country, Men's and Women's Golf, Men's and Women's Ice Hockey, Men's and Women's Lacrosse, Men's and Women's Soccer,  Men's and Women's Tennis, Men's and Women's Volleyball, Women's Cheerleading, Women's Field Hockey, and Women's Softball.
School colors: Purple and Gold

Mascot: Soaring Eagle
Successful Outcomes
COMMUNITY SERVICE AND INTERNSHIPS
Elmira College is committed to the ideals of community service, personal empowerment, and individual growth. To that end, each student completes a career-related internship and a minimum of 60 hours of community service. These programs provide students with hands-on experience and networking that many times results in postgraduate opportunities.

During the 2015-2016 academic year, more than 15,750 hours of community service were completed, altogether strengthening personal growth and connections between the College and the surrounding communities. The Office of Career Services annually hosts the Excellence in Community Service Luncheon, which highlights the importance of volunteerism and recognizes students and student clubs for exceptional service and impact.

LIVING TESTAMENTS TO SUCCESS
Through several innovative story series developed by the Office of Career Services, students and alumni share their internship and community service experiences as well as advice for future students. These stories are posted to the College's website and social media channels. The importance of community, getting involved, and taking advantage of the many opportunities Elmira College offers resonates throughout the articles.

SUCCESSFUL ALUMNI
Through these experiential programs, it is no surprise that more than 95 percent of students are employed or enrolled in graduate programs within one year of graduating.

A few notable alumni include:
Former Deputy Mayor of New York City

Chairman of Trident Media Group, LLC

Arts Editor of The Associated Press (AP)

Appellate Court Judge of State of Virginia
Admission & Aid
Admission
APPLYING TO ELMIRA
Elmira College offers two admission plans for freshman applicants: regular and Early Action. Early Action is designed for students whose top choice is Elmira College. A non-binding agreement, Early Action students will receive an offer of admission and scholarship notification sooner than regular admission students.

Elmira College is a test-optional college for first-year undergraduate applicants. The Office of Admissions will continue to accept standardized test scores from applicants who believe their results are indicative of their academic abilities to succeed in college.  If, however, students do not believe their results are indicative of their success in college, they have the option to withhold their test scores.
TEST SCORES
Optional
FRESHMAN PROFILE
SAT Evidence-Based Reading and Writing
25th Percentile: 446 | 75th Percentile: 652
SAT Math
25th Percentile: 444 | 75th Percentile: 650
ACT Composite
25th Percentile: 17 | 75th Percentile: 27
ACT Math
25th Percentile: 16 | 75th Percentile: 27
ACT English
25th Percentile: 15 | 75th Percentile: 25
Tuition & Cost
Tuition: $34,578
Fees: $1,650
Room & Board: $13,125
Aid
SCHOLARSHIPS AND FINANCES
Students are automatically reviewed for merit- or academic-based scholarships at the time of admission. A thorough review of a student's completed application file determines eligibility for any merit scholarship awarded by the college.

Elmira College offers an all-inclusive tuition rate, eliminating supplemental mandatory fees such as activity and technology fees.
Contact Elmira College
Campus Location
One Park Place
Elmira, New York 14901
(800) 935-6472