Chapman University
Orange, California
Picture Yourself at Chapman
SHOW MORE
Chapman University offers the best of both worlds: a classic liberal arts foundation and pre-professional programs of distinction with strong ties to their industries. The university is known for providing a uniquely personalized education (with a student/faculty ratio of 14:1) and extraordinary learning experiences that begin right at the first day a student arrives on campus. The University's variety of academic opportunities spans everything from performing arts, humanities, and business to economics, film, and the sciences.
Get to know Chapman University
Full-time to Part-time Ratio
-
0%
1%
2%
3%
4%
5%
6%
7%
8%
9%
10%
11%
12%
13%
14%
15%
16%
17%
18%
19%
20%
21%
22%
23%
24%
25%
26%
27%
28%
29%
30%
31%
32%
33%
34%
35%
36%
37%
38%
39%
40%
41%
42%
43%
44%
45%
46%
47%
48%
49%
50%
51%
52%
53%
54%
55%
56%
57%
58%
59%
60%
61%
62%
63%
64%
65%
66%
67%
68%
69%
70%
71%
72%
73%
74%
75%
76%
77%
78%
79%
80%
81%
82%
83%
84%
85%
86%
87%
88%
89%
90%
91%
92%
93%
94%
95%
96%
97%
98%
99%
100%
Retention rate
14:1
Student/teacher ratio
$48,310
Full-time tuition cost
College Highlights
Engaged Students
Great Teaching
Vibrant Communities
Successful Outcomes
Admission & Aid
Engaged Students
Students interested in a diverse, multicultural environment will feel right at home at Chapman. With a mix of students from a wide variety of backgrounds, Chapman fosters a community of inclusiveness that encourages growth and participation…
PREPARED FOR ACADEMIC SUCCESS
Chapman students begin their extraordinary education with a First Year Foundations course. Taught by a select group of faculty, these courses provide rigorous intellectual introductions to university life as well as a foundation for future learning.
Once students settle in to Chapman University, they can truly enjoy the variety of academic opportunities offered to them. Chapman allows students to select from 49 majors and 61 minors, while student/campus life offers over 175 clubs and organizations as well as 21 intercollegiate teams and 6 club sports.
STUDY ABROAD
Part of the mission at Chapman is to foster global citizenship. Chapman makes it easy, offering thousands of courses in hundreds of locations worldwide for students to partake in global experiences. Students can select from semester- and year-long programs; short term, faculty-led Travel Courses; and summer international internships. Approximately 42% of students participate in some form of global education before they graduate. The Center for Global Education at Chapman University is a proud member of NAFSA: Association of International Educators, the Forum on Education Abroad, the Institute for International Education, and International Student Exchange Programs.
INTERNSHIP OPPORTUNITIES
Students can and are taking advantage of internship opportunities provided to them through resources at Chapman. Some 76% of Chapman students report that they have held an internship during their undergraduate experience. Opportunities are provided through professors, departments, the Chapman Connect network, and the Career Development Center.
UNDERGRADUATE RESEARCH
The Office of Undergraduate Research and Creative Activity (OURCA) is available to everyone, allowing each student to go beyond the classroom in every discipline. It provides students one-on-one faculty contact so that they may develop inquiry-based learning approaches through high-level, independent research. Through OURCA's many funding and grant opportunities, students get support to present at conferences, publish peer-reviewed journals, and gain valuable skills for future careers. One of the benefits of of Chapman's medium-size institution is that it is able to offer greater access to research than small school without sacrificing its funding in the same way larger universities do.
ENROLLMENT BY ETHNICITY
Nonresident aliens: 4%
Hispanic/Latino: 14%
Black or African American, non-Hispanic: 2%
White, non-Hispanic: 56%
American Indian or Alaska Native, non-Hispanic: 0%
Asian, non-Hispanic: 11%
Native Hawaiian or other Pacific Islander, non-Hispanic: 0%
Two or more races, non-Hispanic: 7%
Race and/or ethnicity unknown: 5%
Great Teaching
Chapman combines its comprehensive educational core with world-class learning and research opportunities in all of its colleges. With nearly 85 percent of faculty holding Ph.D. or other terminal degrees, a Chapman education is a remarkably intensive yet intellectually panoramic experience.
PERSONALIZED AND COMPREHENSIVE
Chapman's curriculum is designed to turn every student into an inquiring, ethical, and productive member of the global community. As an institution with a liberal arts foundation, Chapman encourages students to explore. Its six shared inquiry areas—artistic, quantitative, natural science, social, written, and values and ethics—truly allow students to pursue interdisciplinary and comprehensive approaches. The curriculum begins by establishing a strong base in writing, speaking, and critical reasoning skills. It then culminates in a capstone course that integrates all students' experiences, providing every graduate with a deep knowledge in his or her field. Every student is ensured to develop an excellent perspective of the interdependence of all disciplines.
A variety of innovative programs give Chapman students interesting options for their education. They can pursue majors in unique fields such as Peace Studies or Kinesiology, or they may enroll in more traditional programs like Business Administration, English, or Chemistry.
HONORS PROGRAM
The Chapman University Honors Program is a broad, interdisciplinary course of study based on great books and events from cultures around the world. The goal of these dialogical exchanges is to engage a collaborative and intentional learning environment in which students and faculty connect enduring and emerging ideas. Together, they draw on shared texts, lectures, seminar discussions, and cultural experiences. The program features a community of students and professors who are dedicated to dynamic and interactive learning. In the Honors Program, classes are small and discussion-based, promoting critical thinking and in-depth learning.
Vibrant Communities
LOCATION
Set in the heart of Southern California, Chapman's location offers much in the way of education, culture, entertainment, and great weather! Students can enjoy many things such as Warner Brothers Studios; Lakers basketball and Ducks hockey; south coast-area beaches; local mountain ranges; Rodeo Drive; Hollywood; and, of course, Disneyland and Knott's Berry Farm. A daily sea breeze sweeps over the Chapman campus, the average year-round temperature floating around 72ºF.
Offering the safety and security of a small-town with convenient access to Los Angeles (40 minutes north) and San Diego (90 minutes south), the City of Orange is the perfect college environment.
LIVING-LEARNING COMMUNITIES
Students' journeys at Chapman begin with living-learning communities. First-year students who choose to live on campus are assigned to residence halls based upon their academic program and the college of their major. These assignments assist first-year students in the forging of connections with like-minded friends. These communities help encourage students to engage in interdisciplinary, university-level, critical inquiry. This includes off-campus excursions or visits from faculty to help students deepen their understanding of course material.
THE DEPARTMENT OF STUDENT ENGAGEMENT
The Department of Student Engagement helps fulfill Chapman's mission of shaping tomorrow's leaders. The office provides the necessary resources and inspiration for Chapman University students to discover, define, and develop their personal leadership identities through critical thinking, community building, and social responsibility. Opportunities for student leadership include paid and volunteer positions in student civic engagement, diversity and equity initiatives, student organizations, student union management, and marketing.
STUDENT ACTIVITIES
Nearly 175 clubs and organizations provide a great way to get involved on campus. Students can become advocates in the Student Government Association, organize large-scale concerts and weekend excursions, perform among the many dance teams, play on club sports teams, direct or be involved with student-produced shows or plays, and affect change in the surrounding community with service and social justice organizations.
WHERE DIVERSITY THRIVES
Diversity, equity, and mutual respect are rooted in Chapman's heritage and community. There are 14 different committees composed of more than 250 student, staff, and faculty volunteers in the Chapman Diversity Project. These committees are focused on strategic institutional change related to diversity, inclusion, and the strengthening of the campus climate for all members of the Chapman community. Additionally, the "I Am Chapman" campaign was established to build compassion through education about diversity, equity, and social justice by encouraging students to celebrate their individuality and diversity by sharing their stories.
ORANGE COUNTY OPPORTUNITIES
Orange County is America's sixth-largest county with more than 3 million people. Chapman's location provides students with valuable connections for internships and job opportunities. Many of America's largest corporations such as Allergan, Disney, Ford Motor Co., and Blizzard Entertainment call Orange County their home or U.S. headquarters. Furthermore, most of the Fortune 500 companies also have an Orange County office, providing ample opportunities for students seeking internships or employment.
ATHLETICS
NCAA Division III, Member: Southern California Intercollegiate Athletic Conference (SCIAC). 21 varsity sports, 6 club sports, and a wide variety of intramurals.
School mascot, Panther
School colors, cardinal, gray, & black
Successful Outcomes
UNLIMITED OPPORTUNITIES
Chapman is located in one of America's most business-oriented counties and less than an hour from one of the world's largest metropolitan areas; it's the perfect place for internships. With a variety of programs and hundreds of possible sites, Chapman makes it easy to get hands-on experience, make contacts in any field, and build impressive résumés.
SENIOR CAPSTONE
The educational experience is culminated through the "Capstone" programs in which seniors draw together what they have learned during their four years at Chapman. Most academic programs have some type of culminating class or project that varies from hands-on field work to extensive research in a topic of their choosing. Examples include Public Relations and Advertising students' campaign for external and internal organizations and Integrated Educational Studies students' presentations at an annual research symposium.
ALUMNI
Chapman alumni are a highly visible group of scholars that have achieved success in virtually every field imaginable. They are found around the world providing ethical and innovative leadership in their communities and disciplines. Graduates now excel in film and media arts, performing arts, educational studies, business and economics, law, humanities, and the sciences. A strong network of alumni gives Chapman students the edge they need to succeed. A featured alumni video is highlighted below; please visit Chapman's You Tube Channel: One Chapman Family, Many #ChapmanStories for a more complete look at alumni stories.
Admission & Aid
Admission
FRESHMAN PROFILE
SAT Critical Reading
25th Percentile: 550 | 75th Percentile: 650
SAT Math
25th Percentile: 560 | 75th Percentile: 650
ACT Composite
25th Percentile: 25 | 75th Percentile: 30
ACT Math
25th Percentile: 24 | 75th Percentile: 29
ACT English
25th Percentile: 25 | 75th Percentile: 31
Tuition & Cost
Tuition: $48,310
Fees: $400
Room: $9,812
Board: $4,556
Contact Chapman University
Explore other top colleges for adult degrees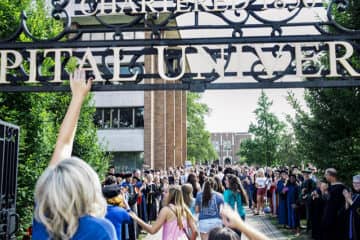 Columbus, Ohio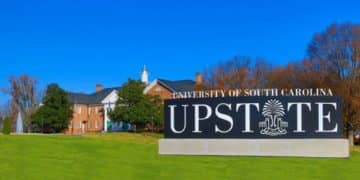 Spartanburg, South Carolina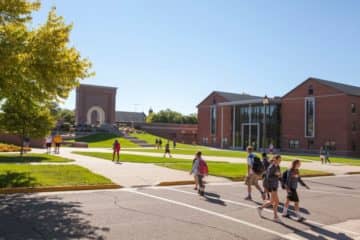 Storm Lake, Iowa