Cabrini University
Radnor, Pennsylvania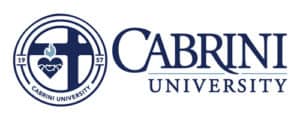 Cabrini University is a nonprofit, co-educational school that offers more than 40 majors, six master's degrees, and two doctoral degrees. Founded by the Missionary Sisters of the Sacred Heart of Jesus and named for St. Frances Cabrini, the patron saint of immigrants, the university embraces learners of all faiths and fosters a supportive academic community.

From their first semester, students learn how to advocate for social change and explore where they stand in the fight for human rights and dignity. They work closely with caring faculty in small classes, participating in research projects, internships, and international service groups that provide crucial hands-on experience. This dedication to action is a great contributor to the outcome of 92 percent of the university's graduates being employed or in graduate school within 10 months of graduating.

There's more to Cabrini than academics. Cabrini's 19 Division III sports teams have amassed more than 100 division championships and include a dozen All-American players. Students can join more than 50 student organizations, easily get to Philadelphia in less than 30 minutes, or hop on a train to New York City.
Get to know Cabrini University
1,292
Degree-Seeking Undergraduates
Full-time to Part-time Ratio
-
0%
1%
2%
3%
4%
5%
6%
7%
8%
9%
10%
11%
12%
13%
14%
15%
16%
17%
18%
19%
20%
21%
22%
23%
24%
25%
26%
27%
28%
29%
30%
31%
32%
33%
34%
35%
36%
37%
38%
39%
40%
41%
42%
43%
44%
45%
46%
47%
48%
49%
50%
51%
52%
53%
54%
55%
56%
57%
58%
59%
60%
61%
62%
63%
64%
65%
66%
67%
68%
69%
70%
71%
72%
73%
74%
75%
76%
77%
78%
79%
80%
81%
82%
83%
84%
85%
86%
87%
88%
89%
90%
91%
92%
93%
94%
95%
96%
97%
98%
99%
100%
Retention rate
14:1
Student/teacher ratio
$33,650
Full-time tuition cost
-
0%
1%
2%
3%
4%
5%
6%
7%
8%
9%
10%
11%
12%
13%
14%
15%
16%
17%
18%
19%
20%
21%
22%
23%
24%
25%
26%
27%
28%
29%
30%
31%
32%
33%
34%
35%
36%
37%
38%
39%
40%
41%
42%
43%
44%
45%
46%
47%
48%
49%
50%
51%
52%
53%
54%
55%
56%
57%
58%
59%
60%
61%
62%
63%
64%
65%
66%
67%
68%
69%
70%
71%
72%
73%
74%
75%
76%
77%
78%
79%
80%
81%
82%
83%
84%
85%
86%
87%
88%
89%
90%
91%
92%
93%
94%
95%
96%
97%
98%
99%
100%
6-year graduation rate
Rolling
Application deadline
-
0%
1%
2%
3%
4%
5%
6%
7%
8%
9%
10%
11%
12%
13%
14%
15%
16%
17%
18%
19%
20%
21%
22%
23%
24%
25%
26%
27%
28%
29%
30%
31%
32%
33%
34%
35%
36%
37%
38%
39%
40%
41%
42%
43%
44%
45%
46%
47%
48%
49%
50%
51%
52%
53%
54%
55%
56%
57%
58%
59%
60%
61%
62%
63%
64%
65%
66%
67%
68%
69%
70%
71%
72%
73%
74%
75%
76%
77%
78%
79%
80%
81%
82%
83%
84%
85%
86%
87%
88%
89%
90%
91%
92%
93%
94%
95%
96%
97%
98%
99%
100%
Acceptance rate
-
0%
1%
2%
3%
4%
5%
6%
7%
8%
9%
10%
11%
12%
13%
14%
15%
16%
17%
18%
19%
20%
21%
22%
23%
24%
25%
26%
27%
28%
29%
30%
31%
32%
33%
34%
35%
36%
37%
38%
39%
40%
41%
42%
43%
44%
45%
46%
47%
48%
49%
50%
51%
52%
53%
54%
55%
56%
57%
58%
59%
60%
61%
62%
63%
64%
65%
66%
67%
68%
69%
70%
71%
72%
73%
74%
75%
76%
77%
78%
79%
80%
81%
82%
83%
84%
85%
86%
87%
88%
89%
90%
91%
92%
93%
94%
95%
96%
97%
98%
99%
100%
Out-of-state students
College Highlights
Engaged Students
Great Teaching
Vibrant Communities
Successful Outcomes
Admission & Aid
Engaged Students
JUSTICE MATTERS CORE CURRICULUM
From the beginning of their college experience, students start Cabrini's "Justice Matters" core curriculum, which builds writing and analytical skills with a focus on issues of human rights, inclusivity, and other social issues. Justice Matters classes are writing-intensive and are taken from the first year through to the third year, finishing with a capstone in the fourth year. Engagements with the Common Good (ECG) classes sit at the heart of the curriculum, leading students on a journey of self-discovery and greater awareness of the world. First-year ECGs range from Mental Health & Society to Hip Hop: Language of Social Justice. Second-year ECGs include subjects such as Race, Gender, Youth Empowerment; Rethinking Addiction; and Democracy & Diversity. In ECG third-year courses, students can explore everything from Working for Global Justice to Food Insecurity.
"At Cabrini, I was able to flourish tremendously with my grades, because for once, I was able to take classes that were very meaningful to me. Whether it be a hands-on communication class that helped to expand my mind, or an ECG class that helped to expand my heart, Cabrini showed me that I could be the intelligent person I always wanted to be, both in academics and in my heart. I owe it to this wonderful school for showing me my true identity and allowing me to do what the university really strives for: to live with purpose." – Eric Stone ('19)
COMMUNITY SERVICE AND THE CORE
Community service is integrated within the Justice Matters core curriculum, and Cabrini faculty, students, and staff provide more than 25,000 hours of service a year in nine different countries. For students who wish to continue their exploration of justice or service, Cabrini offers service trips every year to places such as Argentina, Guatemala, Swaziland, and Nicaragua.
"Before I began at Cabrini in 2014, I was quite unaware of the social issues and inequalities that our country and world face. Due to my classes and experiences at Cabrini, I not only learned the truth about inequalities of the world but also how to make a difference. I became the founding president of Students Against Violence Everyday and began volunteering for Laurel House, a non-profit working to end domestic violence. I took part in mission trips to West Virginia, (Appalachia), New Orleans, and Ecuador. Occasionally, I participated in Campus Ministry's PB&J nights where students make sandwiches, go to Philly to give them out, and talk with people experiencing homelessness. Cabrini has taught me how to live a life in the name of social justice." – Rachel Maxey ('18)
STUDY ABROAD & STUDENT RESEARCH
As students hit their stride, they can explore Cabrini's study abroad trips or participate in undergraduate research opportunities. Cabrini offers students 7- or 10-day Immersion Trips to places like London and Guatemala as well as semester and summer programs abroad in Australia, England, Ireland, Italy, and Semester at Sea. Students work closely with faculty to study everything from the immunology of earthworms to the impact of Citizens United on corporate culture. Students present their research findings at the annual Academic Symposium with poster presentations, short talks, and informal dialogue with faculty, staff, and other students.

FREE LECTURES & SEMINARS
Throughout the fall and spring, there are events hosted by various departments and organizations that are open and free to Cabrini students. The Nerney Leadership Institute brings in executives from across the country to speak in class and in public about key issues of leadership development. It has hosted, among others, Jonathan Brassington from LiquidHub, Judge Renee Cardwell Hughes from the American Red Cross, and Cornell Brooks from NAACP. The Wolfington Center hosts an annual Lenten Lecture Series to explore faith and Catholic social teachings with service leaders, allowing students to explore their own faith and learn new perspectives.

Cabrini also hosts Woodrow Wilson Fellows, enabling students to interact with thought leaders brought to campus for a week. An example of a resident Fellow was Robert "Gus" Gusentine, who is working to assess and monitor global freshwater supplies. And, continuing its commitment to fighting domestic violence and human trafficking, Cabrini holds an annual Domestic Violence Symposium that has featured national experts such as Kristina Rose, senior policy advisor for Violence Against Women from the Office of the Vice President.
"Cabrini has allowed me to blossom into an outspoken, confident, and independent individual. I have had the chance to meet students and connect with faculty who have pushed me to become a better individual. If it weren't for Cabrini and their mission to "prepare me to become an engaged citizen of the world," I would not have been given the opportunity to grow into the individual I am today." – Alyson Fisher ('19)
SPECIALTY CENTERS
Cabrini's academic centers provide students with more opportunities to meet industry experts, connect with communities, and learn from faculty and staff outside the classroom. The Nerney Leadership Institute brings leaders from around the country to campus for day-long residencies on campus and hosts leadership development workshops for students. The Wolfington Center is Cabrini's hub for social justice and advocacy, hosting speakers on issues of equity and inclusion and creating service programs for students. In 2017, four new centers were launched to become "think tanks" for the university's faculty and the broader community. The Center for Urban Education, Equity, and Improvement; The Center for Immigration; The Center for Children of Trauma and Domestic Violence Education; and the Center for Global Learning are great sources of social advocacy-related information for both the Cabrini community and the country at large.
ENROLLMENT BY ETHNICITY
Non-U.S. Citizen: 1%
Hispanic/Latinx: 12%
Black or African American, non-Hispanic: 21%
White, non-Hispanic: 57%
Native/Indigenous American or Alaska Native, non-Hispanic: 0%
Asian, non-Hispanic: 3%
Native Hawaiian or other Pacific Islander, non-Hispanic: 0%
Two or more races, non-Hispanic: 3%
Race and/or ethnicity unknown: 4%
Great Teaching
In addition to the writing-intensive Justice Matters core curriculum and opportunities for student research, students at Cabrini have access to faculty and resources to help them get the most of their undergraduate experience.

FIRST-YEAR EXPERIENCE
Before students start their first semester at Cabrini, their transition to college is guided by the award-winning First-Year Experience (FYE) program. It all begins at the Summer Orientation and New Student Orientation, both of which connect students to peer mentors and future classmates, additionally giving families access to faculty and staff. New students continue their transition to college in the credit-bearing College Success Seminar, which helps with academic preparation throughout the entire first year. All of the FYE activities create a sense of community for the incoming class while working closely with students so that they may understand all the ways to get involved and seek help on campus.
"Coming to Cabrini, I would have never imagined I would begin to cry while packing up the car to head back after break for my final semester. Freshman year was fun but I found myself repeatedly questioning my decision to attend here. Then along came a professor, Dr. Vivian Smith, who would unknowingly flip my college career upside-down. Lively, vivacious, and spunky she waltzed into my first class sophomore year and the rest is history. She, and eventually the rest of the criminology and sociology department, pushed me to get involved, think outside of the box, challenge myself, see the world through a different lens, and always strive to be the greatest person I can be. You know you picked the right school when professors become advisors, advisors become personal mentors, and those mentors become great friends. Because of them I will be leaving Cabrini ready to take the world by storm, and for that I will be forever grateful." – Katelyn Melahn ('17)
FACULTY ADVISORS
Cabrini has an average student-to-faculty ratio of 16-to-1. This allows students to have direct access to faculty in the class, which is supplemented by faculty advising. Each academic major at Cabrini has a faculty advisor who works with students to define their goals and to help navigate the requirements for their major.
"The first individual who helped me in countless ways was Dr. Lelli, undergraduate professor of education. Dr. Lelli helped me to find my passions of advocating against domestic violence and for children of trauma and domestic violence. Through Dr. Lelli's Center for Children of Trauma and Domestic Violence Education, I have learned more about how to help children and families. Dr. Lelli truly cares about helping victims of domestic violence and children exposed to the violence and trauma. I hope, one day, to be able to help countless individuals and children like Dr. Lelli has done." – Rachel Maxey ('20)
ADVANCED DEGREES
Students have the opportunity to get advanced degrees at Cabrini or one of the university's partner schools. Cabrini has a 4+1 Criminology/Criminal Justice program, allowing students to earn a graduate-level degree in only five years. Cabrini has also partnered with universities in the region to offer advanced degrees to Cabrini students in areas like dentistry, pharmacy, law, and social work.

CENTER FOR STUDENT SUCCESS
The Center for Student Success provides academic advising, tutoring, disability resources, and career services for all Cabrini students. Each incoming student is assigned to an academic advisor who helps them transition to college and connect them to needed resources. The Math Resource Center and Writing Center provide additional support to students seeking extra help in those areas, while peer tutors can help with specific classes and test preparation.

For students with special needs, the Disability Resource Center, also part of the Center for Student Success, offers appropriate accommodations and additional learning specialists for students who qualify for such services. Cabrini is committed to helping all students achieve their goals.

The final part of the Center for Student Success is Cabrini's Center for Career and Professional Development. This group of dedicated professionals helps students decide on a major, write cover letters and résumés, practice interviewing, and learn how to search for jobs. They also host career fairs on campus, connecting students to internships and to jobs.
SPECIAL STUDY OPTIONS
Programs available at this institution.
Accelerated program
Cooperative education program
Cross-registration
Distance learning
Double major
Dual enrollment
Honors Program
Independent study
Internships
Liberal arts/career combination
Student-designed major
Study abroad
Teacher certification program
Weekend college
Southeastern PA Consortium for Higher Education (8-member consortium of private colleges/universities)
Exchange programs with:
Eastern University

Rosemont College

Valley Forge Military College
Vibrant Communities
Cabrini students are active both on and off campus, participating in roughly 50 student clubs and organizations, 19 Division III sports teams, music and theater programs, campus events, and service trips and organizations.  

ART EXHIBITIONS
The Gorevin Gallery in the Holy Spirit Library hosts ongoing exhibitions from Cabrini students as well as local and national artists. The intimate gallery has featured artists such as David Campbell Wilson, Masthead x Phantom Hand, and Christine Palnik. The gallery also features design students' senior work throughout the spring, inviting community members to share in the success of graduating students.

LEARNING COMMUNITIES
Though all of the above activities help to build new friendships and mentorships, Cabrini also offers students an opportunity to join Learning Communities (LCs). LCs allow students with similar interests the opportunity to take classes and exploration trips together throughout the first year. Students can also choose to take part in a Living and Learning Community (LLC), living with a small group of classmates in one of Cabrini's 12 residence halls. These Learning Communities are available to both freshmen and sophomores and range in themes, including The Art of Persuasion, Body Language, and Voices of Justice.

AWARD-WINNING STUDENT MEDIA
Cabrini's student literary magazine, Woodcrest, earned a Gold Crown award from the Columbia Scholastic Press Association. The publication was one of only 17 university publications chosen for this top honor, making 2017 its third Gold Crown in 10 years. For students more news oriented, Loquitur Media offers students opportunities to write and edit for the student paper, work in the TV production studio on student broadcasts, or host a show on the campus radio station.

CHAMPIONSHIP ATHLETICS
Cabrini's Division III sports teams have amassed more than 100 championship designations and just won its fifth consecutive Colonial States Athletic Conference President's Cup. Student-athletes don't just play to win—they play to learn about leadership, teamwork, and respect. For students not interested in playing on the Division III teams, there are fun intramural teams that play recreationally both on and off campus.
The Cavaliers have won 113 Colonial States Athletic Conference (CSAC) Championships, 1 Allegheny Mountain Collegiate Conference (AMCC) Championship, and 34 CSAC President's Cups. And more than 60 Cavalier players are All-Americans, receiving local and national awards.
To enhance the student-athlete experience, effective Sept. 1, 2018, Cabrini University will join six NCAA Division III institutions in the newly formed Atlantic East Conference (AEC), beginning competition in the 2018-19 season.  
"In baseball, having teammates and coaches who empathize, motivate, and celebrate willingly provides an environment that is inclusive, accountable, and vigorous.  We take supreme pride that our conduct athletically, academically, socially, and spiritually drives the flagship for all that is Cabrini University and are quick to shoulder that responsibility.

Some institutions have no vision, some have an imposed vision, but Cabrini University has a shared vision.  This vision of doing things Cabrinian is not isolated to the baseball program, but permeates this campus as members of the university strive each day to give of themselves in the hope that someone else will reap the benefits of their toils.  In an overly transactional world, Cabrini University stands as a prime example of why it benefits more to be transformational and charitable." – Nick Weisheipl, Head Coach, Baseball
NEAR PHILADELPHIA, NEW YORK CITY, AND WASHINGTON, DC
Cabrini is located 30 minutes from Philadelphia, PA, in a small and safe suburb. Its 112-acre wooded campus is ideally situated only 30 minutes from the center of Philadelphia, PA, offering a shuttle to the train station for easier access to the city's thriving art and food scene. From Philadelphia, students can hop on an Amtrak train and be in New York within 1.5 hours or DC in under 2 hours. Cabrini classes and clubs also schedule trips to these key northeast cities, giving students access to cosmopolitan areas while offering a quieter suburban home base on campus.
RESIDENCE LIFE
Campus housing options.
Coed dorms
Women's dorms
Apartments for single students
Theme housing
Special interest housing options designated for intensified study, honors, Hispanic culture, community service, and for students participating in living and learning communities.
Successful Outcomes
From their first year on campus, students are encouraged to think beyond their immediate world through courses that integrate service learning, known as "Engagements with the Common Good." This hands-on experience continues through internships and capstone projects that apply classroom theory to the "real world," which helps 92 percent of the university's students find work or pursue graduate school within 10 months of graduating.

CAPSTONE PROJECTS
Certain majors at Cabrini integrate a capstone project into their program. The capstone project combines years of educational and internship experiences into a final challenge that helps students better understand how they can impact the world around them. These projects have included building comprehensive, informational websites on current issues such as hunger in America, exploring global peace, or crafting an extensive reference resource to help Cabrini's growing Latino population. Their work culminates in a formal thesis that uses in-depth research and critical analysis.

CENTER FOR CAREER AND PROFESSIONAL DEVELOPMENT
The Center for Career and Professional Development advises and supports Cabrini students and alumni in their career discovery. It provides one-on-one coaching, seminars on interviewing and resumes, and job placement assistance. The Center also brings employers to campus in the fall and spring for career fairs and networking events.

INTERNSHIPS
Students can earn anywhere from two to six credits per semester from internships—both on campus and in corporations, nonprofits, and government agencies. Many academic majors have internships embedded in their curriculum, enabling students to gain professional experience before graduation.

Cabrini students have interned at the American Diabetes Association, Bryn Mawr Hospital, Catholic Relief Services, CBS Corporation, Disney World Wide Services, Hoover Financial Advisors, iHeart Media, Make-A-Wish Foundation, Montgomery County District Attorney's Office, Morgan Stanley, The Philadelphia Inquirer, Stream Companies, Teva Pharmaceutical Industries, Wells Fargo Center, and many more.

BEYOND GRADUATION
With the help of the Center for Career and Professional Development, Cabrini alumni have gone on to start their own businesses, advocate for human rights, and leave their mark on businesses of all sizes. They work for places such as Brinker Capital, the City of Houston, Deloitte & Touche, J.P. Morgan, KPMG, PeopleShare, Pureenergy Studio, Simon Public Relations, The Children's Hospital of Philadelphia (CHOP), The Devereux Foundation, Vanguard, and others.
"While at Cabrini, the faculty instilled through their teachings confidence and making a difference in the world. Dr. Girard was one of the most passionate and unforgettable for a lot of us. The fact that all faculty know you by name helps to create a bond like no other.

Eighteen years later, I am no longer in the teaching world but a national director of a youth running program that is estimating over 44,000 participants in 2018! Healthy Kids Running Series is a national community-based non-profit, that provides an inclusive fun five-week running series for ages 2 through 14 that gets kids active, feel accomplished and lays the foundation for a healthy lifestyle. I feel blessed to have the ability to make a different in the world but on a larger scale!" – Tamara C., Class of 2000
Admission & Aid
Admissions
ADMISSIONS FACTORS
Very Important
Academic GPA
Important
Rigor of secondary school record | Application Essay
Considered
Standardized test scores | Recommendation(s) | Interview
Extracurricular activities | Talent/ability | Character/personal qualities
Alumni/ae relation | Volunteer work | Level of applicant's interest
FRESHMAN PROFILE
SAT Composite
25th Percentile: | 75th Percentile:
SAT Evidence-Based Reading and Writing
25th Percentile: 495 | 75th Percentile: 620
SAT Math
25th Percentile: 503 | 75th Percentile: 595
ACT Composite
25th Percentile: 18 | 75th Percentile: 25
ACT Math
25th Percentile: 23 | 75th Percentile: 26
ACT English
25th Percentile: 21 | 75th Percentile: 25
ADMISSIONS INFORMATION
Here are some additional facts about Cabrini's undergraduate admissions process.
Cabrini's

admission process

is test-optional, meaning that students do not need to submit scores for the SAT or ACT to be admitted.

The average institutional award for first-year students is $16,500 (this does not include federal or state aid), and 98 percent of students receive some form of

financial aid

.

Cabrini has bilingual admissions counselors available for Spanish-speaking families.
Students are welcome to visit campus for a campus tour, Open House, or other Admissions events.
Tuition & Cost
Tuition: $33,650
Fees: $1,015
Room: $7,940
Board: $5,284
Contact Cabrini University