Averett University
Danville, Virginia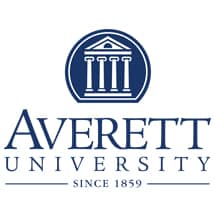 Since 1859, Averett University has grown and developed into a dynamic institution that serves students of all ages, offering more than 30 undergraduate majors, minors and special programs, along with five graduate programs with a number of concentrations. Dedicated to preparing students to serve and lead as catalysts for positive change, the University's historic main campus is embedded in the heart of Southern Virginia with regional campuses throughout Virginia and online. Averett enrolls a diverse student body, and boasts an alumni network that spans the globe.
Get to know Averett University
1,114
Degree-Seeking Undergraduates
Full-time to Part-time Ratio
-
0%
1%
2%
3%
4%
5%
6%
7%
8%
9%
10%
11%
12%
13%
14%
15%
16%
17%
18%
19%
20%
21%
22%
23%
24%
25%
26%
27%
28%
29%
30%
31%
32%
33%
34%
35%
36%
37%
38%
39%
40%
41%
42%
43%
44%
45%
46%
47%
48%
49%
50%
51%
52%
53%
54%
55%
56%
57%
58%
59%
60%
61%
62%
63%
64%
65%
66%
67%
68%
69%
70%
71%
72%
73%
74%
75%
76%
77%
78%
79%
80%
81%
82%
83%
84%
85%
86%
87%
88%
89%
90%
91%
92%
93%
94%
95%
96%
97%
98%
99%
100%
Retention rate
12:1
Student/teacher ratio
$36,900
Full-time tuition cost
-
0%
1%
2%
3%
4%
5%
6%
7%
8%
9%
10%
11%
12%
13%
14%
15%
16%
17%
18%
19%
20%
21%
22%
23%
24%
25%
26%
27%
28%
29%
30%
31%
32%
33%
34%
35%
36%
37%
38%
39%
40%
41%
42%
43%
44%
45%
46%
47%
48%
49%
50%
51%
52%
53%
54%
55%
56%
57%
58%
59%
60%
61%
62%
63%
64%
65%
66%
67%
68%
69%
70%
71%
72%
73%
74%
75%
76%
77%
78%
79%
80%
81%
82%
83%
84%
85%
86%
87%
88%
89%
90%
91%
92%
93%
94%
95%
96%
97%
98%
99%
100%
6-year graduation rate
-
0%
1%
2%
3%
4%
5%
6%
7%
8%
9%
10%
11%
12%
13%
14%
15%
16%
17%
18%
19%
20%
21%
22%
23%
24%
25%
26%
27%
28%
29%
30%
31%
32%
33%
34%
35%
36%
37%
38%
39%
40%
41%
42%
43%
44%
45%
46%
47%
48%
49%
50%
51%
52%
53%
54%
55%
56%
57%
58%
59%
60%
61%
62%
63%
64%
65%
66%
67%
68%
69%
70%
71%
72%
73%
74%
75%
76%
77%
78%
79%
80%
81%
82%
83%
84%
85%
86%
87%
88%
89%
90%
91%
92%
93%
94%
95%
96%
97%
98%
99%
100%
Acceptance rate
-
0%
1%
2%
3%
4%
5%
6%
7%
8%
9%
10%
11%
12%
13%
14%
15%
16%
17%
18%
19%
20%
21%
22%
23%
24%
25%
26%
27%
28%
29%
30%
31%
32%
33%
34%
35%
36%
37%
38%
39%
40%
41%
42%
43%
44%
45%
46%
47%
48%
49%
50%
51%
52%
53%
54%
55%
56%
57%
58%
59%
60%
61%
62%
63%
64%
65%
66%
67%
68%
69%
70%
71%
72%
73%
74%
75%
76%
77%
78%
79%
80%
81%
82%
83%
84%
85%
86%
87%
88%
89%
90%
91%
92%
93%
94%
95%
96%
97%
98%
99%
100%
Out-of-state students
College Highlights
Engaged Students
Great Teaching
Vibrant Communities
Successful Outcomes
Admission & Aid
Engaged Students
AN INDIVIDUALIZED EDUCATION
Averett's size is its greatest strength! Students aren't lost in the crowd. Instead, they're nurtured and supported by caring, experienced faculty and staff in a vibrant and active campus environment. Engaging faculty in turn engage their students in experiential, hands-on learning that is interactive, meaningful and relevant to careers. Averett students complete general education requirements and fulfill graduation requirements in part through out-of-the-classroom activities such as undergraduate research, service-learning, internships at area organizations and clinicals/practicums.
STUDY ABROAD
Averett offers long-term as well as short-term study-abroad programs. There is no experience like that of living and learning in another country: immersed in a different language, culture, food, new friends. Employers are always on the lookout for "risk takers" who have demonstrated their self-reliance, leadership and critical thinking skills … and what better way to gain that experience than by studying abroad? Averett, through its company affiliations, exchange programs, articulation agreements and faculty led study courses, offers a great variety of opportunity for summer study, semester- or year-abroad programs in many countries.
HONORS PROGRAM
For students who qualify, Averett's impressive Honors Program creates opportunities to step beyond regular classroom study. Honors students explore in-depth selected areas of academics. Honors Program participation demonstrates a commitment to scholarship and Honors students have an edge in graduate study or in the job market.
THE GALESI FAMILY STUDENT SUCCESS CENTER
The Galesi Family Student Success Center engages students and enhances their academic performance, deepens satisfaction with scholarly and extra-curricular experiences and assists students with essential learning strategies to succeed in Averett's classroom and in the job market upon graduation. The Center's proactive and sustained support model enhances individual academic success with current technology, tutoring services, group study tables, writing assistance and math and science labs.
LEADERS ON CAMPUS
Averett students take an active role in shaping their college experience and the future of the University. Student representatives on Averett boards and committees have an equal voice in matters of programs, issues and policy. In this way and others, Averett develops students into thoughtful leaders for the future.
ENROLLMENT BY ETHNICITY
Non-U.S. Citizen: 8%
Hispanic/Latinx: 4%
Black or African American, non-Hispanic: 29%
White, non-Hispanic: 50%
Native/Indigenous American or Alaska Native, non-Hispanic: 1%
Asian, non-Hispanic: 1%
Native Hawaiian or other Pacific Islander, non-Hispanic: 0%
Two or more races, non-Hispanic: 4%
Race and/or ethnicity unknown: 2%
Great Teaching
STUDENT-CENTERED
Averett's student-centered educational philosophy means the University focuses on individual success for each student. Averett professors are professionals as well as scholars, dedicated to teaching and mentoring students. They bring their years of real-world experience to the classroom and their first-hand understanding of student needs and aspirations (nearly half have taught at Averett for more than 15 years) to their one-on-one interactions with students. Averett continuously evaluates its academic programs to ensure that it is meeting student and market needs.
HEALTH SCIENCES INITIATIVE
Averett has significantly expanded in the health sciences, establishing its Health Sciences Innovative Practice Center, which provides current and future nurses some of the most sophisticated simulation technology opportunities in America. By practicing in this interactive learning environment, its nursing students gain critical experiential knowledge that will help them improve the quality of healthcare and help save lives. Students interested in related fields can explore Averett's Department of Biological Sciences, where students often move onto medical, dental or veterinary school upon graduation, and those who dream of a career in sports medicine and athletic training can learn from highly sought professors.
TECHNOLOGY IN THE CLASSROOM
Averett knows that learning technology plays an important role for students in other majors too! A ull-motion flight simulator allows Aeronautics students to gain experience in conditions and locales they might not experience in thousands of hours of real flying. For example, they can practice take-offs and landing in the high-altitude and low-humidity around Denver – without leaving the ground in Danville, which sits at an altitude of less than 600 feet.
Vibrant Communities
CAMPUS LIFE
College is hard work, but Averett students also know that college should be fun – and they know how to have fun! There are a multitude of student clubs, organizations, programs, intramurals, service projects, activities, NCAA athletic teams and leadership roles for students to be involved in on and off campus. During their four years of college, the average AU student spends 1,555,200 minutes outside the classroom. That's 25,920 hours! Averett students use that time to explore, to learn, to experience, to lead, to serve, to try something new and to fully enjoy their college experience by taking advantage of the many and varied opportunities offered to them.
THE ARTS ON CAMPUS
The Violet T. Frith Fine Arts Center, which houses Pritchett Auditorium, is "home stage" for the Averett Theatre Players, and hosts visiting artists for Arts@Averett performances The Ember and The Chanticleer – two student-run publications – give voice to many of Averett's rising writers, poets, artists and journalists.
CENTER FOR COMMUNITY ENGAGEMENT AND CAREER COMPETITIVENESS AT AVERETT
Averett's mission as a university is to prepare its students to be catalysts for positive change, and a major component of this our commitment to community engagement, which is why we developed the Center for Community Engagement and Career Competitiveness (CCECC), the regional hub for linking students and faculty with community partners to create distinct learning experiences and career opportunities. The Center's work strengthens the social and economic vitality of our region, and the win-win is the tremendous impact on our students, their learning and their career competitiveness.Community service is woven into the DNA of Averett, and many of our students, faculty and staff have a hand in making a lasting impact in the region through their service. For five years, they participated in Week to Engage, an annual week committed to serving the surrounding community through volunteer work. In collaboration with local community colleges, the CCECC at Averett annually coordinates almost 1,000 hours of volunteer service from more than 500 people with approximately 30 community partners.
Additionally, the Averett Student-Athlete Advisory Committee (SAAC) participates annually in the USA South "Pennies for a Purpose" competition against other schools in the athletic conference to help worthy organizations. Institutions are encouraged to collect loose change which is later donated to an organization of their choosing. Claiming its third consecutive win, Averett SAAC raised a record $4,511 – the highest single-year total collected in the history of this competition in 2017. Averett's collected donations were split between the Jimmy V Foundation for Cancer Research, the Rape Abuse Incest National Network (RAINN) and the Multiple Sclerosis Foundation. In addition, near the Thanksgiving holiday, Averett Athletics and SAAC collected a record-breaking 17,300 canned food items and other nonperishables to also win the University's third consecutive USA South 2017 "Cans Across the Conference" competition – the only institution to win three years in a row. SAAC organized the canned food drive as a community service competition amongst the 19 institutions in the USA South. Each campus SAAC collected cans and other non-perishable items at their school to benefit a local charity, and Averett chose God's Storehouse Foodbank of Danville, Va.
THE CITY OF DANVILLE
Averett partners with the City of Danville – home to a fine arts museum, symphony orchestra, live theatres and a downtown murals project – to connect students with the local arts community. It's also a great city in which to just get outside Danville has been ranked a Playful City for several years running by Playful City USA.
SCHOOL LOCATION
Averett's Main Campus, as well as its North Campus, Riverview Campus and Flight Center, are located in Danville. In south-central Virginia along the North Carolina border, within a day's drive of two-thirds of the nation's population, Danville boasts historical landmarks, recreational opportunities and beautiful rolling countryside. Enjoy the City's rare combination of small town charm and big city offerings!
Danville has been recognized nationally as a Playful City. Playful City USA is a national recognition program that honors cities and towns across the nation who put their children's well being first by recognizing and harnessing the power of play. Danville is committed to recreation and providing opportunities for unstructured play. With over 680 acres of parks and trails, 25 athletic fields, 23 playgrounds, 25 picnic sites and shelters, 30 miles of mountain bike trails, nine miles of Riverwalk Trail, a skate park, a dog park, two disc golf courses, a ropes course, a zip line and over 2,000 programs and events, you'll put more play in your day in Danville!
Danville is quickly becoming a hotbed of culture in southern Virginia. Danville plays host to music fans, art enthusiasts, theater buffs, and cinema-goers of all ages. Be it the Carrington Pavilion summer concert series, the Danville Symphony Orchestra, an art series at the Danville Museum of Fine Arts, or a theater production for children, Danville can fill all your cultural needs.
A vibrant downtown is critical to the quality of life and the economic well being of a community. Danville's River District includes economically viable and unique businesses, attractions, restaurants and residential areas that serve to attract local citizens to visit the River District and to entice future residents to relocate in the area.
ATHLETICS
Averett Athletics offers 16 Division III NCAA sponsored intercollegiate sports, and boasts a long history and tradition of success. The university owns state-of-the-art facilities, including a newly constructed stadium and indoor hitting facility, and has developed partnerships with leading brands to give its student-athletes the best equipment and training to succeed.
Averett Athletics recently launched men's and women's lacrosse teams and a men's wrestling program. Also new, Averett joined national ranks of colleges and universities competing in the explosive collegiate esports arena – a multiplayer video game played competitively for spectators that is becoming increasingly popular on college campuses.
THE ATHLETICS MISSION
Averett University Athletics develops its Student-Athletes as catalysts for positive change through the realization of Averett's Core Values in its coaching, competition, expectations, sportsmanship and community service. We uphold the Division III philosophy by providing a well-rounded experience in Academics, Athletics and Community. Averett fulfills this mission by exposing our Student-Athletes through practice and example to the values of Integrity, Innovation, Engagement, Discovery, Diversity and Tradition.
3-2-1 VISION
Averett University Director of Athletics Meg Stevens created 3-2-1 vision for the department. As part of that, she wants all teams to have an average grade point average of 3.0; wants all programs to finish in the top two of the conference standings; and wants the entire athletics department to function as one team.
Averett Athletics offers 16 Division III NCAA-sponsored intercollegiate sports, to include:
Baseball
Men's and women's basketball
Men's and women's cross country
Football
Men's golf
Men's and women's lacrosse
Men's and women's soccer
Softball
Men's and women's tennis
Women's volleyball
Men's wrestling
Averett also offers cheerleading, equestrian, esports and an aviation flight team.
Successful Outcomes
A LIFETIME OF SUCCESS
Averett University's educational philosophy is simple yet powerfully important: prepare Averett students for a lifetime of success. Averett students receive the skills and knowledge they need to get that first job or enter graduate school. They also develop the habits of the mind that allow them to adapt to a constantly changing world and to be catalysts for positive change in it.
PAIRING THE LIBERAL ARTS WITH HANDS-ON EXPERIENCE
Averett's programs combine the liberal arts with professional education. Experts agree that, regardless of one's job, a person must be able to analyze information, think critically, communicate effectively, work in teams, and adapt to new conditions-the very skills provided by a liberal arts education. In addition, one must have the ability to apply specialized information-the skills provided by an academic major. Averett students are required to participate in an internship, practicum or service learning experience. As a result, Averett's graduate placement rate into jobs or graduate school ranges between 90 and 100 percent, depending on the academic major
Averett University provides a powerful university experience that will energize an individual for a first job, for a lifetime career and for productive life-long citizenship.
Admission & Aid
Admission
TEST SCORES
Optional
FRESHMAN PROFILE
SAT Evidence-Based Reading and Writing
25th Percentile: 460 | 75th Percentile: 570
SAT Math
25th Percentile: 450 | 75th Percentile: 585
ACT Composite
25th Percentile: 17 | 75th Percentile: 22
Tuition & Cost
Tuition: $36,900
Fees: $150
Room: $6,900
Board: $4,240
Aid
Averett offers the quality of education that comes with small classes and personal attention, for only slightly more than the cost of attending a large state school. Students benefit from daily interaction with professors who are experts in their field. This level of personal, quality education is within financial reach and the return on such an investment is a lifetime of personal and professional success. Four year scholarships for first year students, transfers or international students range from $20,000 to $64,000 depending on their high school cumulative grade point average, college grade point average (for Transfers), SAT or ACT test score, and college preparatory curriculum (see requirements below). Many other scholarships are available in addition to the merit scholarships. Information about these can be found at Averett's website: www.averett.edu/financial-aid
Averett has a selective admissions process. Applicants to Averett are evaluated based on the total picture that their credentials present. The following items are required with all applications for admission:
A complete Averett admissions application (available online – OR, we also accept the Common Application)

Freshman Requirements:

High School Transcripts through 11th grade with recommended Grade Point Average (GPA) of at least 2.5 on a 4.0 scale.
High School course completion must include a minimum of 16 acceptable units in grades 9-12: 4 English, 3 College Prep Math, 3 Lab Sciences, and 3 History and Social Sciences
SAT minimum of 850 or
ACT minimum composite score of 17

Transfer Requirements:

Transfers include anyone who has graduated from high school, and has 12 transferable credits post graduation
Any and all official college transcripts
Minimum Grade Point Average (GPA) of a 2.0 from last college attended

International Student Requirement:

Must submit a TOEFL, IELTS, or SAT Score if from a non-English speaking country
Official transcripts in English
Averett has a rolling admissions process with applications accepted through August 1 of each year. To maximize Averett aid and scholarships, applications should be submitted and completed by the end of April.
Contact Averett University