Aurora University
Aurora, Illinois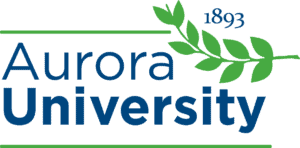 Aurora University is one of the premier Illinois universities. Its mission statement: "an inclusive community dedicated to the transformative power of learning" is experienced each day in the lives of AU students. Aurora University believes in taking students from where they are to where they want to be by following its core values of integrity, citizenship, continuous learning, and excellence.

AU, a private institution founded in 1893, offers more than 40 undergraduate majors and minors. Students who are unsure of an exact major are welcome to start their college career by exploring both classes and volunteer opportunities that interest them. Aurora University gives students time to discover their true passion through general education classes and thoughtful conversations with advisors and professors.
SHOW MORE
Get to know Aurora University
3,912
Degree-Seeking Undergraduates
Full-time to Part-time Ratio
-
0%
1%
2%
3%
4%
5%
6%
7%
8%
9%
10%
11%
12%
13%
14%
15%
16%
17%
18%
19%
20%
21%
22%
23%
24%
25%
26%
27%
28%
29%
30%
31%
32%
33%
34%
35%
36%
37%
38%
39%
40%
41%
42%
43%
44%
45%
46%
47%
48%
49%
50%
51%
52%
53%
54%
55%
56%
57%
58%
59%
60%
61%
62%
63%
64%
65%
66%
67%
68%
69%
70%
71%
72%
73%
74%
75%
76%
77%
78%
79%
80%
81%
82%
83%
84%
85%
86%
87%
88%
89%
90%
91%
92%
93%
94%
95%
96%
97%
98%
99%
100%
Retention rate
18:1
Student/teacher ratio
$24,000
Full-time tuition cost
Rolling
Application deadline
-
0%
1%
2%
3%
4%
5%
6%
7%
8%
9%
10%
11%
12%
13%
14%
15%
16%
17%
18%
19%
20%
21%
22%
23%
24%
25%
26%
27%
28%
29%
30%
31%
32%
33%
34%
35%
36%
37%
38%
39%
40%
41%
42%
43%
44%
45%
46%
47%
48%
49%
50%
51%
52%
53%
54%
55%
56%
57%
58%
59%
60%
61%
62%
63%
64%
65%
66%
67%
68%
69%
70%
71%
72%
73%
74%
75%
76%
77%
78%
79%
80%
81%
82%
83%
84%
85%
86%
87%
88%
89%
90%
91%
92%
93%
94%
95%
96%
97%
98%
99%
100%
Out-of-state students
-
0%
1%
2%
3%
4%
5%
6%
7%
8%
9%
10%
11%
12%
13%
14%
15%
16%
17%
18%
19%
20%
21%
22%
23%
24%
25%
26%
27%
28%
29%
30%
31%
32%
33%
34%
35%
36%
37%
38%
39%
40%
41%
42%
43%
44%
45%
46%
47%
48%
49%
50%
51%
52%
53%
54%
55%
56%
57%
58%
59%
60%
61%
62%
63%
64%
65%
66%
67%
68%
69%
70%
71%
72%
73%
74%
75%
76%
77%
78%
79%
80%
81%
82%
83%
84%
85%
86%
87%
88%
89%
90%
91%
92%
93%
94%
95%
96%
97%
98%
99%
100%
Full-time faculty w/ terminal degree
Student Activities
Student Activities
Campus Ministries
Choral groups
Dance
Drama/theatre

Literary magazine
Music ensembles
Musical theatre
Opera
Pep band
Radio station
Student government
Television station
High-Impact Practices
High-Impact Practices
First-Year Seminars and Experiences
Writing-Intensive Courses
Collaborative Assignments and Projects
Undergraduate Research

Diversity/Global Learning
Service-Learning, Community-Based Learning
Internships/Coops/Practicums
Capstone Courses and Projects/Senior Experience
Campus Resources
Campus Resources
Career Services
Academic Advisors
Library Services
Faculty Mentors

Disability Services
Health Services
Academic Tutors
Financial Aid Advisors
Student Success Initiative
Veteran Services
Peer Mentors
Counseling
SHOW MORE
College Highlights
Engaged Students
Great Teaching
Vibrant Communities
Successful Outcomes
Admission & Aid
Engaged Students
STUDENTS WHO SERVE
Aurora University students are active members in shaping the community around them. Students complete numerous off-campus internships and take part in service and educational events around campus. This year students participated in "A Day Without Shoes," where members of the campus community spent a day barefoot to bring awareness to global poverty. AU students also hosted "Sleep out on the Quad" to bring an understanding to the issue of homelessness. Programs like this go beyond classroom learning to engage students with issues within their community and throughout the world. Students take advantage of international and domestic study/travel opportunities during study abroad and Travel in May to places such as Germany, France, Italy, Costa Rica, Quebec City, Canada, Spain and Colorado.

HANDS-ON LEARNING
In class, AU students from various majors take advantage of special hands-on learning opportunities. The psychology majors conduct research studies and present their findings to the campus community. Students in the Dunham School of Business gain practical knowledge as well as engage with the local community through the VITA (Volunteer Income Tax Assistance) program. Aurora University is one of the few universities in Illinois to be licensed by the IRS to be a VITA partner. Through this program, accounting students prepare tax returns free of charge for taxpayers, including persons who are elderly, low income, individuals with disabilities, and those who are non-English speaking.
"My professors always emphasized how important it is to build a network and to use it. I took their advice to heart, and ultimately I found my first job through the network I began to build as a student. AU boosted my career in other ways too. Career Services helped me with my resume and interview prep. Anything I needed, they were there for me."— Hector, Political science graduate, Kane County Deputy Clerk
UNDERGRADUATE RESEARCH CONFERENCE
A highlight each spring is the Undergraduate Research Conference. Students have the opportunity to explore topics in-depth, and they gain valuable experience presenting to their peers, professors, and surrounding community.
CLASS SIZE
The number of sections of each class size.
2-9: 73 | 10-19: 109 | 20-29: 209
30-39: 122 | 40-49: 17 | 50-99: 17 | 100+: 0
ENROLLMENT BY ETHNICITY
Nonresident aliens: 10
Hispanic/Latino: 1,171
Black or African American, non-Hispanic: 331
White, non-Hispanic: 1,952
American Indian or Alaska Native, non-Hispanic: 14
Asian, non-Hispanic: 87
Native Hawaiian or other Pacific Islander, non-Hispanic: 7
Two or more races, non-Hispanic: 112
Race and/or ethnicity unknown: 249
Total Enrollment: 3,933
Great Teaching
ONE-ON-ONE LEARNING
Students looking for expert faculty in small classes, hands-on learning, and a strong academic tradition should strongly consider Aurora University. Professors, whose first priority is teaching, are approachable and know students by name. Aurora students transform themselves through one-on-one learning, off-campus internships and clinical experiences.
"Being involved on campus changed my perspective and I learned that the college experience is much more than simply being on your own and getting your degree. It was an opportunity to grow my skills both academically and socially to achieve the success as a student and in life after college." — Nick, History and secondary education graduate
ACADEMIC SUPPORT
Aurora offers students the personalized attention and resources that leads to success. Phillips Library provides numerous research tools, a knowledgeable staff, a computer lab, and a quiet place to study. Additional assistance is offered in Academic Support Center. Professionals offer free math and writing tutoring as well as peer tutoring for specific courses.
UNIQUE OPPORTUNITIES
AU's academic programs are intentionally designed to allow students to double major and finish on time as a full-time student. AU also offers PlusOne graduate degree programs that reduce the time it takes to earn a master's.
SPECIAL STUDY OPTIONS
Programs available at this institution.
Accelerated program
Cross-registration
Distance learning
Double major
Dual enrollment
Independent study
Internships
Liberal arts/career combination
Student-designed major
Study abroad
Teacher certification program
Vibrant Communities
LIFE OUTSIDE THE CLASSROOM
Aurora students also get involved outside of the classroom in a growing list of activities. AU offers 24 NCAA Division III men's and women's sports. Intramural sports are also available to those who wish to promote the value of fair play and a healthy lifestyle.
"My coursework and participation in student organizations provided me with hands-on marketing opportunities. Through these experiences, I developed a strong foundation of knowledge that I was able to apply in my graduate program and now in my career." — Christina, Business Administration and Marketing graduate
CLUBS AND ORGANIZATIONS
More than 60 musical, literary, religious, social, and service organizations keep students connected to the campus and local communities. Students can also develop leadership skills in the Aurora University Student Association (AUSA), the student government organization. Students interested in helping determine campus events can join the Activities Programming Board (APB), which plans over 100 events a semester such as concerts, comedy shows, Homecoming, AU Luau, and other such events both on- and off-campus. Students interested in the arts may enjoy singing in the University Chorale or performing in one of the many theatre productions.  
CELEBRATING ARTS AND IDEAS SERIES
The Celebrating Arts and Ideas series at AU has brought the campus and community together in appreciation of fine arts and learning. Through music, lectures, museum and art exhibits, film, and theatre, a diverse collection of free events has represented the creative collaboration between community members, businesses and organizations, students, faculty and staff.  The 2017-2018 season brought a variety of lecturers such as Nathalia Holt, "Rocket Girls: The Unsung Heroes of NASA", Henry Cisneros, "American Latinos and the Nathion's Future" and Town Square Series, "The Lack of Justice in Criminal Justice" with Cook County Sherrif Tom Dart.

CAREER SERVICES
In addition to extracurricular activities and artistic events, students engage with the campus and local communities through work. Federal Work-Study jobs and other student employment opportunities on campus not only provide students income, but also the opportunity to network and gain valuable skills for future employment. Students work with the Office of Student Employment to find job postings both on- and off-campus. Our students also work with AU Career Services advisors who prepare our students to successfully transition from the role of a student to a stand-out professional.
SCHOOL LOCATION
Aurora University is located in the second largest city in Illinois just 40 miles from downtown Chicago the Aurora main campus offers more than 40 undergraduate majors and extensive graduate offerings. The campus includes six residence halls, athletics facilities including Spartan Athletic Park, academic buildings and Phillips Library.
ATHLETICS
24 NCAA Division III teams compete in the Northern Athletics Collegiate Conference, Midwest Lacrosse Conference, Midwest Women's Lacrosse Conference and Northern Collegiate Hockey Association. Aurora University's mascot is the Spartan and school colors are royal blue and white.
RESIDENCE LIFE
Percent of students living on campus.
Undergraduates: 50%
Campus housing options.
Coed dorms
Successful Outcomes
SERVICE LEARNING
The core objectives of an Aurora University education are excellence, integrity, citizenship, and continuous learning. These objectives are proliferated through service learning, which is emphasized throughout each major. Students learn to see the world holistically and are prepared to leave, not only with a degree, but also with the ability to make an impact in the world around them as they become leaders. Hands-on learning is emphasized in all programs by providing students with practical experience in their chosen fields.

REAL-WORLD EXPERIENCE
Education students are immersed in on-site classrooms beginning their sophomore year as well as through student teaching during their last semester of school. Students in the Schools of Nursing and Allied Health and School of Social Work complete clinical and practicum hours at local hospitals, mental health clinics and schools throughout their undergraduate careers. Athletic training students apply their burgeoning skills by working with student athletes. AU offers students interested in a career in athletic training a Bachelor of Science in Exercise Science and a Master of Science in Athletic training in five years via a 3+2 dual degree option. Through these initiatives and many others available in all programs at AU, students gain real-world experience to complement and deepen what they learn in the classroom.


CROUSE CENTER FOR STUDENT SUCCESS
Advisors in the Crouse Center for Student Success hold special sessions, as well as individual appointments, to assist students with resume building, interview preparation and job searches. This begins as early as a student's sophomore year.
"AU inspired me to crave knowledge and to look for a career that will teach me something new every day. After graduation, I didn't feel like I was done learning. I felt like I had just scratched the surface and for that, I'm beyond grateful." — Alyssa, Communication graduate
READY TO SUCCEED
AU's goal is to provide comprehensive professional preparation for today's competitive job market. Students leave AU with a strong sense of self, their community and the world. Graduates are employed in various fields and carry on the values of Aurora University through their leadership, integrity and commitment to serving others.
Admission & Aid
Admission
ADMISSION CRITERIA
AU considers students for regular freshman admission who have graduated from an accredited high school (in a college preparatory curriculum) or have earned a GED credential. The Office of Admission reviews students' completed admission files on an individual basis.
Students who apply to Aurora University benefit from a rolling admissions policy. AU reviews applications as they are completed and students are notified about admissions decisions throughout the admission cycle. Undergraduate students who have a strong desire to attend Aurora University are encouraged to apply early in their senior year.
ADMISSIONS FACTORS
Very Important
Rigor of secondary school record | Class rank | Academic GPA | Standardized test scores
Important
Extracurricular activities | Character/personal qualities
Considered
Application Essay | Recommendation(s) | Interview | Talent/ability | First generation
Alumni/ae relation | Volunteer work | Work experience | Level of applicant's interest
FRESHMAN PROFILE
SAT Evidence-Based Reading and Writing
25th Percentile: 480 | 75th Percentile: 570
SAT Math
25th Percentile: 470 | 75th Percentile: 560
ACT Composite
25th Percentile: 19 | 75th Percentile: 24
ACT Math
25th Percentile: 17 | 75th Percentile: 24
ACT English
25th Percentile: 17 | 75th Percentile: 23
Tuition & Cost
Tuition: $24,000
Fees: $260
Room & Board: $11,700
Room Only: $6,500
Board Only: $5,200
What Others are Saying
"At AU, your education is not a competition, it's a journey. And everybody is rooting for you."
— Rebecca, Health Science Graduate
Contact Aurora University